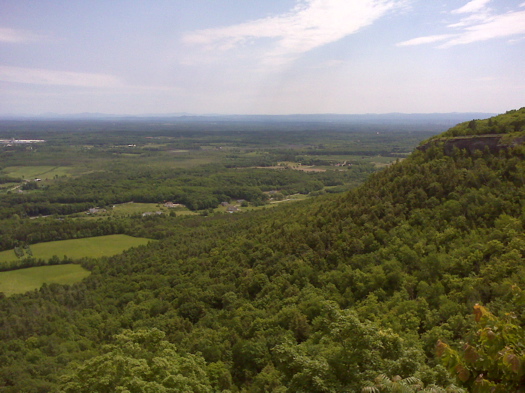 Thacher State Park doesn't currently allow rock climbing -- but it will eventually, possibly not far in the future. And a group called the Thacher Climbing Coalition is working toward that day. From the group's about page:
The Thacher Climbing Coalition promotes the enjoyment and protection of our natural cliff lands on the Helderberg Escarpment by way of rock and ice climbing. The organization is supported by climbers and others who believe that these natural highland areas have intrinsic worth, provide spiritual renewal, healthy exciting physical challenge, economic and ecological health for our region. Successful conservation depends on active engagement with the outdoors and we encourage climbers to join the ranks of other outdoor users in the region in support of land protection. We believe that climbing is a healthy, low-impact activity that deserves a place in parks and we strive to open and maintain access for climbers on the Escarpment.
A plan to allow rock climbing in Thacher Park has been in the works since at least 2013 when the state included the provision in the park's master plan. And last year, the state said it would be working with TCC on the effort.
Here's a TCC page with an overview of the current situation (which, to repeat, does not currently allow climbing).
Trail day: The Thacher Climbing Coalition has a trail day planned for this Saturday, September 24 for volunteers to work on building the climbers' trail. That link includes info about how to sign up and what to bring.
Noted: TCC's website includes a "Thacher not Thatcher" page.
Earlier on AOA:
+ Planning for the future of Thacher and Thompson's Lake State Parks
+ Thacher Park's namesake