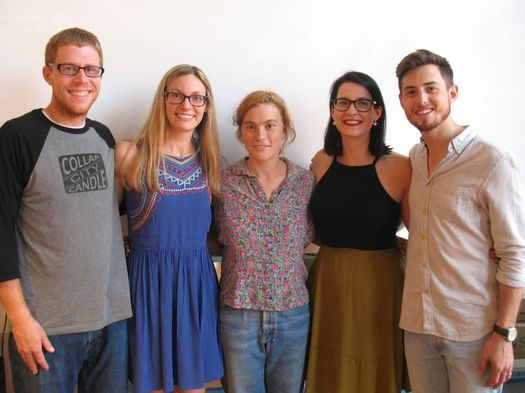 This year's field for the $2,500 AOA Startup Grant was very strong. There were a bunch of interesting, compelling projects.
But through crowd voting -- and an AOA editors' pick -- we narrowed the list of finalists to three.
And now we find out who's won the prize. Without further ado...





Judges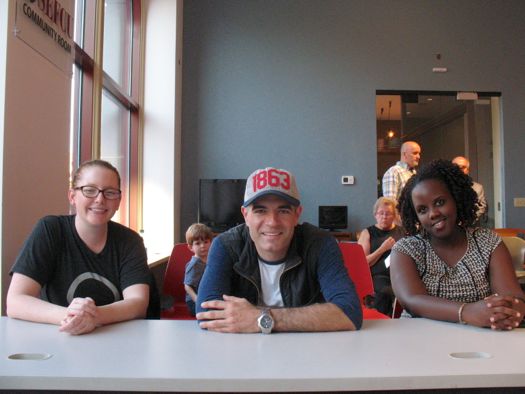 From left to right: Rhea Drysdale, Vic Christopher, Michaelle Mugisha.
The three judges for this year's final at the Tech Valley Center of Gravity in Troy:
+ Rhea Drysdale: founder and CEO of Troy-based online marketing firm Outspoken Media.
+ Vic Christopher: co-founder of Clark House Hospitality, which owns The Confectionery, Peck's Arcade, and Little Pecks in Troy.
+ Michaelle Mugisha: a consultant for the Community Loan Fund of the Capital Region.
(Michaelle Mugisha was a last-minute substition for the Community Loan Fund's Lissa D'Aquanni, whom we had previously mentioned would be a judge. Big thanks to Michaelle for pinch hitting! And Lissa, we hope you're feeling better!)
Here are the judges' thoughts about the finalists, along with some points of advice for each project.
Tivoli Park Peace Farm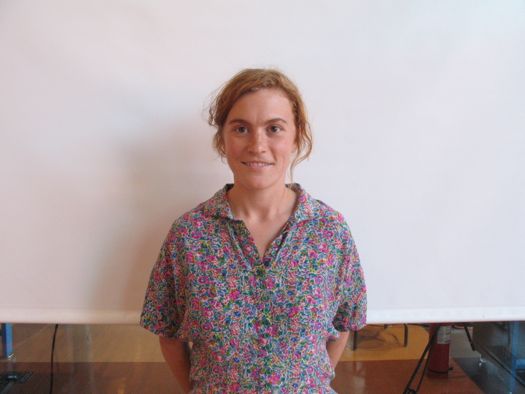 Who: Melissa Parade
Short project description: Parade will be managing a new program at the Tivoli Preserve in Albany in which a herd of sheep will be used to target invasive species growth. The grazing program is backed by a grant from the city of Albany. But she's also aiming to build a sustainable urban farm in the preserve that will produce and sell products from the sheep, as well as chickens, and to grow and sell produce. Parade is also looking to make the park a hub for educational and community activities. Tivoli Park Peace Farm was the AOA editors' pick for the third finalist spot.
The grant money would be used to buy chickens and prepare gardens for next spring.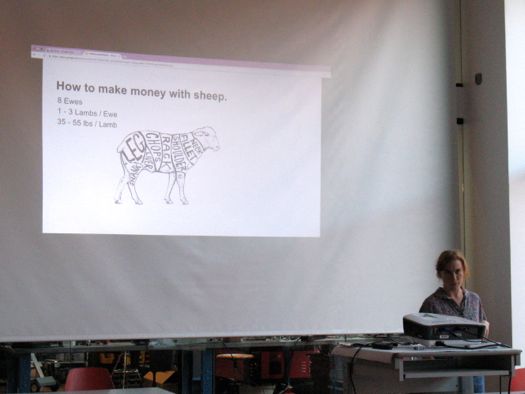 Judges' thoughts
It's fair to say the judges were very intrigued by the idea of the Tivoli Park Feace Farm. And they were clearly impressed by Melissa Parade's ambition and spirit for the project.
But that interest was tempered by some skepticism about the commercial prospects of the farm. The judges questioned whether consumers would be willing to pay the sort of prices that would be necessary to make money.
They were also concerned that the burden of running the whole operation would largely fall on one person. As one judge asked during the presentation Q&A: "Who could replace you?" Parade said she's looking to line up some people who can help out.
Another issue that came up in discussion: community involvement. The judges were enthusiastic about this part of the project, and recommended that Parade take the time to reach out to multiple different people and groups around the West Hill and Arbor Hill neighborhoods. Parade said her goal is that people in the neighborhood will feel like the farm is their space.
Judges' advice
+ Work on forming community relationship.
+ Get some business plan help for mapping the financial prospects of the farm.
+ If focused on educational programs, look for potential grants and funding that might be able to back that programming.
+ And, as one judge said in reference to the judges' own skepticism: "Prove everyone wrong."
Collar City Candle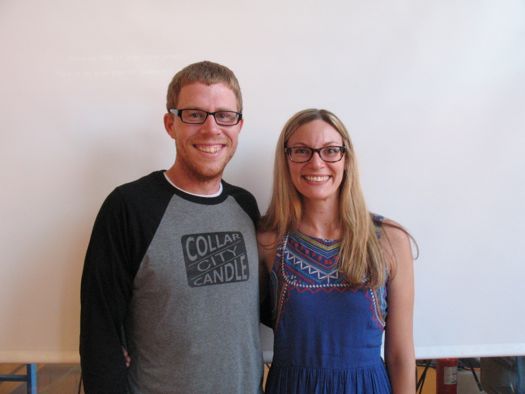 Who: Josh and Jamie Wallbank
Short project description: Collar City Candle makes small-batch, handmade candles, soap, and one-of-a-kind scented-wax vessels for plants. They make a range of candles -- pillars, containers, votives, and tapers. And they say their unique scented-wax vessels for plants have been a big hit at markets. They were #1 in the crowd voting.
They'd use the grant money to pay for expenses related to incorporation, trademark, and copyright.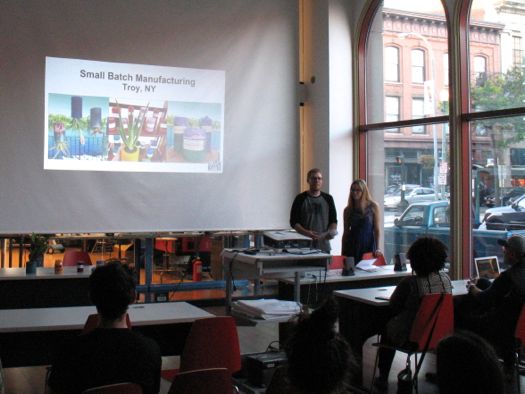 Judges' thoughts
The judges were impressed by the Wallbanks as a team, their combination of Josh having many years of candlemaking experience and Jamie's marketing savvy. And while their sales totals are relatively modest at this point, the judges thought their profit margins were healthy. (The judges also liked that Josh and Jamie were able to walk through their numbers with ease.) And they praised the work the Wallbanks have done on branding and forming partnerships with other businesses. (They're created a series of custom candles in collaboration with other local businesses.)
Most of the judges' attention was focused on how the Wallbanks can scale their business -- because the judges all thought the potential was there. And the prompted questions about what steps Josh and Jamie were willing to take to move up to the next level. The Wallbanks said they each currently work about six hours a day on the business, and that they'd eventually like to have Josh move to it full time. The judges thought such a move would clearly be necessary for the business to grow.
Another issue the judges brought up: access to capital. If Collar City did happen to hit it big -- by, for example, scoring a buy from a major retailer -- would they be able to get the money necessary to expand quickly enough?
Judges' advice
+ Get incorporated. And get some tax advice -- there might be incentives for things like the cost of electricity.
+ Make the leap and move Josh to full time.
+ Find production space, which could also open the possiblity of tours, classes, and a retail space.
+ Plan for expansion, and invest time and resources into process.
Marquise Productions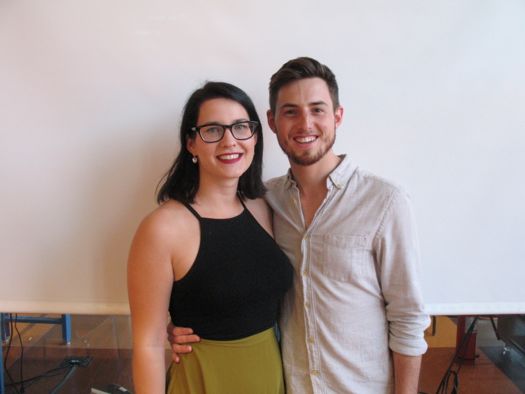 Who: Aaron and Sarah Marquise
Short project description: Marquise Productions is a Montreal-style circus company headquartered in Troy that creates original circus-theater shows featuring international artists. (Aaron is a professional clown, trained at the National Circus School in Montreal.) They were #2 in the crowd voting.
Marquise would use the grant money to help cover the costs associated with a quarterly variety show event it's producing at Rev Hall in October.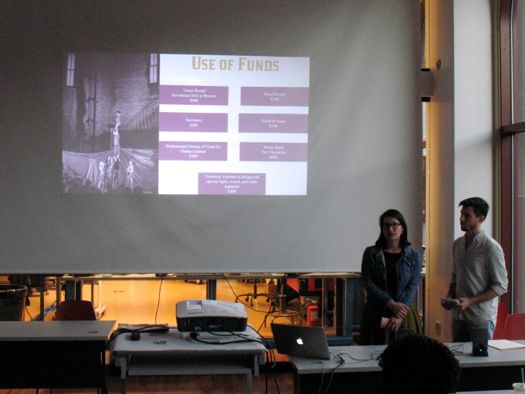 Judges' thoughts
The judges thought the Marquise plan to build a production company for modern circus has a lot of potential. And they really liked that part of the Marquise pitch was to help grow a circus culture and industry in Troy. They were also very impressed with Aaron and Sarah, whose presentation was polished and engaging.
But the judges were skeptical of how the variety show event fits into the overall picture. One judge asked if producing the event would be a distraction from the company's core business, and Aaron and Sarah said they were planning to put it together in the many in-between times that crop up while organizing tours. Still, the judges were a bit worried that time and effort would be going into something that might not be growing the core business.
The judges commented the Marquises should be thinking about ways to generate revenue from the variety show events that go beyond ticket sales.
Judges' advice
+ Think about ways to generate revenue on a more consistent basis, maybe via educational programs or other sorts of workshops.
+ Look for potential partnerships with artist incubators and other collaborators. Explore ways to build relationships in Troy.
+ Keep learning about the business -- and trust your instincts.
And the winner is...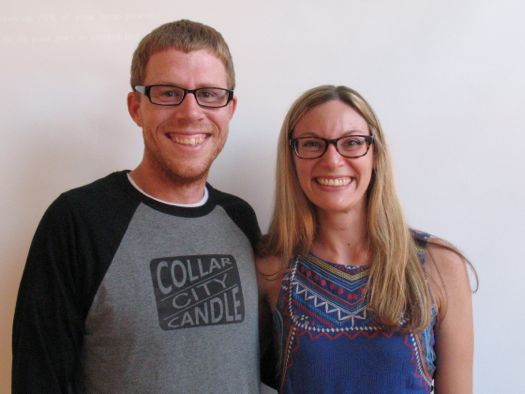 Collar City Candle
The judges were unanimous in their vote. They were impressed by what Josh and Jamie Wallbank have done so far -- and enthusiastic about the potential of the business. They also felt confident the grant money was going toward a key expense that would help the project and protect it. And they hoped the prize would help push Josh and Jamie to take the steps necessary to grow the business.
As one judge concluded, "They have the business sense -- they just need to make the jump."
Collar City Candle will also receive a year of free accounting services from Staff Ciampino & Company.
The Community Loan Fund of the Capital Region is donating an entrepreneurship class to the other two finalists.
Thank you
Thank you to everyone who submitted an application for this year's grant. There were so many interesting projects! Please keep us updated as you make progress. (And if you haven't read through this year's applications, it's worth taking a few minutes to do so.)
Thank you to John Dion from the Huether School of Business at the College of Saint Rose for providing coaching to this year's finalists.
Thanks to our judges -- Rhea Drysdale of Outspoken Media, Vic Christopther of Clark House Hospitality, and Michaelle Mugisha of the Community Loan Fund of the Capital Region.
And thank you this year's contest sponsors: CDPHP, Staff Ciampino & Company P.C., Certified Public Accountants, The Tech Valley Center of Gravity, The Community Loan Fund of the Capital Region, The College of Saint Rose, and Berkshire Bank.
Hi there. Comments have been closed for this item. Still have something to say? Contact us.