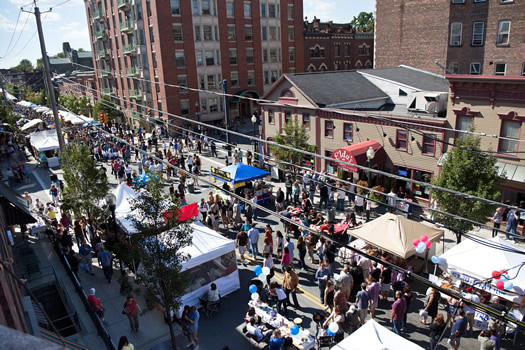 LarkFest was this past Saturday in Albany -- as you know. And a few bits/perspectives about the street festival are circulating today on the Monday after.
First, from the Times Union, word from that the Lark Street BID could make LarkFest alcohol-free in the future in order to cut down on the costs and complications related to the fest.
And from August Rosa -- a co-owner of the Lark Street beverage shop Brew, and a Lark Street BID board member -- a call to not change the festival. A clip:
... Albany events are so important, especially when surrounding towns (you know where I am talking about) are getting lots of buzz. They take chances. They have nothing to lose.
In fact, Brew might not have existed in the first place if LarkFest didn't exist. In 2004 as a freshmen at St. Rose I came down to see LarkFest on a whim and The Dandy Warhols were playing. I couldn't believe that one of the recent bands I downloaded from LimeWire was playing on the block! This was the first thing that established Lark Street as the cool place to be. From there I came down every week to grab a bite or pop into shops. I ended up living on the block in a few apartments. I ultimately opened up a shop here because I really do think that Lark Street can be what it was 10 years ago.
People just have to let it be. Lark Street is not a suburb. If certain individuals want to dilute Albany's culture then the businesses will move. ...
The topic of what the Lark Street commercial corridor is, and should be, has come up a lot in the last year or so as some people have said the stretch is in decline and others say it's just going through some cyclical change. The question of what LarkFest should be in the future fits right in with all that.
So, we're curious about your take on the future of LarkFest -- whether it should change, and if so, in what ways?
Earlier on AOA:
+ Thinking about the future of Lark Street
+ Lark Street and the competition among the Capital Region's hip urban areas
+ Ideas for Lark Street's longterm future
Hi there. Comments have been closed for this item. Still have something to say? Contact us.