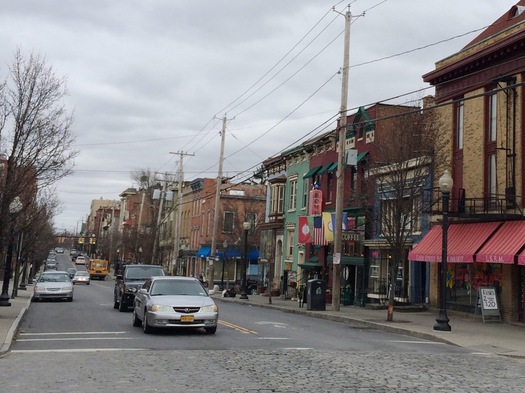 You've probably heard at least a little bit about the big Rezone Albany project, which is working to completely overhaul and modernize the city's zoning code. The process is nearing its completion, and as that approaches, people are starting to get a sense of what sorts of changes the project might prompt.
One that's getting a lot of attention is the zoning designations for parts of Lark Street between Madison and Washington and adjacent areas of neighborhoods there. Specifically, the new "mixed-use neighborhood center" designation along parts of Madison, Lark, and Washington will eventually require businesses to close by 2 am. And the "mixed-use neighborhood edge" designation for zones around the area will eventually require an 11 pm closing time.
Those proposed new rules have prompted an online petition opposing the closing times -- it's already collected more than 2,000 supporters.
And in a post at Medium, Joe Bonilla of the local PR firm Relentless Awareness argues the change will put Lark Street businesses at a competitive disadvantage compared to businesses in other parts of the city -- and put Albany itself at a disadvantage compared to Troy and other urban centers in the region: "This is not just a late-night bar thing. This is a dimming of the quality of life of living and working in an urban neighborhood."
Over at the Times Union, Amanda Fries talked with some of the business owners who would be affected, and some of the neighborhood groups that seem generally supportive of the change.
One of the goals of Rezone Albany is to simplify the city's zoning and make it more consistent -- something the current situation around the Lark Street neighborhood is not. Businesses that want to operate past 11 pm are required to get a special use permit from the city's Board of Zoning Appeals, a process that can take time and be tricky to navigate. The Rezone plan would also expand the number of properties zoned commercial to reflect the actual mixed-use nature of the neighborhood, and would allow some businesses to expand to the upper floors of buildings.
Here's the whole big proposed Rezone Albany draft of the proposed new zoning definitions and rules. (The mixed-use neighborhood designations start on pdf page 30.) And here's the proposed zoning map. (It should also be embedded above.)
If you zoom out a bit, this new debate about the potential Rezone changes is part of the ongoing discussion of what the Lark Street area is and/or should be. Is it an all-hours commercial and entertainment district? Or is it something more like a commercial center that serves a residential neighborhood? Can it be both? People have had a lot of different answers to these questions in the past, and they'll continue to have different opinions in the future. So the big, over-arching question is how to balance all these desires and concerns.
If you'd like to weigh in on this most recent point of discussion, it's worth reaching out to your Common Council member with a comment. Or, if you can, take the time to show up at a Common Council meeting and say something during the public comment period. And if there ends up being another Rezone Albany public meeting about the final set of zoning codes, that would be another opportunity to show up and say something.
Earlier on AOA:
+ Thinking about the future of Lark Street
+ Lark Street and the competition among the Capital Region's hip urban areas
+ Ideas for Lark Street's longterm future
Hi there. Comments have been closed for this item. Still have something to say? Contact us.