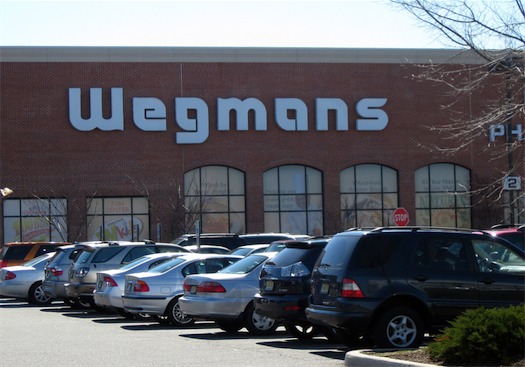 To cap off Supermarket Week, we thought it'd be interesting to get an outside view of the supermarket scene and why some chains do or don't end locating in metro areas. (Maybe there's a certain chain that springs to mind...)
So we got in touch David Livingston of DJL Research, a supermarket industry analyst, to talk a little bit about the scene.
Here are a few quick bits from the conversation -- about Price Chopper, Wegmans, and why some of the sought-after chains expand slowly...
Price Chopper/Market32
Livingston noted right from the top that Price Chopper/Market32 is privately held so it's difficult to say from the outside what its financial health might be. But the chain's ongoing switch to the Market32 brand and changes in leadership might have outside competitors thinking there's an opening to grab some of the company's market share.
This past summer the trade publication Supermarket News reported it was told by sources that the Golub Corp. was considering a sale of Price Chopper/Market32 -- a report the company called "rumor and innuendo." [Supermarket News] [Biz Review]
Even though Price Chopper has a big chunk of the Capital Region market and areas around here (with 135 stores across the entire chain), it's still not that big in the overall supermarket industry. It's the 42nd largest food retailer in the country by revenue, according to the Supermarket News rankings.
Livingston said a sale wouldn't be surprising. "I think it's probable, in order to survive, that [they] may have to merge with someone or sell out to a private equity group."
Hannaford
Livingston said Hannaford has historically been a very good company. But it was bought by the massive international conglomerate (that's now called) Ahold Delhaize in 2000, which owns a string of supermarket chains. And he says the chain of chains' "large, sterile" grocery stores along the US East Coast have been struggling.
"I think they've probably been dragging Hannaford down with them a bit."
So between Price Chopper and Hannaford, Livingston said competitors probably now see opportunities in the Albany market if they can offer something different.
Wegmans
We had to ask Livingston about Wegmans coming here because, well, people would clamor about it if we didn't. And his take: it's not happening.
"I had an informal conversation with one of their executives a while back and his answer was, 'We just don't want to go there' [in reference to the Albany market] ... And when you're a privately-held company, that's good enough. If you don't like to eat broccoli, you don't have to eat it. Even if it's good for you and everyone else eats it."
He's also heard the old story about there being some sort of informal agreement between Wegmans and Price Chopper not to compete on each other's home turf. "I've asked the question and pretty much gotten a no-comment answer."
He said it's also possible that there's been something about the demographics of this area -- population or incomes or whatever -- that just hasn't appealed to the company. (In recent years Wegmans has been expanding in eastern Massachusetts, New Jersey, the Washington DC area, and just recently it announced plans to open in the Raleigh-Durham area of North Carolina.)
So, bottom line: "I don't think you're going to see a Wegmans in Albany anytime soon."
Why some of the most-requested chains expand slowly
The topic of Wegmans, and the relatively recent arrivals of Trader Joe's and Whole Foods, got us talking with Livingston about why some of these chains that seem so popular expand relatively slowly.
Livingston cited two reasons: capital and staff.
"Give you an example, Whole Foods and Trader Joe's -- everyone wants one and they'd work in a lot of places," Livingston told us. "But they don't like to go out and borrow money up to their eyeballs just to build the stores. They'd prefer to build them with the cash on hand."
That method also helps the chains from getting ahead of themselves. He pointed to The Fresh Market as an example -- it closed 13 locations in the Midwest earlier this year after selling itself to a private equity group. (Fresh Market has apparently been looking to open a third Capital Region location in Halfmoon.) [Houston Chronicle] [Consumerist] [Biz Review]
"One of the worst things a company can do borrow a lot of money and just go expanding," Livingston said.
And then there's the staffing angle. Many of these sought-after chains rely on experienced store employees.
"Wegmans is a good example. When they open a new store, they might move 50 or 60 people to that area to work in that store," Livingston said. "They don't just hire any Joe off the street to run their bakery and deli and restaurant operations. They're bringing in people with experience who've worked in those stores. It takes years for these people to gain that experience. So, they have to be patient and wait for their employees to get that experience."
As Livingston pointed out, Wegmans has just 92 stores, despite its popularity.
"It's taken them a hundred years to get there. They're going to be very careful and methodical about how many stores they build and where."
More Supermarket Week
+ Supermarket Showdown 2016
+ Giving ALDI a try
+ Recalling the grocery stores of Albany's past
+ What's a bit of supermarket shopping savvy that you can share?
Earlier on AOA: Wegmans? Really? Please explain.
Say Something!
We'd really like you to take part in the conversation here at All Over Albany. But we do have a few rules here. Don't worry, they're easy. The first: be kind. The second: treat everyone else with the same respect you'd like to see in return. Cool? Great, post away. Comments are moderated so it might take a little while for your comment to show up. Thanks for being patient.