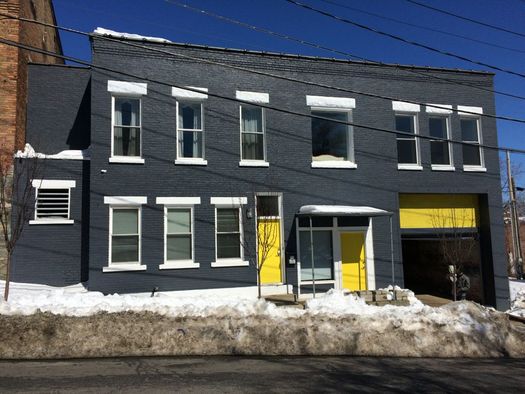 The Albany Distilling Co. formally announced Friday it's opening a tasting room and retail store in a building near the foot of the Livingston Ave hill in Albany.
Here's a look at the place and what's in the plan.
Photos
There are a handful of pics at the top in large format -- click or scroll all the way up.
The spot
Albany Distilling will be occupying 75 Livingston Avenue -- it's on the block between Broadway and North Pearl Street in that slice of a neighborhood between the downtown core, the Warehouse District, and Arbor Hill.
The building dates back to 1846. It once served as a warehouse, and more recently its upper floor was converted into a loft-style residence. ADCo will be occupying the whole building, along with a courtyard in the back.
Albany Distilling is taking on the building as a lease-to-own arrangement. ADCo owners John Curtin and Rick Sicari figure that the cost of renovations, and eventual purchase of the building, will be be more than $1 million.
The project is getting $30,000 from Capitalize Albany's Downtown Albany Retail Grant Program and a $60,000 grant from Empire State Development.
What's planned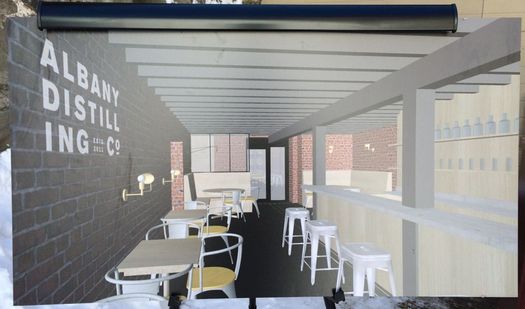 The converted space will serve a handful of roles for Albany Distilling:
+ The first floor will include a tasting room. There will also be a retail shop to sell both ADCo products and those of other craft producers.
+ The upper floor will include company office space, with a goal to use the residence space (with its kitchen) for private events and whisky dinners.
+ The company is also hoping to eventually put in a full bar that will serve both its products and those of other New York State craft producers. The ability to sell other producer's beverages as drinks will be pending new state legislation that would allow that. Local state Assembly member Pat Fahy and state Senator George Amedore are sponsoring that bill. (The state passed similar legislation for cideries.)
+ The courtyard in the back with serve as barrel storage, along with a large deck. (The company currently stores its barrels at a warehouse in Saratoga County.) And there's room back there for further expansion in the future.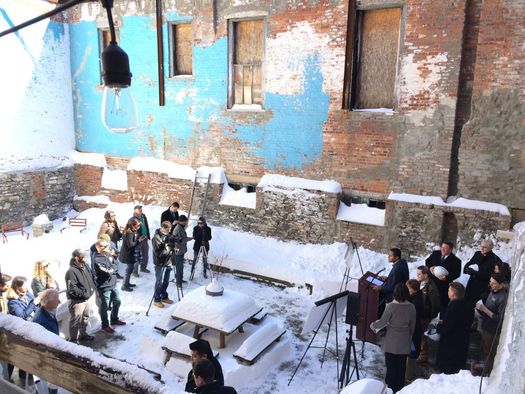 Rick Sicari said Thursday that they see these plans coming along in stages.
"With whisky everything takes time, aging is a huge part of our business" he said, "We're not eager to have this done right now. We want to work into this."
What won't be there: any of Albany Distilling's production. The company is keeping that at its original space on Montgomery Street next to the Albany Pump Station. (It's about a five minute walk away.)
"Moving the still is quite a task," John Curtin explained. "So, for now, we're going to keep that. The nice thing is that everything else goes -- everything that impedes production comes here."
They say freeing up the room on Montgomery Street will allow them to scale up production.
The neighborhood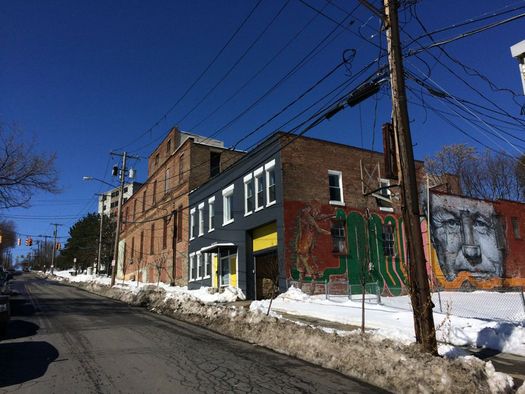 As mention up top, this spot is in an area that's been a not-quite neighborhood -- not quite downtown, not quite the Warehouse District, not quite Arbor Hill.
But whatever you call this in-between area, it's been the focus of a lot of planned development lately: + A building at 733 Broadway opened with 29 apartments in late 2015.
+ Two new-construction residential projects are planned nearby -- at 760 Broadway (100 units) and 191 North Pearl (18 units).
+ A developer is looking at renovating the long vacant Church of the Holy Innocents just down Pearl Street from Livingston, along with a residential redevelopment along Broadway.
+ And closer to (in) downtown there's a plan for big three-building mixed-use project next to Quackenbush Square.
Schenectady
You might remember that Albany Distilling's surfaced in December during discussion about the proposed Mill Artisan District in downtown Schenectady.
On Friday Curtin and Sicari said they're still in talks to be a part of all that, but it's a longterm project.