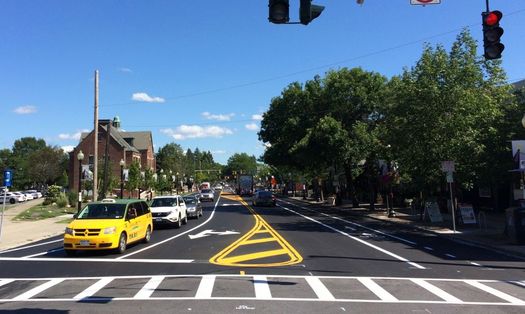 The second phase of the Madison Ave Road Diet in Albany is set to start later this year and the city has a public meeting coming up April 6 to offer info and answer questions about the plan:
Continuing the transformation of Madison Avenue into a complete street and consistent with the theme developed publicly during Phase 1, the City of Albany is now progressing Phase 2 of the project to add bike lanes, improve transit stops, and improve pedestrian accommodations on this important City Street. During this public information meeting, project representatives will provide information about the Phase 2 scope and schedule, and address questions during a brief Q&A period. Similar to Phase 1, Phase 2 proposes to reduce the number of travel lanes in the corridor from four lanes to three, upgrade traffic signals, provide signal coordination for motorists, and provide improved accommodations for non-motorized users in the corridor.
This next phase will cover the stretch from Partridge Street to Lark Street.
The lead up to the road diet prompted a lot of discussion -- from cycling advocates, from businesses expressing concerns about parking, from people who just had a hard time believing that reducing the number of travel lanes wouldn't create traffic problems. And when that first phase -- from Allen Street to Partridge -- was reconfigured, it set off a whole new flurry of comments and criticism, with city officials calling for people to be patient and adjust.
So this meeting will be a good opportunity to take a stock of how things have turned out so far. (An informal take based on our own experiences: The reconfigured section feels safer and more humane, and the transition from the new segment to the not-yet segment is jarring.)
And as we mentioned last year, this project is a test of the road diet concept. If it works out, it's not hard to see other streets getting a similar treatment.
The public meeting is Thursday, April 6 at 6 pm at the College of Saint Rose's Touhey Forum (Lally School of Education building, 1009 Madison Ave).
Hi there. Comments have been closed for this item. Still have something to say? Contact us.