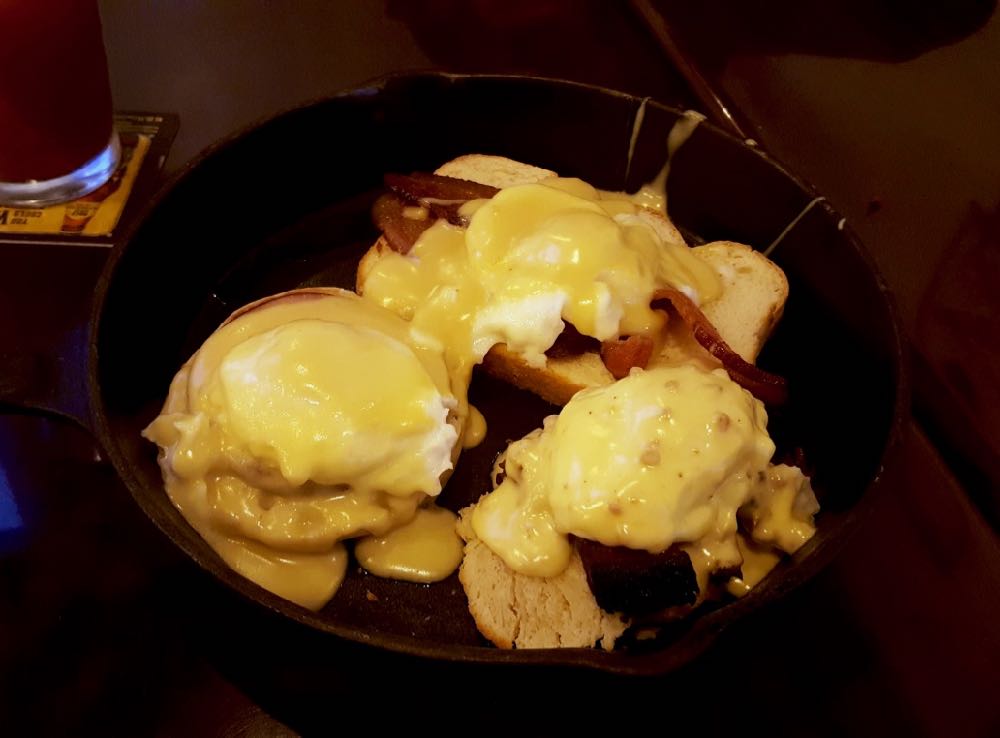 By Deanna Fox
Thrice I've attempted to dine at Tipsy Moose Tap and Tavern, just off Latham Circle. The first time, not long after the comfort food destination opened, the wait time was over an hour. The result was a visit to Celadon Thai. The second time, during happy hour, was equally unsuccessful. Zaitoon Kitchen stepped in instead.
But three is the magic number at Tipsy Moose, and my third attempt during peak Sunday brunch hours was a success.
There were far too many tempting choices on the Tipsy Moose brunch menu, and choosing just one item was difficult. But why choose just one when you can try three? The Benedict trio fit that bill, offering one portion of each of three Benedict styles (tradition, BBQ, and smoked, $13.95).
Served in a cast iron pan, the Benedict trio is definitely shareable if you opt for another, smaller item. (I'm told the cast iron is as much for utility as it is aesthetics. Though the cost of investment is initially higher, the return on that investment beats traditional ceramic serviceware that breaks frequently and easily in a restaurant with high customer turnover and cramped space.)
The traditional version is a solid rendition of a poach egg with housemade hollandaise over Canadian bacon and a fork-split toasted and buttery English muffin.
The BBQ Benedict is served on a drop-style crumby (versus flaky) biscuit with brisket and sausage-laced hollandaise. The flavors work well together, though the distinct flavors of the brisket get lost under the blanket of pork fat that leaches into the hollandaise.
The smoked Benedict comes on a chewy slab of Pullman bread, pocked with air holes that allow the bread to absorb the drippings from thick smoked bacon and a maple-sweetened hollandaise. Though the traditional version was exemplary, the smoked version might deserve a return visit.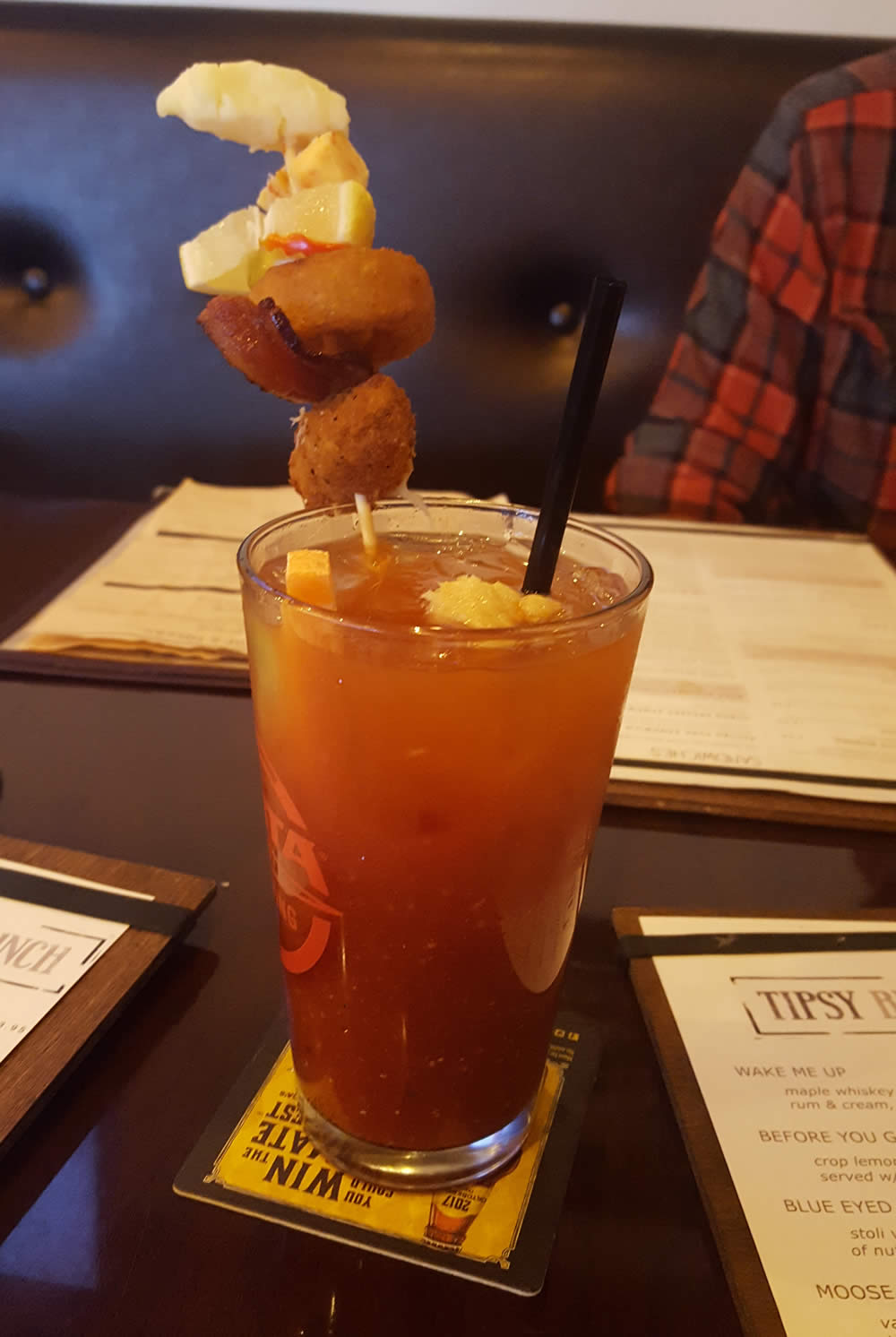 The true highlight of the Benedict trio wasn't any flourish added to enhance fat and flavor, it was the egg itself. Though other food enthusiasts like to shame me for this, I'm not a fan of runny eggs. On the worst end, most restaurants (especially during the brunch rush) will poach eggs until the whites become set but not opaque. Most times, the eggs come with firm, gelatinized whites, but the yolk keeps the consistency of its just-cracked brethren.
Not for me, thanks: Give me yolks that have the texture and feel of just-cooked, loose jam or rich syrup. By chance or with intention, that's just how Tipsy Moose provided poached eggs.
Save room for the build your own bloody Mary bar (the drink on its own is perfect, but why settle for perfection when you can gild the lily with a 8-inch wooden skewer for bacon, fried cheese curd, pickled veg, and all the horseradish you come hope for?) or the increasingly noteworthy beer list (Mikkeller, Hill Farmstead, Brewmaster Jack, Evil Twin, and other coveted names in brewing make frequent appearances).
Deanna Fox writes about many things, mostly about food. More can be found on her website, Twitter, or Instagram.
More Eat This
+ Pollo mofongo from Mi Ecuador Juice Bar
+ Beef vegetable soup at Chuck Wagon Diner
+ Vegetable stew at Kismet

Find It
Tipsy Moose Tap and Tavern
185 Old Loudon Road
Latham, NY 12110