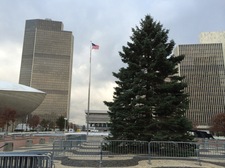 We got a question from Nate about locally-owned tree farms in the Capital Region. It's getting a little late in the season, but we figured we'd recycle some still-useful info:
+ Here's a handful of cut-your-own tree farms around the area. (Some of the specific details won't still apply, but the farms are still in operation.)
+ The Christmas Tree Farmers Association of New York has a good find-a-tree-farm map on its website. You can plug in a ZIP code and radius within you'd like to search. The results include contact info and links for the farms, along with a few other details.
+ Back in 2015 we asked people about where they get their tree and how much it cost. There were a lot of good comments, and if you're still looking to buy a tree they'll be able to point you toward some outlets for either cut-your-own or already-cut.
+ From way back, here are some tips from Katie about going to out cut your own tree.
Skimming through the Facebook pages of a bunch of local tree farms today, we get the sense some of them are starting to wrap up their cut-your-own season (some have already ended). But even if cut-your-own is over, many still have already-cut trees available.
As with anything like this -- blueberries, apples, Christmas trees -- always check before heading out to the farm.
Tree recycling
Looking ahead a few weeks... If you're in the city of Albany, DGS will pick up your tree for recycling. Just put it out at the curb on your regular trash day and -- important -- make sure it's free of tinsel and other ornamentation.