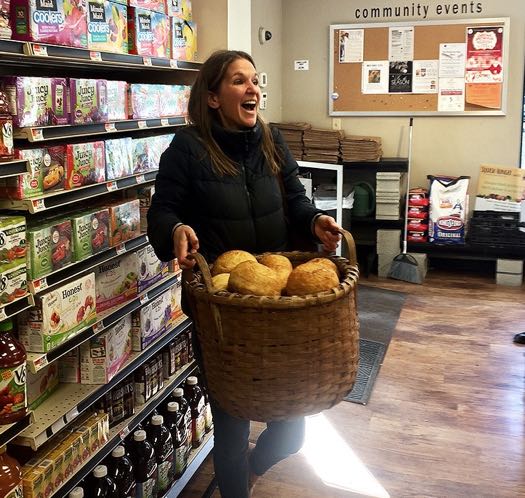 Gifts and giving are on most everyone's mind this month. So we're again asking people to share some thoughts on presents, past and present, charities -- and wishes for the next year.
Alexandra Stafford is the author of Bread Toast Crumbs, a loaf-to-crumb bread baking book. She writes the blog Alexandra's Kitchen and contributes weekly to Food52.
She lives in Niskayuna with her husband and four young children.
What gifts would you like to get this year?
I'm eyeing this NutriMill Grain Mill. A friend of mine has been grinding his own wheat and rye berries and using his home-milled flour to make incredibly fragrant and flavorful breads. The nutritional benefits of home-milled grain is also appealing.
David Lebovitz's new book, L'Appart, is also on my list.
What gifts would you like to give this year?
Books and bread.
Books: For as long as I can remember, I was the girl that showed up to birthday parties with books my mother had purchased, and I was always embarrassed because books felt so boring compared to the toys, games, and dolls others had brought. Now I get it. Books of all sorts are my favorite gift. A few books I've read recently and loved include: Stephanie Danler's Sweetbitter, Emma Straub's The Vacationers, Maria Semple's Where'd You Go, Bernadette, and Celeste Ng's Little Fires Everywhere.
Bread: A dear friend's mother said it best: "People who don't bake think homemade bread is a miracle, and people who do appreciate the effort and good mojo." Baking homemade bread takes time, but most of the time is hands off, and it costs very little. For about a dollar worth of pantry items, you can bake two beautiful loaves of bread.
What charity would you like to support?
Capital Roots. I recently visited the Capital Roots headquarters in Troy, met some of their incredible employees, and learned more about their mission and initiatives throughout Albany, Rensselaer, and Schenectady counties, including their Veggie Mobile (a mobile market that travels to inner-city neighborhoods), Community Gardens (roughly 900 plots), Healthy Stores (which provide fresh, affordable produce daily in urban convenience stores), Produce Project (a year-round life skills and job readiness training program that increases employment and educational opportunity for urban youth), Veggie Rx (a doctor-ordered vegetable prescription!), and so much more. I'm so inspired by all that they do.
What is your most memorable gift?
Many years ago when I was working in restaurants, my college roommate's parents sent me a box of Rancho Gordo beans. This box, filled with half a dozen bags of heirloom beans, introduced me to the variety (and delicious world) of beans out there. I have been a fan of Rancho Gordo ever since, and I love giving their beans as gifts. I order 10 to 12 bags at a time to get free shipping, and then either cook or gift (the beautiful packaging is a plus!) the beans until I run out. The beans are so tasty -- I live on them all winter.
What is your wish for the New Year?
To see my community continue to grow. I feel so lucky to live where I do, and this past year in particular, I've seen how generous and strong our community is. I am so grateful for the support I've received from The Niskayuna Co-op, The Open Door Bookstore, The Vischer Ferry General Store, Spoon and Whisk, Great Flats Brewing, and The Evergreen Olive Oil Co. I hope in 2018 I can do more to give back and support local institutions.
Specifically, I would love to see a wood-fired pizzeria open across the street from Great Flats Brewing.
____
More holiday gifts
+ Holiday gifts: Jammella Anderson
+ Holiday gifts: Hali Bey Ramdene
+ Holiday gifts: Kristin Jackson
+ Holiday gifts: Evelyn Melendez
+ Holiday gifts: Nick Foster
+ Holiday gifts: Jason Vengersammy