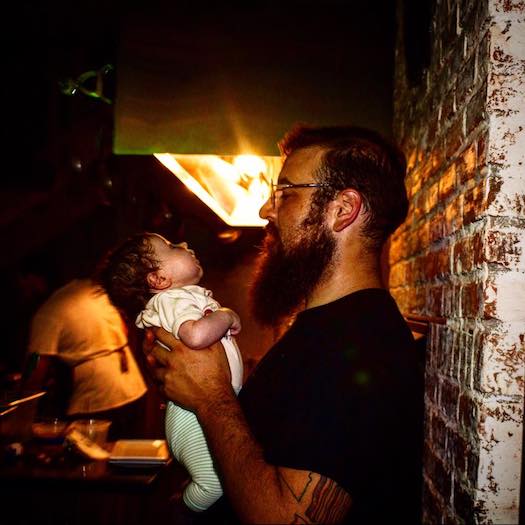 Gifts and giving are on most everyone's mind this month. So we're again asking people to share some thoughts on presents, past and present, charities -- and wishes for the next year.
Josh Coletto, a graduate of the Culinary Institute of America, began his career in some of Portland, Oregon's top restaurants. Upon returning to upstate New York, he was integral to the opening and success of several prominent restaurants.
Recently he has earned praise for his pop-ups, including the popular Rock N Roll Brunch series. He is currently working on another series of family style meals at Peck's Arcade.
Josh is an active member of the Chefs' Consortium and works with the catering company Heirloom Fire. He holds true that local, seasonal ingredients are the best inspiration and frequently collaborates with other area chefs and farms that share this belief.
When Josh is not cheffing, he is found foraging with his dog, playing in bands, or selling real estate.
What gifts would you like to get this year?
Well, the greatest gift... which is healthcare for everyone (including myself)... for free...
All things material are temporary.
What gifts would you like to give this year?
I like to give people the gift of eating lots of tasty food. I usually give people something I have made, this year it will probably be some dandelion wine.
What charity would you like to support?
I would like to support my partner's non-profit, the Chatham Children's Garden. I can't see many more important things than giving children a connection to the foods that they consume.
What is your most memorable gift?
I got a drum set when I was 10 or so, I had wanted it most of my life until then. The drums were a gift that opened up many doors for me for years to come.
What is your wish for the New Year?
I wish to see the communities around here come together and look out for one another.
And for me? I hope to open a restaurant (shhh). And I would love to make this Realtor thing a successful career, too!
____
More holiday gifts
+ Holiday gifts: Roni Choudhury
+ Holiday gifts: Alexandra Stafford
+ Holiday gifts: Jammella Anderson
+ Holiday gifts: Hali Bey Ramdene
+ Holiday gifts: Kristin Jackson
+ Holiday gifts: Evelyn Melendez
+ Holiday gifts: Nick Foster
+ Holiday gifts: Jason Vengersammy