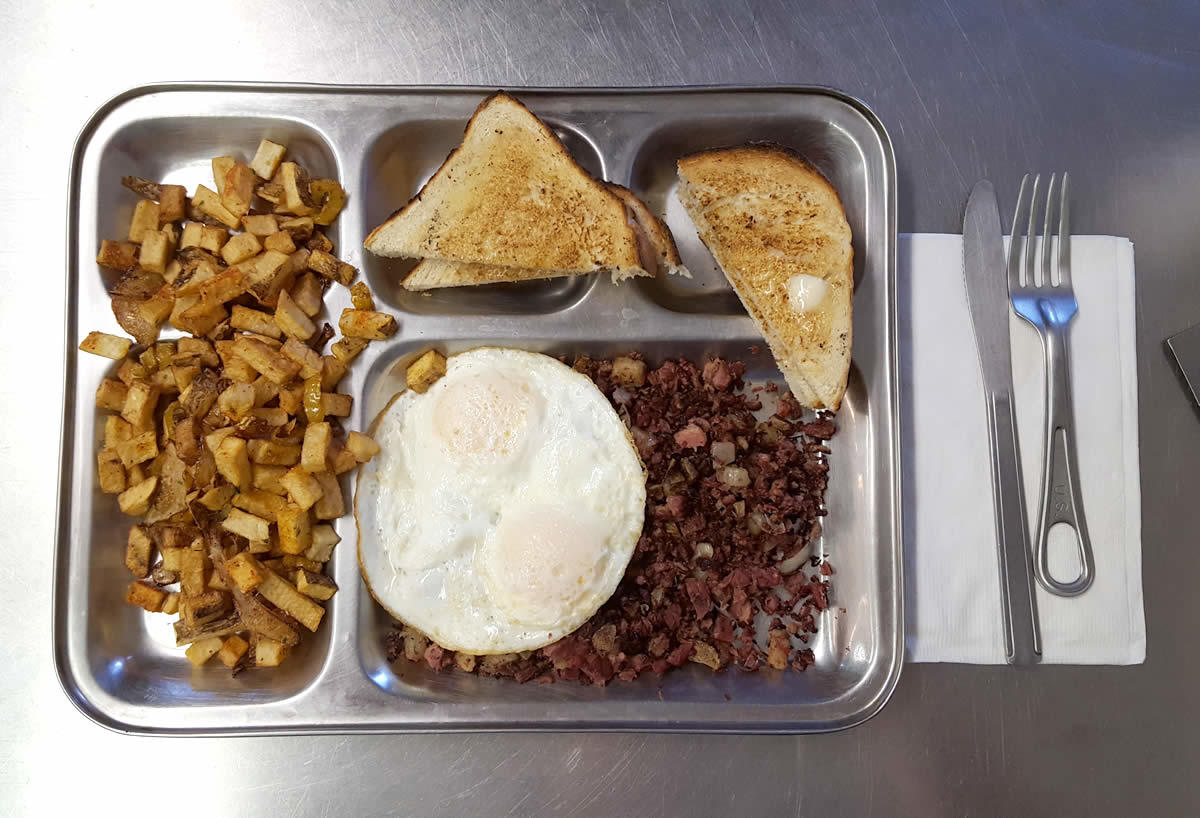 By Deanna Fox
It's not lost on me that a military-style eatery is serving up some of my most beloved comfort food, even though I've no military experience myself, and neither do my parents.
My grandfather was a WWII veteran, and I have uncles and cousins who have honorably served multiple tours of duty for the Marines and Army. But the food that marked their military careers had no effect on my own upbringing.
Somehow, still, the food from the bunker outpost that is Mess Hall, in Averill Park, hits me right where it counts when it comes to culinary nostalgia and edible comfort.
Shawn Hardy, the chef/owner (with wife Noelle) of Mess Hall, has found the perfect way to combine his love of food and dedication to serving our country at the Mess Hall, which is now nearly two years old.
Open Monday through Friday 6 am to 7 pm, with a brief 1.5 hour interlude in the afternoon to prep for dinner service, the former Navy culinary specialist makes it his mission to put simple but hearty scratch cooking on the table for customers throughout the day.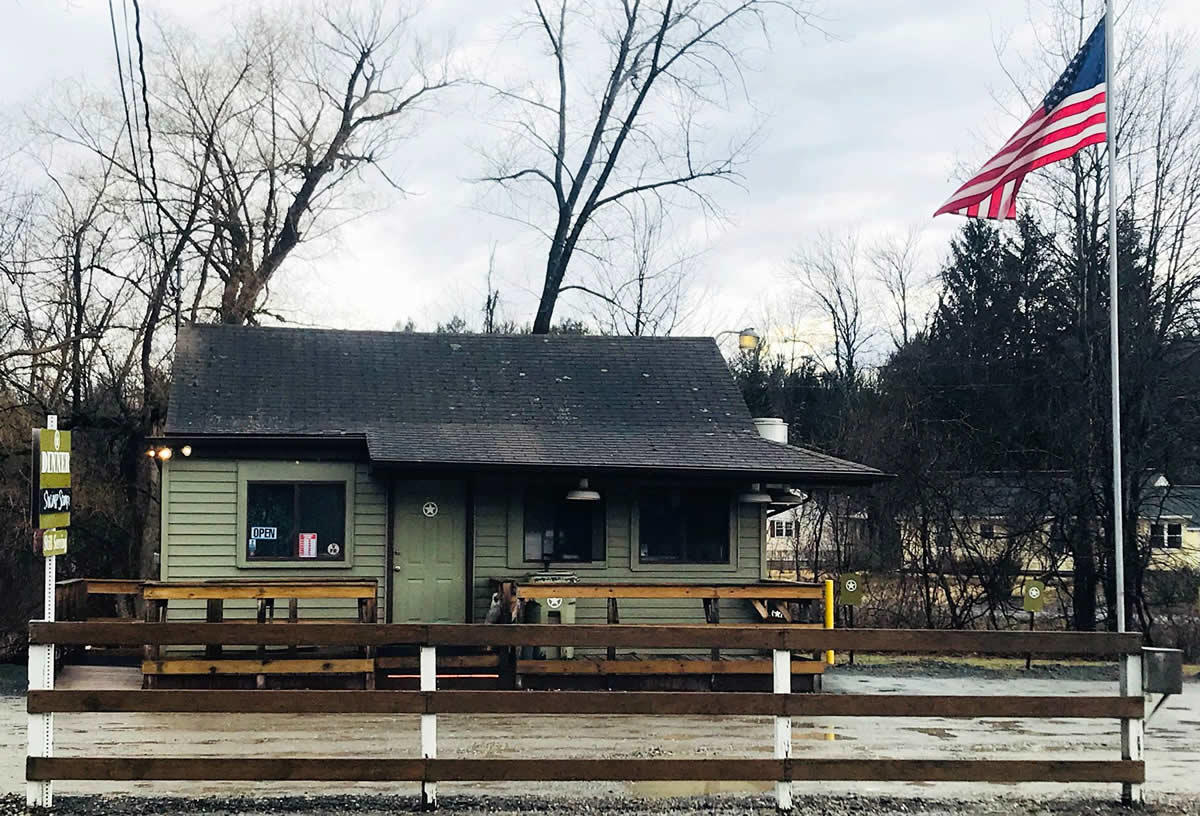 photo courtesy of Shawn Hardy
The Mess Hall posts a weekly menu to Facebook and its website that shares the nightly dinner option -- of which there is only one. Take it or leave it, and regardless of what's served, it is all $9.25 per serving.
This week's dinner menu lineup: Chicken Cordon Bleu on Monday, Taco Tuesday, shrimp scampi on Wednesday, roast beef for Thursday, and fish and chips for Friday. Each comes with a side or two.
There are also daily lunch specials that lean towards a piece of protein between two slices of carbohydrate. And the menu includes a lineup of hand-held sandwiches typically paired with a cold salad, for $6.60 or less. According to past conversations with Hardy, he works to source breads, produce, and meat as locally as possible.
Whatever is leftover from the day prior in terms of soups or dinner specials are sold at half-price in a small cooler by the door.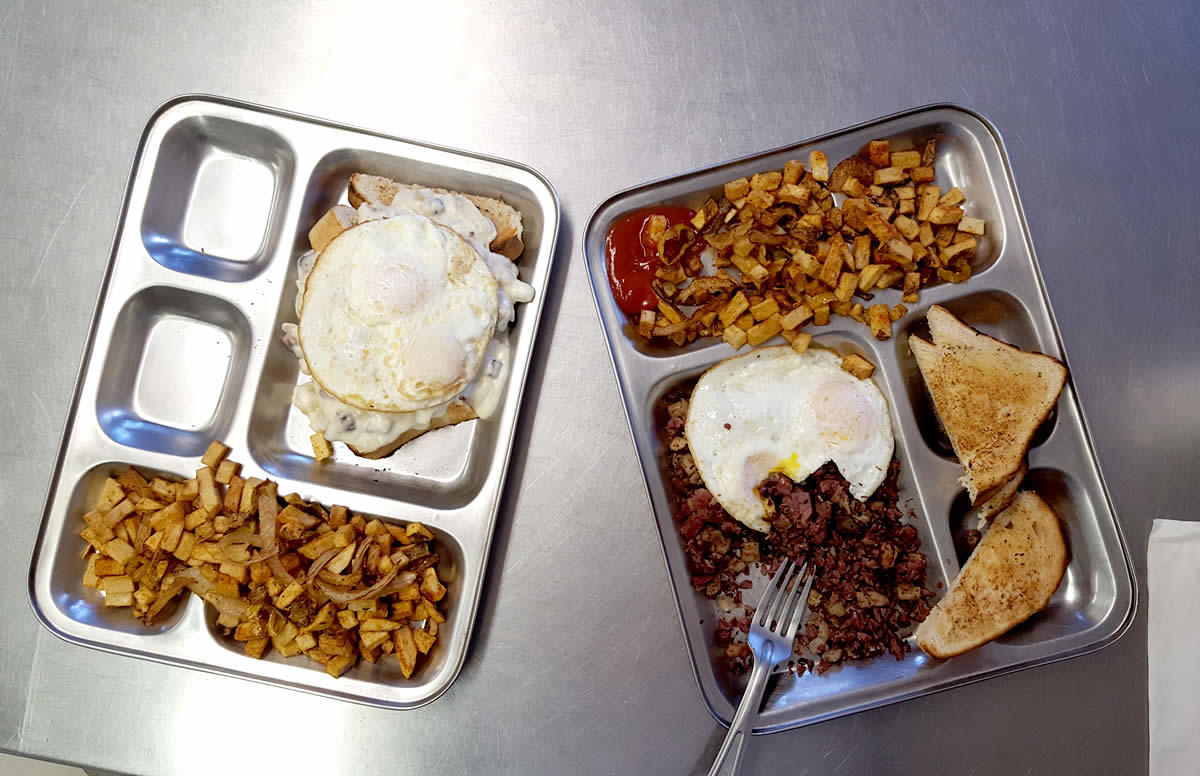 But when I go to Mess Hall, I'm going for breakfast. There were many nights as a farm kid with two full-time working parents (my mother went back to college when I was in second grade, and both parents served on school boards and in the local fire department) where dinner was a slapdash effort, and some version of eggs and toast was the quickest way to get food on the table and keep everyone happy. Meat from Sunday's roast was chopped into a simple hash, or a package of chipped beef could be folded into a simple milk-butter-flour-salt-pepper gravy and poured over bread.
The Charlie Foxtrot breakfast plate at Mess Hall captures that same experience -- the military, too, needs to figure logistics into cooking to make filling food that is cheap and easy. For $6.60, two eggs, toast, corned beef hash and homefries comes served on a stainless steel divided plate.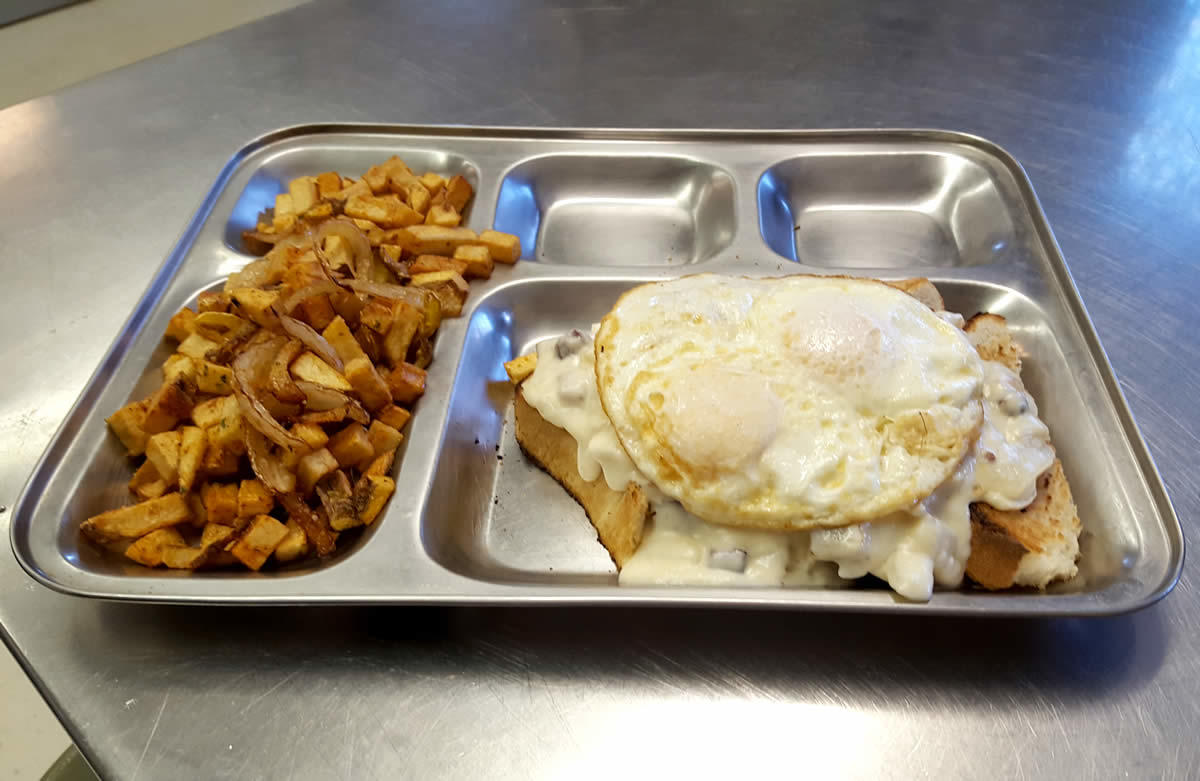 The SOS (for the same price) features white toast topped with creamed chipped beef and fried eggs. It would be easy to make it sloppy, but it's done with every ounce of military precision expected from a place that is outfitted in olive drab and war memorabilia.
The only fault I can knock off points for is inconsistent marketing -- sometimes it's called Mess Hall, or Mess Hall 518, or MESSHALL. But that's more of a first-to-the-table conundrum when it comes to naming rights than anything to do with the quality of the operation.
In fact, I'd go so far as to say that every town should have their own Mess Hall, where good from-scratch food at a fair price is available on the regular.
Deanna Fox writes about many things, mostly about food. More can be found on her website, Twitter, or Instagram.
More Eat This
+ International Tuesday at The Low Beat
+ Doner kebab at The Olde English
+ Sampling at Farmers Hardware
Find It
Mess Hall
3269 NY-43
Averill Park, NY 12018
Say Something!
We'd really like you to take part in the conversation here at All Over Albany. But we do have a few rules here. Don't worry, they're easy. The first: be kind. The second: treat everyone else with the same respect you'd like to see in return. Cool? Great, post away. Comments are moderated so it might take a little while for your comment to show up. Thanks for being patient.