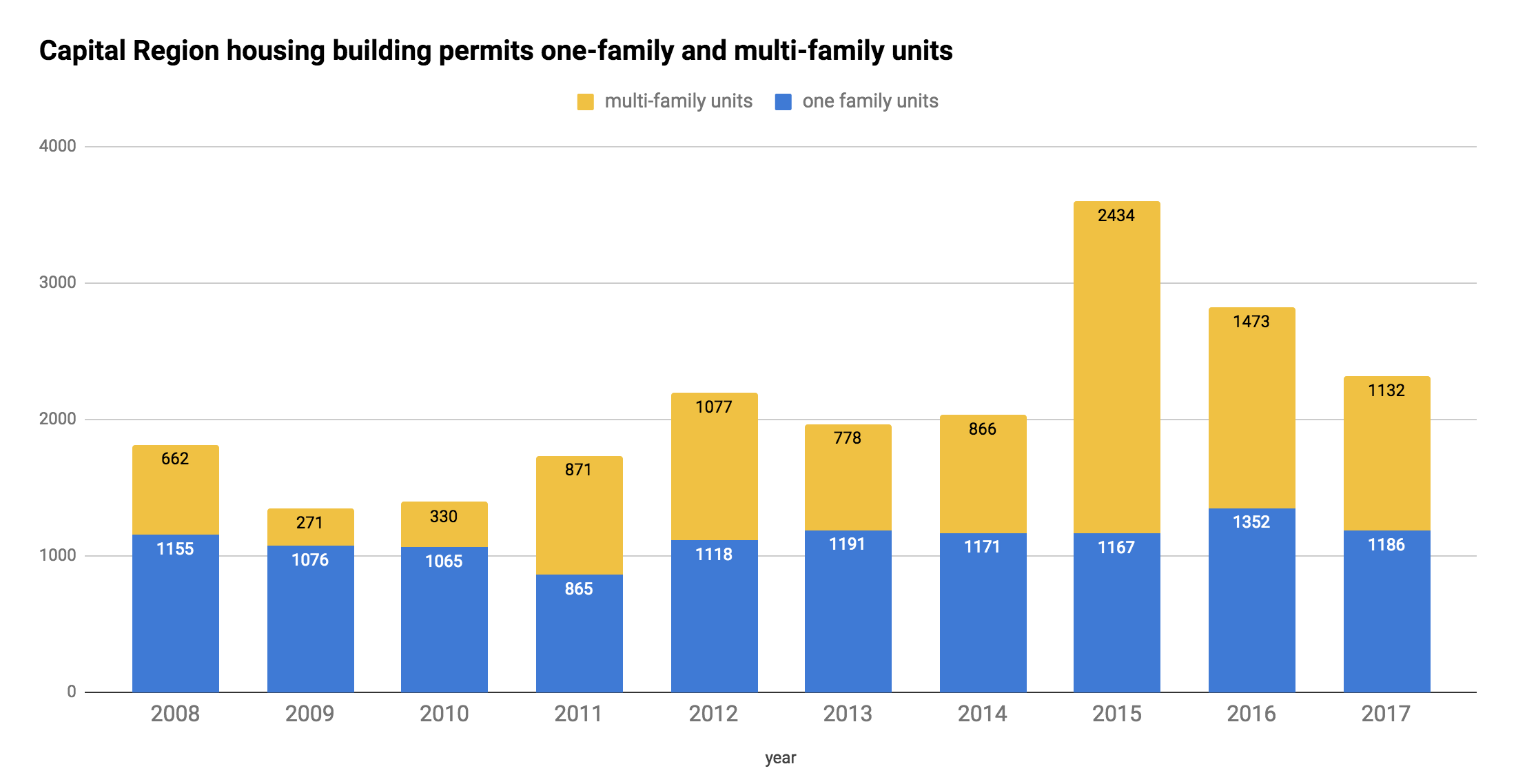 Sometimes during episodes of Exciting Tales of the Albany Planning Board and related whatnot, we refer to the apartment building boomlet that's been going in Albany and around the Capital Region.
Right, so about the specifics of that boomlet... The Census Bureau collects data on the number of building permits for housing units issued each year in each municipality. And those numbers help draw the outline of this trend.
For example: The chart above shows the number of overall units covered by building permits issued for the four core Capital Region counties over the last decade -- along with how many of those units were in multi-family buildings (yellow). And as you can see, there's been an upswing in multi-family units in that time, especially the last few years.
More context? More details? OK, let's have a look...
The numbers
These numbers are collected and published by the Census Bureau, where you can download them. But the Capital District Regional Planning Commission also does that and makes them easier to view in a bunch of sortable tables and charts.
We've scooped up numbers from the Census and CDRPC.
More charts
There are a few more charts at the top large format -- click or scroll all the way up.
A few things
Apartments vs. single-family homes
One of the things that jumps out in looking at the split between single-family units and multi-family units since 1980 is the relatively small number of new single-family homes built during the 2010s compared to the previous decades.
That's helped shift the overall mix of new units toward multi-family. In fact, there were more multi-family units permitted in 2015 and 2016 than single-family units, which hadn't happened going back as far as 1980. In 2017 single-family edged ahead again, but only with 51 percent of the overall units.
Saratoga and Albany counties... but mostly Saratoga
Municipalities in Saratoga and Albany counties have both issued the most number of building permits for housing units -- by far -- going back to 1980. That's been especially true in the 2010s -- thanks mostly to Saratoga County.
But Schenectady County has been picking things up a bit the last three years, adding a bunch of multi-family units in Schenectady (395), Rotterdam (269), Niskayuna (187).
Top 5
The top 5 municipalities for building permit housing units since 2007 (single / multi):
1. Halfmoon: 2,466 (1,571 / 895)
2. Colonie: 2,079 (1,253 / 826)
3. Saratoga Springs: 1,574 (520 / 1,054)
4. Bethlehem: 1,205 (558 / 647)
5. Wilton: 1,193 (498 / 695)
CDRPC has a few good graphs related to the top 10.
Of course, Halfmoon has been the fastest growing municipality by percentage locally the last few years, and was tops in the state last year. [TU]
It's also notable that even though the top 5 include lots of suburban areas, the municipalities have been adding significant amounts of multi-family units, which is maybe a little surprising (except in the case of Saratoga Springs).
City of Albany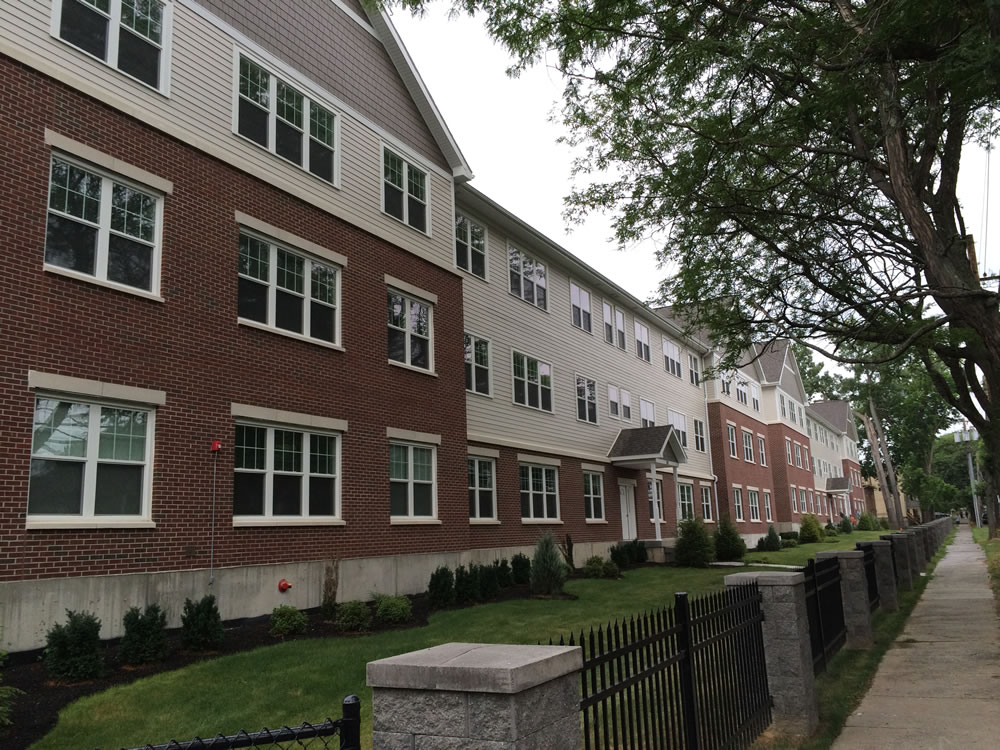 The Elefteria on South Allen, one of a handful of new or planned apartment buildings in the city Albany during the past few years.
The city of Albany just missed out on being in that since-2007 top 5 -- it was #6 with 1,135 units, 902 of them multi-family. And it ranked #2 overall for most number of multi-family units added, behind only Saratoga Springs.
It's interesting that Albany has added more than 1,000 new residential units over the last decade, yet the Census Bureau estimates that the city's population is relatively flat since 2010 and has even been declining since 2013.
A possible piece of that puzzle: The most recent Census Bureau American Community Survey 5-year estimates (for 2016) have the number of overall housing units in the city relatively flat since 2010. (The number bobs around a bit, but the margin of error is relatively large.) Though the number of overall rental units does appear to be ticking up the last few years. (Again it's hard to say for sure given the margin of error.)
But that same set of Census Bureau data also points to rising rents -- the estimated median gross rent paid in the city has risen each year, from 816 in 2010 to 875 in 2016. And the estimated number of renters paying more than $1,500 a month rose from approximately 3.6 percent of renters in 2010 (estimated 881 renters) to approximately 5.8 percent in 2016 (estimated 1,493 renters). The number of households paying 35 percent or more of household income in gross rent hovered around the 45 percent mark during that time.
There are hundreds of more units -- either approved or proposed, both new construction and redeveloped -- in the pipeline for the city over the next year or two. And there appears to be plenty of demand for these new units. (Developers say they fill quickly.) So we're very curious to see how things shake out in the 2020 Census -- and what sort of effect (if any) the new apartments have on rents along the whole spectrum.
Earlier
Say Something!
We'd really like you to take part in the conversation here at All Over Albany. But we do have a few rules here. Don't worry, they're easy. The first: be kind. The second: treat everyone else with the same respect you'd like to see in return. Cool? Great, post away. Comments are moderated so it might take a little while for your comment to show up. Thanks for being patient.