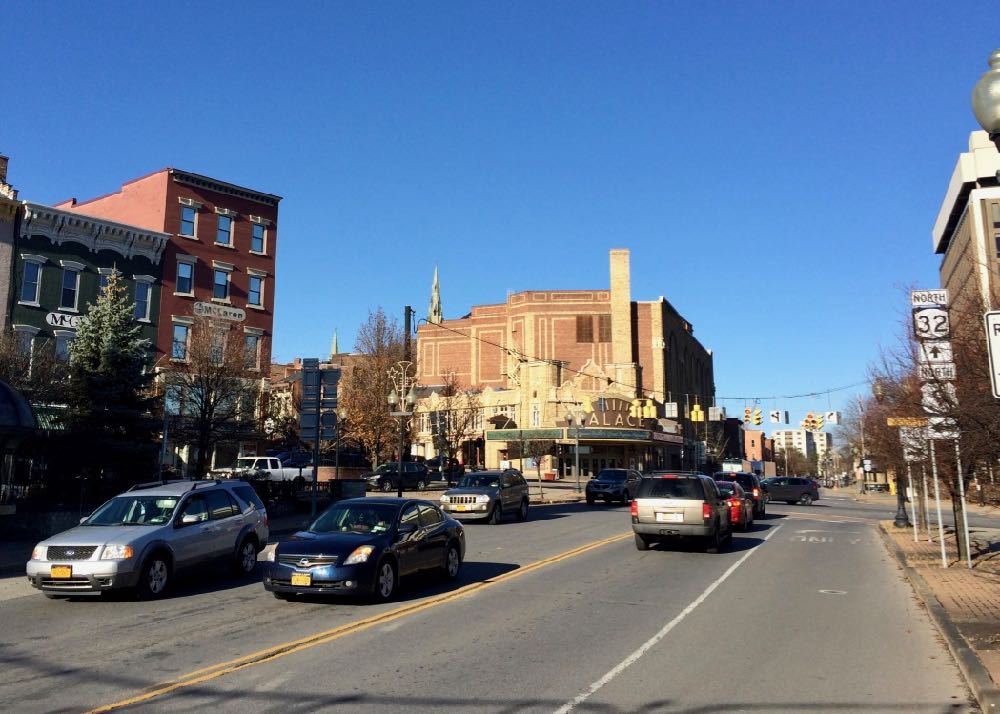 The city of Albany has $10 million to spend in the Clinton Square section of downtown after winning the latest round of the state's Downtown Revitalization Initiative.
Now it has to figure out what exactly that money should be spent on.
And here are the projects in the mix so far...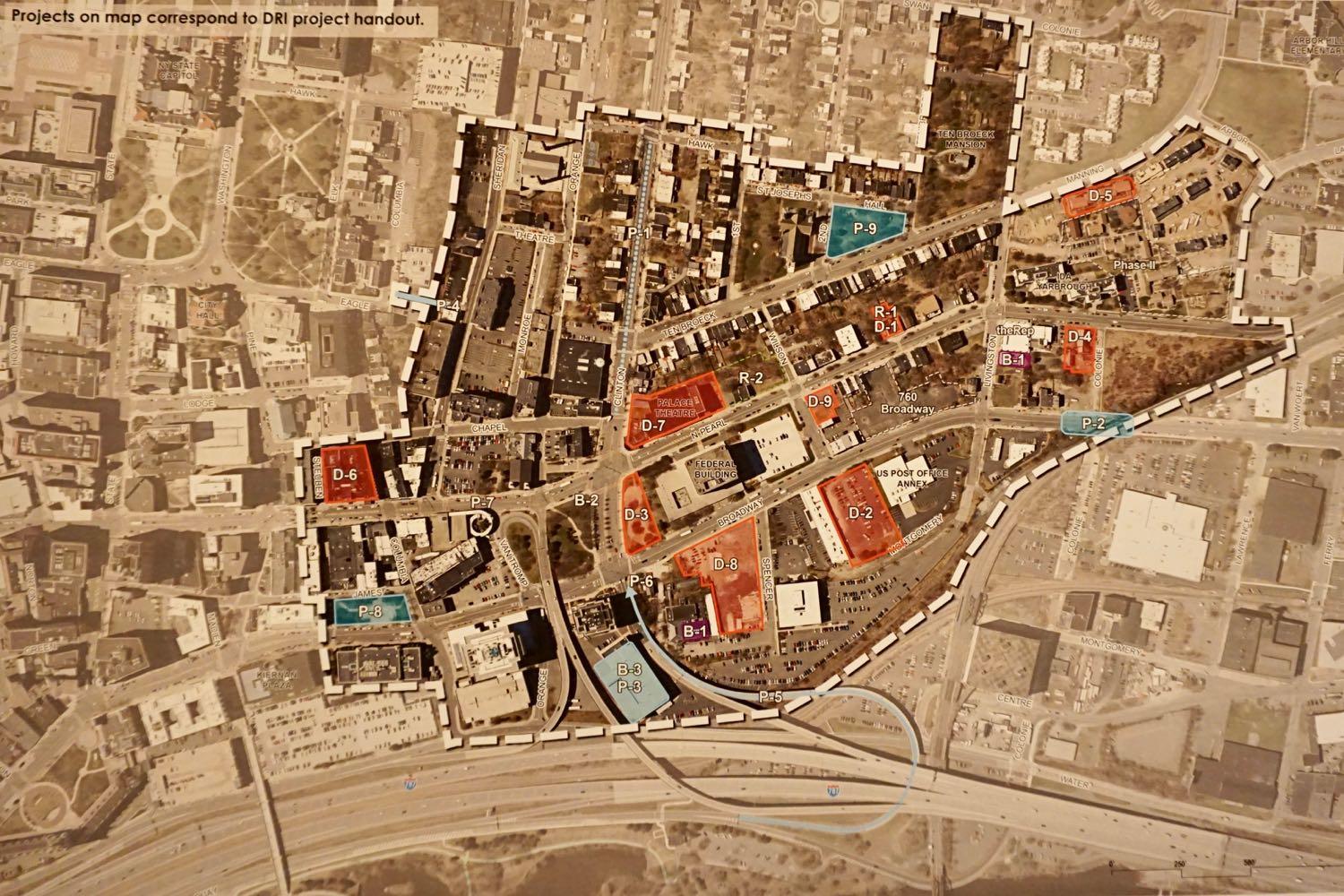 The proposed zone in which the funding will be focused. (Here's a larger version.)
Wasn't there supposed to be a meeting or something?
The plan had been to show off the list of potential projects at a public meeting last week. But citing an "overwhelming number of project forms," the city's economic development arm and its consultants postponed the meeting to a future to-be-determined date.
So the first opportunity for the public to see what's in the mix came Tuesday night during a meeting for the local planning committee the city has assembled to review projects.
Steve Kearney from Stantec -- the consulting firm assisting the city on its plan -- ran through the goals that Albany has set for the DRI funding:
Goal 1. Establish a clear and engaging gateway into the Capital City
Goal 2. Make Clinton Square a connected hub of activity
Goal 3. Celebrate Albany's arts, culture and history
Goal 4. Create mixed-income urban living options while maintaining future affordability
Connect Albany's workforce to local employers
Kearney said that in conversations with various groups the team has heard that diversity should be a component of each of those goals.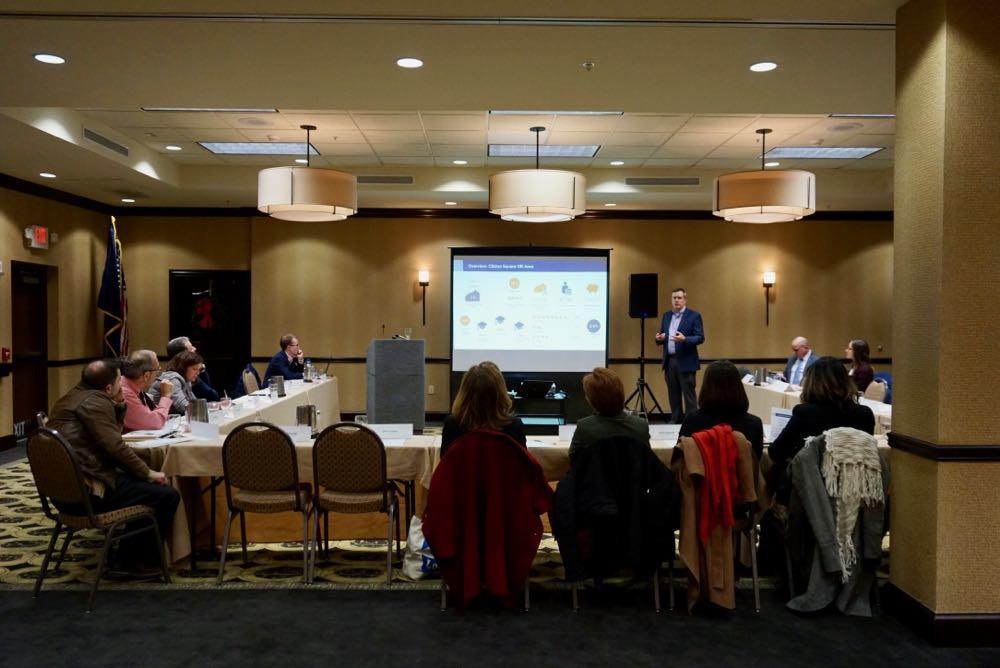 And he gave a quick update on the creation of a "downtown profile" report that the city needs to submit to the state in early January. Among the critical issues identified in that profile: groundfloor vacancies and "missing teeth" in the urban fabric, impediments to a comfortable pedestrian environment, creating a critical mass of activity, and access to jobs.
The projects
The city had already identified a handful of projects as part of its application for the Downtown Revitalization Initiative (DRI) money. And apparently there was an influx of project proposals around the December 7 deadline. The projects that popped up toward the end of the process, or have new details, are marked with an asterisk below.
Not all of these projects will end up getting a slice of funding. And as Kearney explained, the city will end up selecting a group for funding, and then another group of runners-up that will be in place if one of the selected projects falls off.
One of the reasons for this arrangement is that the DRI money is intended to be spent in the next 1-2 years, so the idea is that have projects on-deck will speed along the process.
The quoted text below is from presentation slides shown to the local planning committee.
Public Improvements
Clinton Avenue Streetscape Improvement
"Streetscape improvements may include sidewalk improvements, lighting enhancements, trash receptacles, planting and landscaping, new traffic signals, street furniture or other amenities, and other potential infrastructure enhancements."
Livingston Railbridge Gateway
"The creation of a gateway into the Warehouse District as well as back into Downtown using LED lighting that would paint or wash the railroad structure in changing LED Lights"
Quackenbush Garage Access
"Construct an additional entrance and provide enhanced pedestrian access." (This additional entrance would be on the side of the garage that faces Quackenbush Square.)
Sheridan Steps
"Reconstruct the steps connecting Sheridan Hollow and Capitol Hill and install new lighting amenities to the stairway."
Skyway: Albany Happening
"The project will consist of the construction of a new venue for pop-up events, rotating vendors and active use on the Skyway within Clinton Square."
Skyway Gateway
"The project would construct an artistic, signature gateway element to highlight the entryway to the new Skyway linear park." This project got $200,000 this week via the Regional Economic Develop Council process.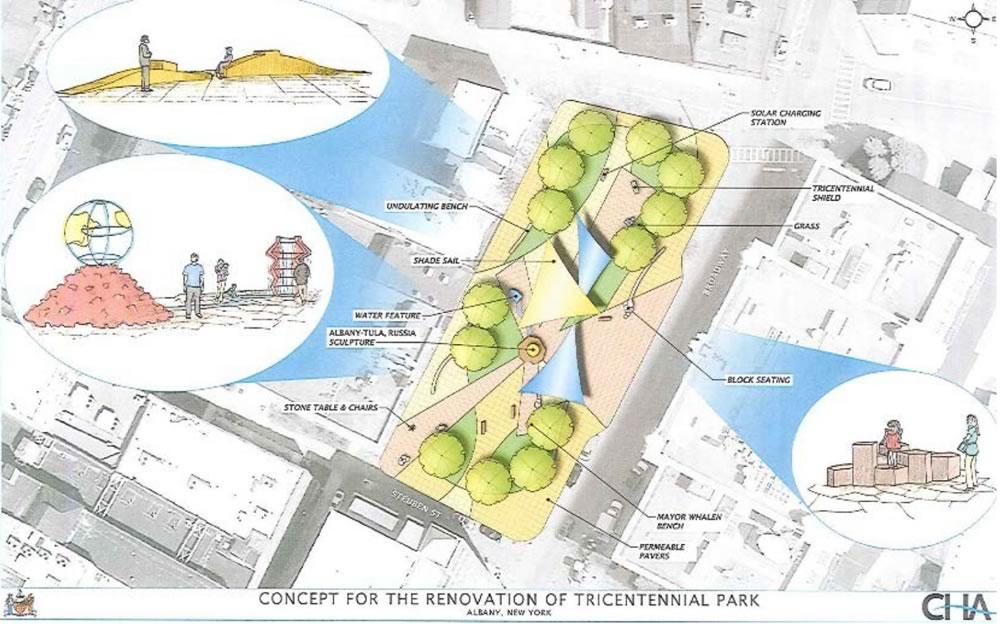 Tricentennial Square Improvements *
"Implement the redesign of Tricentennial Square to include free Wi-Fi, solar power charging stations, tree lighting, smart parking technologies etc. Project will include new paving and sustainable porous surfaces."
Capital Walls Mural Program *
"Creation of 5 large scale mural projects on highly visible walls within the Clinton Square boundaries." As Stantec reps explained at this meeting, this would be an extension of the mural program that Albany Center Galleries and the Albany Barn has been running with backing from the Albany Parking Authority.
Clinton Avenue Pedestrian Connective Corridor
"The project will create a pedestrian corridor from the Quackenbush Garage to the Palace Theatre and businesses on Pearl Street off the Clinton Ave Corridor. It will add landscaping features, improved sidewalks, gateway features, enhanced crosswalks and sculptures/ markers at major crossings."
Sheridan Ave Flood Mitigation *
"Abatement of the existing surface discharges and mitigation of flooding in Clinton Square required to support planned development in Clinton Square." The Albany Water Board is proposing this project with the aim of reducing stormwater flooding around the area of Sheridan Ave and Pearl Street. Part of the plan: an "infiltration gallery" under the parking lot for the First Church. (An infiltration gallery is basically a series of underground tunnels or chambers for holding stormwater -- the water department built one under baseball fields along Woodlawn Ave a few years back.)
Streetscape Improvements
"Design and construct streetscape improvements and pedestrian safety enhancements at three key intersections and along district streets."
Clinton Square / Downtown Wayfinding
"Installation of 60 new signs, vehicular guides, parking trailblazers, gateway/welcome, and pedestrian kiosks."
New Development or Rehab of Existing Structure
222 N. Pearl Street Redevelopment *
"Rehab 9000 sq. ft. former police station into six new residential units and ground floor space for mixed-use retail establishment."
745 Broadway
"Build a planned 130 residential units and 10,000 sq. ft. of retail space with a 225-car garage"
Clinton Market Collective
"Creation of a market to address a local food desert, a pop-up retail venue to support artists and entrepreneurs, and a visitors center at the start of the Capital Craft Beverage Trail."
The Church Adaptive Reuse
"Stabilize and preserve the remaining elements of a registered historic property into an open-air artists' venue and park."
Ida Yarbrough Home Ownership
"Construct ten new homeownership units as part of the redevelopment of the existing public housing low-rise site"
Palace Theatre Expansion
"Expand stage house, renovate theatre to full ADA compliance and renovate/construct fully accessible arts education, rehearsal, community and office spaces."
The Wilson
"Construct 4-story, 17 market rate units with 15-car garage"
84-86 N Pearl Street *
"Conversion of 4 upper floors to 8 residential units"
Ten Broeck Mansion Preservation *
"Preserve and provide improved access to this historic resource. Restoration of exterior brickwork, providing ADA access, paving the parking lot, repair of walkway, and repair of root cellar."
Albany Distilling *
"Convert the former Nabisco boiler room into a 'three-season' indoor/outdoor space into an insulated, all-season lounge, and increase kitchen capacity to become a bigger destination in the neighborhood."
Clinton Square Studios: Live/Work Space for Artists *
"Construct 6-story, 60,000 sq. ft. mixed-use building with 70 affordable live/work lofts exclusive to artists and retail/ community space on ground floor (Broadway/ Livingston Corner)." As explained to the committee, this would be a joint project by Fairbank Properties (the company behind the Arcade Building residential conversion and the under-construction 760 Broadway, among others) and Capital Repertory Theatre, which is working to convert warehouse space just up the block into its new theater. (The Rep already owns the land.) Ten of the units would be set aside for actors and other people associated with the theatre. The other units could be managed by the Albany Barn, and there might be an art gallery and public space on the street level. "It's a cool, great project that's complicated," said Steve Kearney.
Death Wish Coffee Company *
"The project will involve construction of a two-story building at 71 Livingston Avenue to house a street-level cafe and a second story retail store and tasting room." Here's more about Death Wish's plans.
Pearl at Livingston *
"Construct 5-story building with 2 stories of parking, ground level with 10,000 sq. ft retail and 2 stories of housing." This would be at the southeast corner of Pearl and Livingston, and as explained to the board, could have more parking than required in order to serve The Rep and Albany Distilling.
Livingston Square Parking *
"Redevelop a vacant lot at 329 North Pearl Street in Albany's Arbor Hill neighborhood into a flat surface lot for parking, serving patrons of the new Capital Repertory Theatre location, Lower Warehouse District, Albany Distilling, The Church Venue, etc." This is the overgrown piece of land at North Pearl and Colonie Street, just to the north of the vacant Church of the Holy Innocents.
Olde English Pub Roof Replacement *
"Remove existing deteriorated roof and replace with in-kind, historically appropriate materials"
25 Quackenbush Square *
"Separate and upgrade the existing utilities to allow the City of Albany to sell or lease the museum/planetarium portion of facility to another operator." Mayor Kathy Sheehan added that Discover Albany would make improvements to the other side of the building.
Quackenbush Mixed-Use
"132-key hotel, 129 market rate apartment units above retail and entertainment space." This is the big project planned for the site of the giant hole in the ground at Broadway and Spencer just north of Quackenbush Square. Kearney said there's been a lot of discussion about this project. And Capitalize Albany president Sarah Reginelli said they've been working through the numbers with the developer, the Pioneer Cos., and the plan could evolve based on how things shake out. (The developer recently applied to the IDA for tax breaks for building a hotel there.)
Revolving Loan and Grant Funds
Kathy Sheehan asked some questions about how a revolving loan fund or grant program would be administered, and the Stantec team said other cities have set up various arrangements. Sheehan said it would be important that any process for administering grants or loans involve orgs that can do outreach to groups and communities that maybe don't typically end up with access.
Cyber Hub
"Create a cyber security-centric hub with co- working spaces, workforce training, and meet-up and event spaces"
Palace Academy Technical Training Program
"Launch an innovative and inclusive arts education and employment program in partnership with IATSE to teach lighting, technical theatre, and production skills to local residents"
Clinton Square Small Business Loans and Grants
"Provide loans and grants for small business owners to activate more than 50,000 sq. ft. of vacant, ground floor retail spaces"
Craft Beverage Trail Wayfinding
"The project will include an interactive kiosk that would provide information about all trail members, a vending machine for CCBT passports and other merchandise, exterior signage for trail wayfinding, and a mural announcing to the world that this is where the CCBT lives."
Branding and Marketing
Clinton Square Branding
"Develop an authentic brand, which would include identification of specific creative elements such as type face, color palette, and narrative/messaging for signage and other placemaking projects with the district."
The Kenmore portfolio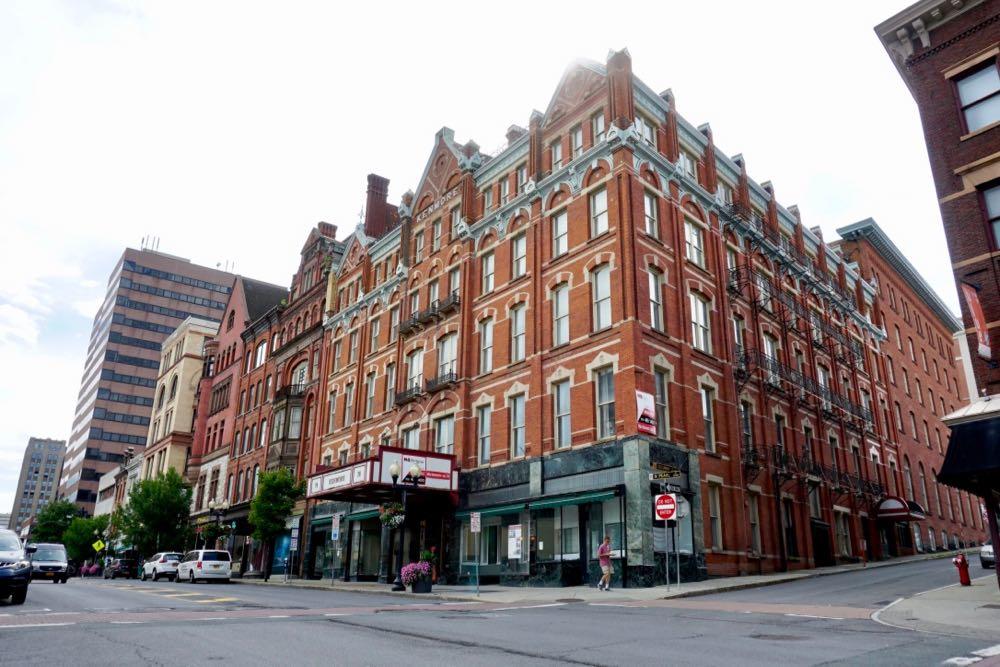 The group of prominent downtown buildings that Redburn Development now controls and is working to convert to residential -- the "Kenmore portfolio" -- had originally been in this group. But it's now getting various other forms of state funding.
There was noticeable excitement among the committee and officials while they were discussing the plans for this portfolio. And even though the conversions aren't directly up for DRI funding, Sheehan stressed the need to keep an eye open for streetscape/pedestrian improvements and other projects that might be needed to support the influx of people living in the new residential units.
One more thing
Downtown Albany has been experiencing a boomlet in residential development over the last few years, and there's more currently under development. Now there's the Kenmore portfolio with roughly 350 units on the way. And there are a bunch of projects in the DRI mix that include residential, some of which would incorporate more affordable options.
This sets up downtown Albany for some interesting possibilities. A lot of the things that people often say they want downtown -- more retail stores, a supermarket, and so on -- often are only viable after a certain threshold of residential density. It's possible that downtown Albany is headed in that direction. And if it gets there? Maybe the whole situation shifts, demand induces more demand, and residential development picks up even more.
Of course, there's also the possibility that there's only so much appetite for downtown residential. Or interest rates or construction costs make development prohibitively expensive.
Both scenarios -- and the ones in between -- will have their own challenges. And this is a good opportunity to think about how to handle them.
What's next
There's another local planning committee meeting -- which is open to the public -- on January 14. And then there's a public meeting planned for late January.
Earlier
+ How Albany is figuring out what to spend $10 million on downtown
+ Downtown Albany is in line to get $10 million from the state