Items tagged with 'Vermont'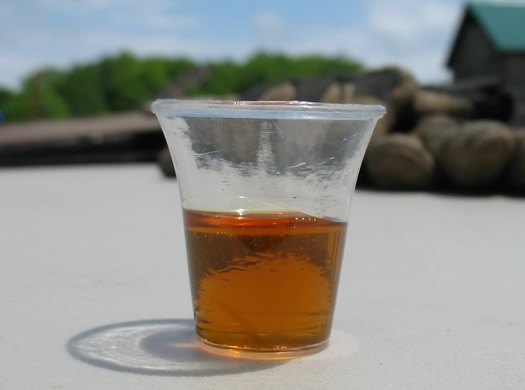 New York State produced more than 600,000 gallons of maple syrup this past spring, according to numbers from the US Department of Agriculture. That's good for #2 in the nation. And the Cuomo admin says that's the state's highest total in 70 years.
The sappy record is especially notable because this past maple syrup season was just 26 days long. It was 40 days long when the state set its last "modern" record in 2013.
So, what's responsible for the sweet success? From a Cuomo admin press release:
The amount produced is the most since 1944, the last year before the beginning of a long drop-off in the number of tree taps and the yield of syrup per tap. New York's resurgence began in 2008 as vacuum pumping systems began to replace the metal tree taps and hanging buckets that have signified maple syrup farming for centuries.
The New York State Maple Producers Association estimates that 60 percent of maple farms, including most of the larger farms of more than 500 taps, use vacuum systems to collect raw sap. The modern vacuum system is easier for producers to maintain, which has helped increase production per tap. The average tree tap produced a little more than one quart of syrup this year, though some large farms are seeing yields of a half-gallon or more.
New York State is still far behind Vermont for the nation's top spot for maple syrup production. The Green Mountain State produced 1.39 million gallons this spring, according to USDA. (The tiny state's pancake industry is straining under the pressure to keep up.)
Vermont maple syrup is an interesting case because the state has been experiencing some sort of Maple Miracle over the last decade. So much so that Quebec -- the Saudi Arabia of maple syrup -- has been warily eyeing its neighbor to the south.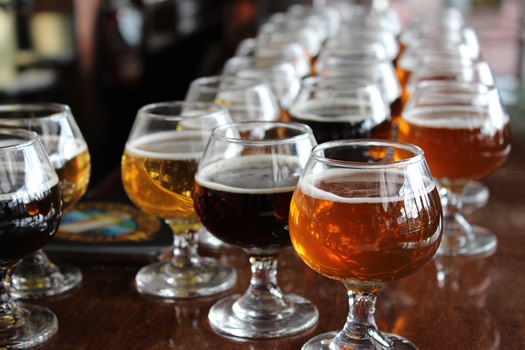 By Lauren Hittinger
Albany has its share of emerging breweries and distilleries, along with pubs serving craft beers, spirits, and ciders. But sometimes you just need a change of scenery.
So I recently took a trip up to Vermont for a day-long brewery tour in the Burlington area...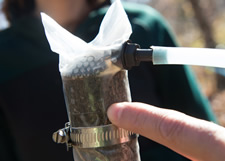 Interesting: Researchers at the University of Vermont's Proctor Maple Research Center -- Tim Perkins and Abby van den Berg -- have stumbled across a new, and potentially "revolutionary," way of harvesting sap for maple syrup. From a November 2013 UVM news article by Joshua E. Brown:
Their new technique uses tightly spaced plantations of chest-high sugar-maple saplings. These could be single stems with a portion -- or all -- of the crown removed. Or they could be multiple-stemmed maples, where one stem per tree can be cut each year. Either way, the cut stem is covered with a sealed plastic bag. Under the bag, the sap flows out of the stump under vacuum pressure and into a tube. Voilà , huge quantities of sap.
In short, these plantations can allow maple syrup production in a farm field.
Typically, a traditional sugarbush produces about 40 gallons of maple syrup per acre of forest by tapping, perhaps, 80 mature trees. With this new method, the UVM researchers estimate that producers could get more than 400 gallons of syrup per acre drawing from about 6,000 saplings. ...
"We got to the point where we should have exhausted any water that was in the tree, but the moisture didn't drop," says Perkins. "The only explanation was that we were pulling water out of the ground, right up through and out the stem." In other words, the cut tree works like a sugar-filled straw stuck in the ground. To get the maple sugar stored in the trunk, just apply suction.
Over at Modern Farmer this week, Laura Sorkin -- a maple producer in northern Vermont -- reflects on some of the possible implications of this new method, which could eventually offer cheaper production and protection against the effects of climate change and the Asian Longhorn Beetle. But also:
[T]he news of the plantation system has been a lot to chew on since we learned of it. We are relatively new to the trade but have come to love it, one of the principal reasons being our interaction with the thousand acres of forest behind our home. Like Dave Folino, I fear that the industry will no longer be special to New England but will be usurped by entrepreneurs anywhere with the right climate. And on a more visceral level, I feel that maple syrup is and should remain a product of the wild. Aside from mushrooms and game meat, the woods of Vermont hardly yield anything edible. And yet, this exquisite sugar can be extracted from the trees while still leaving them healthy and the forest a home to everything from rare wildflowers to bob cats. For me, knowing its origins elicits an amount of pleasure equal to tasting its unique flavor when I drizzle it over morning pancakes. Finally, I ponder what will happen to the acres of working forests if landowners are no longer making an income from them through tapping the trees. It would be unrealistic to expect all of those landowners to choose conservation.
Vermont is the country's leading producer of maple syrup -- it produced 1.32 million gallons of syrup in 2013. The #2 state? New York, at 574,000 gallons last year. [USDA]
photo: Sally McCay / UVM
[via Kottke]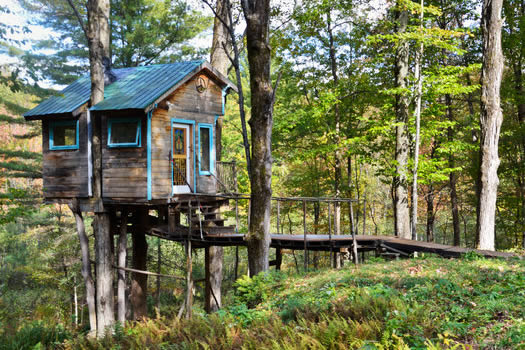 Jamie pointed this out in a comment earlier this week: it's a tree house in Vermont -- that you can rent.
The "Tiny Fern Forest Treehouse" -- in Lincoln, Vermont (near Middlebury) -- is available via AirBnB. From the description:
The treehouse is indeed a cozy little place perched on four maples 30 feet above a blanket of ferns. Access is by a ramp 70 ft. from the main house, where you'll have a private bathroom with shower. This quiet place in the woods has heat, electricity, and a small refrigerator. The main floor has a single bed, or CLIMB THE LADDER to the loft with a queen sized futon and down comforter. Enjoy the comfy reading rocker or sit on the deck and gaze at Mt. Abraham and the Green Mountain National Forest. The hot tub is a sweet new addition to the place.
There are a bunch photos at the profile page. It's $149/night and includes breakfast. It's also booked up/unavailable until December.
The reviews -- of both the tree house and its hosts -- are overwhelmingly positive. (Seriously, we don't think we've ever seen online reviews that positive. We're not sure what these people are putting in the pancakes.)
Update: Sebastien's stayed at the tree house and has an account of his visit (and photos), along with some thoughts on using AirBnB.
photo: AirBnB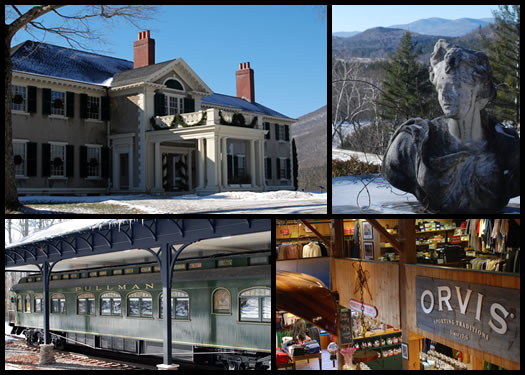 By Nicole Lemperle Correia
My husband and I have an unfortunate habit of taking trips to places where the weather is worse than it is in Albany: Michigan in February, Washington DC during a three-digit heat wave, and this recent trip: Vermont during a very very cold snap of single digit and negative temperatures.
Luckily, Manchester offers more than just cold weather. A beautiful New England village nestled in the mountains, it's a ski town (Stratton and Bromley are just up the road) that has grown to offer a little bit of everything. Due to the extreme cold and very little snow, we opted for indoor activities and dedicated our time to wandering, shopping, browsing, and taking in some history. For us, Manchester also offered a getaway from our daily life as parents of a toddler -- she went off to the resort paradise of a weekend with her grandparents while we headed east for 36 hours in Vermont.
We were in Manchester from Friday night through early in the day on Sunday, but at just under an hour and a half away it also makes for an easy day trip.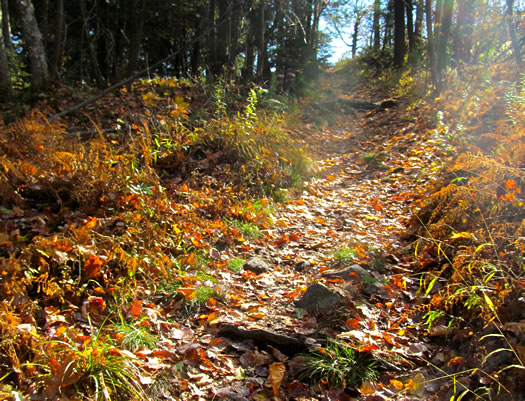 By Casey Normile
Autumn in upstate makes almost everything more beautiful. The leaves change colors and all of the sudden you notice that the exit you take on the Thruway isn't just a dingy road, it's a gorgeous sun-soaked landscape.
But while you can enjoy the fall colors all over, the best views are, indisputably, in the woods. So if you really want to enjoy the autumn landscapes, take a hike.
Fall hiking isn't always like looking through an L.L. Bean catalog. You have to be prepared for almost any weather. Hiking in the fall means you can park at your trailhead in the warm sun, find yourself trudging through mud halfway through, and then find ice and snow on the summit. So prepare for sun, rain, mud and snow. Especially after this month's rainfall, be ready for some wet trails.
But there are some great perks to fall hiking. Hiking in the summer usually means black flies, mosquitoes and walking through spider webs for most of the day. But in the fall, you're insect free! It's also great because the temperature is very hike-friendly. It's right between summer's 80-degree-sun-burnt-dehydrated weather and winter's biting-cold-can't-feel-my-toes weather.
Here are a few good options for fall hikes...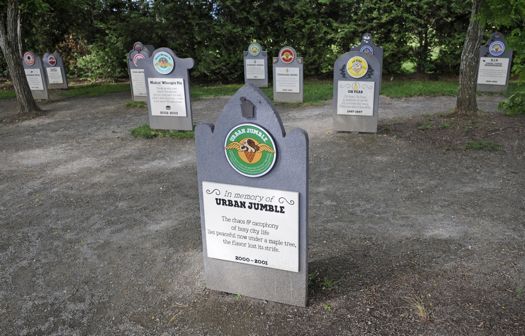 By Nick Fahrenkopf
I love checking out new places, but it's kind of hard for me to get away for more than a day. So my fiance and I made a list of things we'd like to try that are closer to home. The list included a lot of factory tours, and a bunch of them were on the way to Burlington, Vermont. So we took a little road trip.
Burlington is about a 3 hour drive from Albany -- but if you're the kind of person who likes to see how things are made, it's well worth the time. There are lots of factories along the way that offer tours and samples.
It's a fun trip that's just a little bit out of the way, but you can totally do it in a day.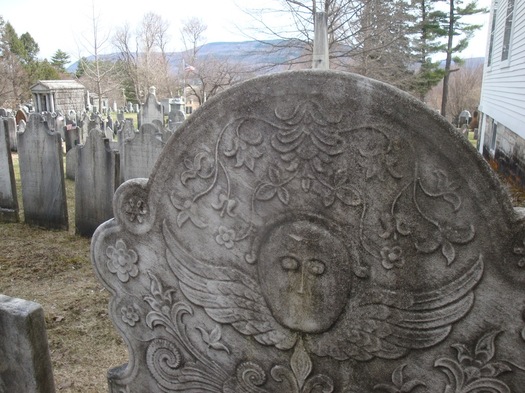 By Akum Norder
Oh, give us pleasure in the flowers to-day;
And give us not to think so far away
As the uncertain harvest; keep us here
All simply in the springing of the year.
-- Robert Frost, "A Prayer in Spring," 1915
Why do I like cemeteries so much?
There's a satisfactory melancholy to a cemetery ramble on an autumn day. But in the spring, there's a different feeling. Here come the tips of green, poking through the earth. The branches are still bare, but they're lively with chickadees. And the tombstones' shadows stretch in the cool light of April.
Renewal is in the air. A perfect time to stop and think about the inevitability of death.
Taking a ramble in an old, old cemetery is a privilege that's easy to come by here in the Northeast. And the Old First Church cemetery in Bennington, Vermont, is one of the best.
This church could be the Platonic form of New England churches. Its cemetery is beautifully maintained. And it's made especially good by the preponderance -- and the readability -- of epitaphs inscribed on the tombstones. The epitaphs tantalize us to imagine beyond names and dates; they offer glimpses of the deceased that help humanize the past.
Plus, Robert Frost is buried here, under a memorable epitaph of his own.