Items tagged with 'thruway'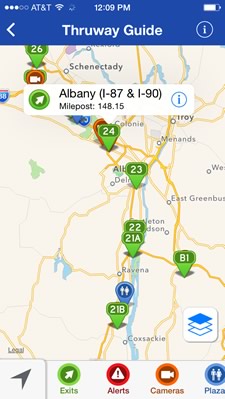 Might be worth a look: NY Thruway Guide, an iPhone app that's pretty much what it sounds like. It provides access to the lineup of Thruway exits and travel plazas, along with alerts and more than 150 traffic cameras.
We tried the app out today for a few minutes and it's smooth. The listing of travel plazas (including what amenities are at each plaza) and easy access to traffic camera pics could be helpful. It also lists the parking pull-off areas between plazas, which is nice.
A few things could be better. One that stuck out to us: The listings for nearby places at each exit -- which look like they're pulled from Google -- weren't great while we sampled local stops. An example: The first restaurant listed for Exit 24 -- the 1-90/I-87 interchange -- was the Albany Pump Station, which is more than five miles away. It'd be great if the app could incorporate more sophisticated food/place listings.
NY Thruway Guide is 99 cents, and currently only available for iOS. The app's creator -- Dan Wheeler, an Albany native who now lives in New Jersey -- tells us via email that he's looking into making an Android version.
Holiday travel around Thanksgiving got us curious about the busiest Thruway exits.
So we looked it up.
And it turns out one of the exits here in the Capital Region is the busiest toll exit on the Thruway. Exit 24 -- at I-90 and I-87 -- averaged more than 26 million Thruway vehicle entrances and exits between 2008 and 2013. In fact, it was wayyyy ahead of the #2 exit.
Are there rankings? Is there a clickable map? As if you have to ask...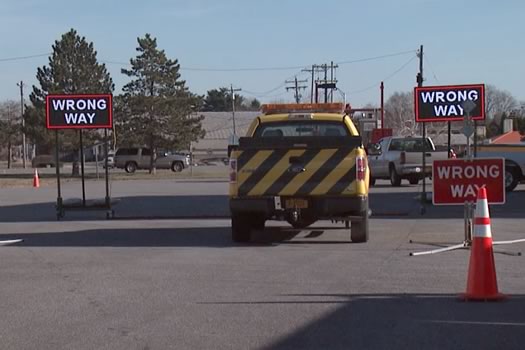 From the Annals of Highway Signage Technology: The Thruway Authority has developed electronic "wrong way" detectors/signs and will be installing them in places where wrong way drivers have caused crashes in the past. The first spots to get the systems: an exit on the Niagara Expressway (I-190) in Buffalo and exit on I-87/I-287 in Rockland County.
So how does an electronic sign "know" that someone is driving the wrong way? Cuomo admin press release blurbage:
These new signs are the latest development in the Thruway Authority's work to ensure that motorists have the highest level of safety while on the 570-mile superhighway. Doppler radar is used to detect vehicles traveling the wrong way and when identified, the sign flashes a customized LED message to alert the drivers of their error and instruct them to pull over and turn around when it is safe to do so. The sign will also trigger automatic alerts to other drivers on the Thruway's variable message sign system, and automatically alert the Thruway's Statewide Operations Center.
Doppler radar? Like the First Alert Storm Tracker Extreme Hype Doppler 10,000 Radar used by TV weather people?
Well, sort of. Doppler radar makes use of the Doppler effect (surprise) to figure out which way things are headed and how fast. (Skipping over the part about an Austrian guy and physics.) You totally know the Doppler effect. It's the reason a fire truck siren or train whistle sounds higher as it approaches, then lower as it moves away. Doppler radar makes use of that change in frequency (using microwaves, instead of sound) to figure out direction and speed.
The Cuomo admin says the sign system was developed by a Thruway engineer, Steve Velicky, and made by a pair of upstate companies. The Thruway's exec director said in a release today that the system will eventually be expanded to other sites around the state.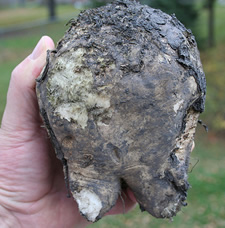 Tucked into a recent Thruway press release was this juicy bit (emphasis added):
In a continuing effort to improve the efficiency and effectiveness of the Authority's winter maintenance program, the Albany and Syracuse Divisions will be using renewable sugar beet sourced liquid and salt brine mixture. The mixture will be used as an anti-icing agent in both a direct liquid application in advance of a storm, and in the pretreatment of rock salt. The new material compliments the Authority's widespread use of straight salt brine, which has proven effective and very economical as a pretreatment for rock salt.
The Thruway Authority apparently experimented with products made from sugar beets last winter in the Albany area. It reportedly worked well -- and didn't stain the roads. Midwestern states have been experimenting with beet-derived solutions for a few years now (and Maryland's using it this year, too). [AP/NCPR] [Oneida Dispatch] [USA Today]
There are even two competing beet products for road treatment: Geomelt and Ice Bite.
OK, so... why sugar beets? (That's one just out of the ground on the right.) The theory is that that that substance derive from the beets lowers the temperature at which the salt solution freezes. (A patent filed in 2000 for using a sugar beet byproduct -- "desugared sugar beet molasses" -- claims the substance remains "flowable" at below-zero temps.) That helps the solution stick to roads and continue working longer, which means less salt is required (good for saving money -- and good for the environment). [USPTO] [UPI] [Duluth News Tribune] [PNAS]
[via]
photo: Flickr user mindy.kotaska
The NYS Thruway Authority announced today that it will be spending $110 million to reconstruct and widen the Thruway from Exit 23 (Albany, I-787) to Exit 24 (Albany, I-87). The plan is add one new lane in each direction -- which would bring to the stretch to three lanes on each side.
A mini-site for the project says construction is scheduled to start in mid-2011, with completion scheduled for 2012. It says no detours are expected -- a temporary lane will be added to the median during construction.
That stretch of Thruway runs along the back of a bunch of residential neighborhoods. The "project is not anticipated to directly impact adjacent land uses," according to the site. It does report that the extra lanes "may increase noise levels." The document says noise will be monitored and some sort of sound mitigation might be an option (example: noise walls).
The Thruway says a 2002 study reported that an average of 48,100 vehicles traveled on that stretch daily. That study concluded that northbound traffic operated at an "unacceptable Level of Service" and southbound traffic was projected to reach that point in... 2008.
Update: The TU reports the project is scheduled to start April 2011 and be finished in the fall of 2013. The project's chief engineer told the Gazette that stretch of Thruway is in "in significant disrepair."
The Thruway also announced today it will be resurfacing pavement on the following stretches:
from milepost 121, south of Interchange 21B (Coxsackie) to milepost 141 near Interchange 23 (Albany, I-787)
from Interchange 24 (Albany, I-87) at milepost 148.15 to west of Interchange 25 (Schenectady, I-890) at milepost 153.85
nearly seven miles of pavement resurfacing and safety upgrades on the Berkshire Spur, from the Canaan Toll Barrier to the Massachusetts State Line, approximately $7.5 million.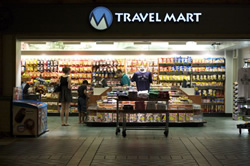 A recent episode of This American Life was about 48 hours spent at the Plattekill travel plaza on the Thruway (it's near Newburgh on the northbound side of I-87).
TAL recorded the show in August. The rest stop typically makes 25 percent of its revenue during that month -- according to the manager -- thanks to people headed north for Saratoga, Lake George, the Adirondacks and other vacation spots.
You can download the episode for free until next Monday.
[Via Drew Kerr -- do you read Saratoga Snippets? You should.]
photo: Nancy Updike / This American Life
The TU reports that Susan Bruno -- Joe Bruno's daughter -- has come under scrutiny as part of the long-running federal investigation into her father. At issue: whether Susan Bruno was given a high-paying job at the SUNY Research Foundation, but not really required to do much. Also: her spelling skills apparently need some work. [TU]
Filings at the Albany office of federal bankruptcy court were up more than 20 percent in 2008 over the year before. [TU]
Gun sellers at a show in Saratoga Springs say business is way up this year. They cite concerns among gun owners that the Obama Administration will push for stiffer gun control laws. [Saratogian] [CapNews9]
A five percent increase in Thruway tolls took effect on Sunday. [Fox23]
A ride on the NY State Thruway is about to get more expensive. The NYS Thruway Authority voted today to increase tolls by 5 percent in 2009 and another 5 percent in 2010. They also cut the discount for E-ZPass users to 5 percent of the cash toll starting in July (pdf). That means if you're an E-ZPass user, you could end up paying about 28 percent more than you're currently paying.
Here's an unofficial breakdown of how prices will go up for a trip from Albany to the Garden State Parkway: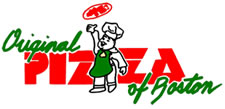 Riddle us this: how is it that a place called Original Pizza of Boston ends up in the service areas along the New York Thruway? (What, no love for Brooklyn?) Confused and amused, we did a little background checking. Alas, answers were not forthcoming. The travel plaza directories list "New York Pizza" where we're pretty sure the signs on the road say "Original Pizza of Boston." And get this: Original Pizza of Boston is based in... Rhode Island.