Items tagged with 'Albany Rural Cemetery'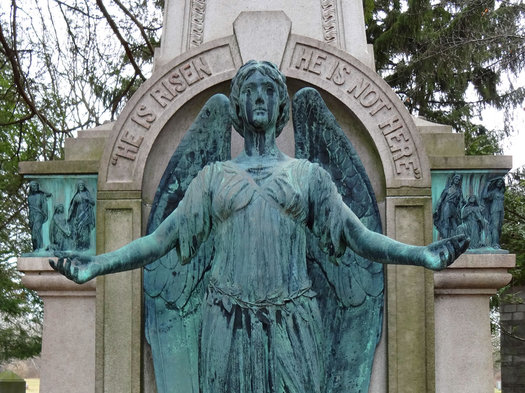 By Paula Lemire
The Albany Rural Cemetery can be a beautiful spot for a walk. With the arrival of spring, we asked Paula Lemire, who's studying the history of Albany's august, park-like cemetery for Albany Rural - Beyond The Graves, to share some of her favorite monuments there.
If one spends enough time walking and exploring the Albany Rural Cemetery's 467 acres, it becomes very difficult to pick a favorite monument. With more than 200 numbered sections and thousands of graves ranging from crumbling sandstone slabs to larger-than-life statues, I fall in love with a new favorite on every visit.
With that said, here are some of my favorites -- at least, until the next walk.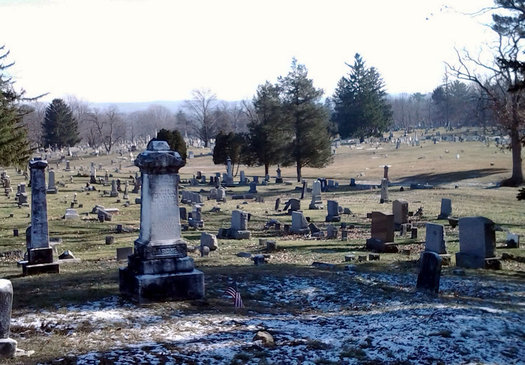 By Paula Lemire
Mention the Albany Rural Cemetery and the most common response is, "Oh, that's where President Arthur is buried!"
Its 467 acres contain the graves of governors, mayors, soldiers, actors, bankers, and poets, as well as works of monumental art by Erastus Dow Palmer, Robert Launitz, and Charles Calverley.
Buried here, too, are dozens of prominent figures in Albany's African-American history -- from slaves to doctors.
Here are the stories of some of those Albany residents...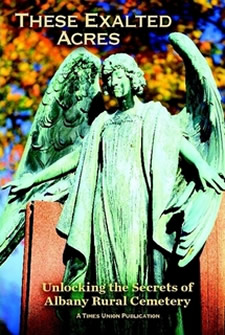 Local history alert: Paul Grondahl has written a book about the Albany Rural Cemetery. An excerpt from These Exalted Acres: Unlocking the Secrets of Albany Rural Cemetery ran in the Times Union recently. A clip:
Visitors to the cemetery can read a backstory in Victorian-era symbolism and carved iconography that is repeated across the sprawling grounds in a kind of cultural shorthand: a torch inverted for a life extinguished; oak leaves and an acorn for a person of old age; ivy for friendship and fidelity; and crossed swords for a life lost in battle.
It is a monumental mirror held up to the region's past, and sometimes the heavy weight of history is almost too much to bear. We can trace the ancient heartache of scores of infants and young mothers who died in childbirth in the 1800s. There are vestigial reminders of successive waves of long-conquered diseases such as typhoid, yellow fever, cholera and influenza that killed many Albany citizens. The toll of the nation's wars are commemorated here, too, from the Revolutionary War to 1,030 Civil War soldiers and sailors buried at Albany Rural, as well as casualties of World War I and World War II.
Notes of triumph temper the sadness, too, with monuments that celebrate great industrialists, inventors, entrepreneurs, educators and other successful individuals.
Bonus bit: More than 135,000 people are buried in the cemetery -- Grondahl points out that, in a sense, the Albany Rural is "the most populous city in the region."*
These Exalted Acres: Unlocking the Secrets of Albany Rural Cemetery is being published by the Times Union via Lulu. It's $25 online.
Also: Check out the interactive map of the cemetery.
____
* Related: There are more people buried in the Glens Falls Cemetery than currently living in the city itself. Such is the reality of being an old city. [Post-Star]
Earlier and elsewhere:
+ Paula Lemire's Albany Rural Cemetery and Church Grounds blogs
+ AOA: Albany Rural Cemetery, after dark
+ AOA: Walking the Albany Rural Cemetery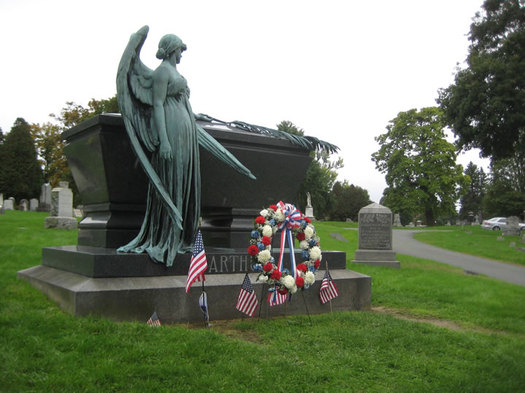 By James Greene, Jr.
Let's face it: not all presidents were created equal. Like Hollywood or the NFL, the American executive lineage is a mixed bag of heralded superstars, shunned failures, and neglected bit players.
Just look at our currency for proof. Is it fair that Lincoln is on both the penny and the five? Maybe Ulysses S. Grant would like a little more face time outside the fifty. Sorry, Grant, but giving African-Americans protected voting rights via the Fifteenth Amendment isn't as epic as ending slavery, so it's just the one bill for you.
And don't get me started on all the stuff named after Washington in this country. The first guy to do anything always gets the lion's share of love. Meanwhile, Rutherford B. Hayes gets jack. The argument that Hayes did not have the same panache as Washington is almost acceptable until you gaze upon the absolutely scrumptious beard the former kept during his reign as president. 'Twas a follicle forest that continues to shame any growth spotted in today's hipster enclaves.
Disparity of popularity between the presidents is also evident in their respective grave sites. The Capital Region boasts a shining example in the grave of Chester A. Arthur, which is tucked deep into the Albany Rural Cemetery in Menands.