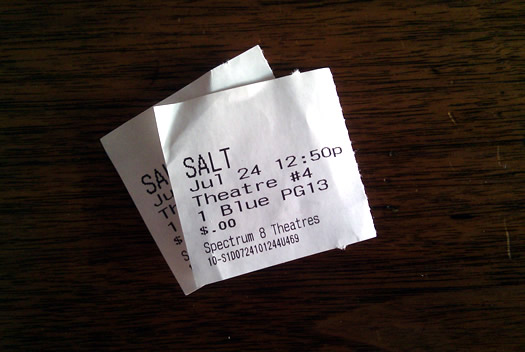 By Lou Quillio
Because Albany makes a cameo -- or, perhaps, even stars as a "supporting character" -- in Salt, we thought it would be fun to have someone do a review. So we asked people to post comments about their favorite movies and we picked one person for the review. That person was Lou. Here's his review...
What isn't Salt? It isn't about vampires, hasn't time for quirky characters, and there's no sex except for what seeps from Angelina Jolie's pores. Since that's not her fault, there's no sex. Technically.
Let's stop here for a survey.
Dislike modern action pictures? Trouble suspending mild, fast-moving disbelief? Testosterone-intolerant? Live in an arthouse? Salt is not for you. Ignore it. Your Farmville needs tending.
Salt works. If you like the Bourne films, you'll like Salt — in some ways less, others more.
Bourne, like 24, sets the bar this way: Never stop the action, and resume right away if you do. The anti-hero is both tortured and tortured, a scary-smart MacGyver-assassin who's always seven steps ahead, geopolitics included, even while waiting at Jiffy Lube. The bad guys are so badass that only a badass working alone can beat them. Bullets? Mosquitoes. Cameras? Strictly hand-held.
Salt (the movie) embraces all of these, with the wrinkle that Salt (the character) is a chick. Forget Chuck Norris. Think smokin' hot Hillary Clinton with weapons training, raised in a survival school run by the villains from a le Carré nightmare: Delta Force KGB SAS ninja-commando hackers. In other words, Valerie Plame. (Does that woman know she has an action-hero name? Talk about a life advantage.)
Let's pause again, while you read Tony Scott's review. This being the Web, no sense in me warming-over the work of my betters.
What AOA readers first want to know about Salt is, "How much Albany?"
Not much; you have to watch for it. About fifteen minutes in, Evelyn Salt — respected CIA spook and freshly-suspected Soviet deep-cover mole — has busted improbably out of the DC office building housing her front operation. Okay, the lobby security is clearly government run, which doesn't square with it being a covert front, so don't think about that. She hits street level in a wool cap, looking to make tracks. This is when we go to Albany, so pay attention. If you know the stack of ramps around I-787 downtown, it'll all be familiar. After this sequence there's no more Albany.
Some other things to note about Salt:
The filmmakers don't signal until the last instant that they maybe have a franchise (read: sequels) in mind, which is the cool way to do things. I've stopped waiting for the next installment of Remo Williams, and Salt: Pepper (co-starring a resurgent Wesley Snipes) probably won't be made either.
It's interesting that Russian enterprises — civilian, criminal enterprises, but Russian nonetheless — are back in play as villians in a big-budget Hollywood picture, as they have been elsewhere for a few years now.
The recent outing of sleepy Westchester Russian moles couldn't have come at a better time for Salt — though they're pretty obviously a missionless Cold War artifact that US security services have been puzzling over for many years.
Bonus: Liev Schreiber, "The Finest Stage Actor of his Generation," is by now a movie star as well. What's that mean? Always delivers, always fun to watch. No exception here.
Salt is what it is, and you know who you are. It's worth the trip, and absolutely worth the rental.
Earlier on AOA:
+ The director of Salt would like to thank you
+ Lining up for Salt
+ More Angelina and more Albany
+ That's Angelina and that's Albany
+ Angelina Jolie to stop traffic in downtown Albany
Hi there. Comments have been closed for this item. Still have something to say? Contact us.