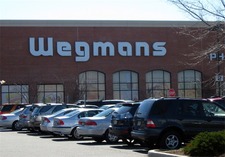 Updated Monday evening
Chris Churchill points to speculation by the Syracuse Post-Standard's Bob Niedt that a Wegmans store in the Albany area will be "likely announced and possibly under construction" by the fall of 2011. Niedt's reasoning is this: Wegmans is setting up in the Boston area, and as a result, its trucks will be coming through this area -- so it's likely they'll open stores here and in Western Mass, too.
A Capital Region Wegmans would send supermarket obsessives here into a tizzy. It seems like whenever we talk about local supermarkets on AOA, there's always someone who pops in with a "yeah, but it's not Wegmans" comment. The chain is often ranked highly. And more competition is rarely a bad thing for consumers.
But... we're still skeptical about this latest speculation.
Just last year, Wegmans CEO Danny Wegman told the Rochester Democrat and Chronicle:
"We see our growth in a defined crescent between Washington and Boston, extending from Pennsylvania, Virginia and Maryland and up into Massachusetts ... We're looking at Connecticut."
Those areas all include large, affluent metros. Nothing against the Capital Region, but the pie here is smaller.
And, of course, if Wegmans came here it would have to slice up that pie in the backyard of Price Chopper, another family-owned chain. That brings up the "secret deal" -- both chains say they don't have an agreement to keep off each other's home turf, but who really knows (well, aside from the people on the inside).
That said, people seem to have flipped for Fresh Market. And there's the continuing clamor for Trader Joe's and Whole Foods. But is that enough for Wegmans to take a shot here?
Update: Said a Wegmans spokesperson to the Biz Review today: "We are not pursuing sites in Albany or the Capital District." [via @KatelynBuress]
Earlier on AOA: Supermarket Showdown III
photo: Flickr user christine592
Hi there. Comments have been closed for this item. Still have something to say? Contact us.