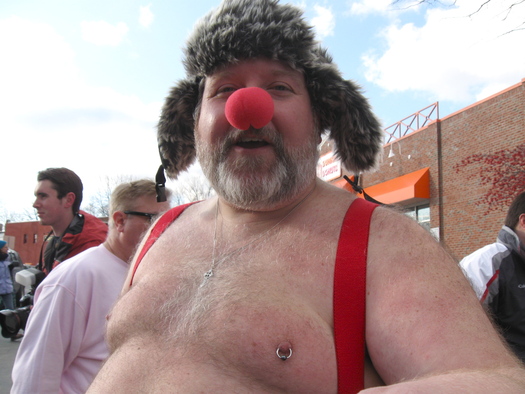 The holiday season is a time for making wish lists, and shopping lists. In an effort to help you with both, we're asking a handful of people what's on their local holiday wish list this year.
Today's list comes from the Capital Region's favorite Speedo-clad Santa, the Albany Society for the Advancement of Philanthropy's Jim Larson.
Whoa! I am wicked excited to be able to share this list with you! When AOA asked me to do this, my first thought was, "All I know is food." Basically I'm not the type of dude that you seek out to find the best running shoes, the most stylish watches (though, for the record, Chris Manley or Hardeep Singh are the masters), or the most beautiful women's jewelry.
But then I decided to throw any reservations to the wind.
And speaking of reservations:
Restaurant gift certificates
First of all, you would be placed extremely high on my list of favorite people if you were to give me a gift certificate to one of my three favorite Capital Region restaurants:
The American Hotel in Sharon Springs
The food, service, and staff are always amazing, and the owners, Doug and Garth, make every time you go a special night. Make sure you get one of the garden martini made with Two Bears Provisions dilly beans. Or a few.
The Bears' Steakhouse in Duanesburg
The Paynes put on a fantastic meal and dining experience, from the extra hot horseradish to the incredible beef and grilled meats to the raspberry pie. This is a place Ron Swanson would be very happy with, very happy indeed.
Ferrari's in Schenectady
Forget about it (OK, I can't say fuggetaboutit and make it sound real.) The food at Ferrari's just sings. Get the fried calamari with the sauce they put on the potatoes (so perfectly cooked) and the Chicken Antonio. You will only be sorry it took you this long to find this place. And the wine dinners? Oh, man.
For entertaining
I got to thinking: My friends fall in two very different categories: friends who want me to cook them dinner at my place for a cozy evening in and friends who want a night out on the town eating at great restaurants. If I'm making you dinner and you're looking for something to bring as a gift for your humble host, go here for the best foods and ingredients:
+ Compiling the above list I was enjoying some Meadow Brook eggnog that was delivered to the house.
+ Rolf's is Upstate's oldest pork store and a fantastic German market.Some Landjägers to snack on while we cook a delicious ham. Get a dozen pretzel rolls while you are there.
+ Whalen's horseradish mayo or anything really from Gade Farm is delectable.
+ Sweets and breads from All Good Bakers
or some strawberry dream at the venerable Schuyler Bakery in Watervliet (also my go-to place for mini hotdog and slider rolls). Who doesn't crave a cake with whipped cream frosting and strawberry filling once every two weeks? No one, that's who!
+ Chicken, eggs, and the pork raised at Jus-Lin farms in Sprout Brook is outstanding.
+ The hours may be challenging at the Old Polish Deli in Watervliet, but a gift certificate there would be great. The golumpki are
perfect and my favorite.
+ The gift of cheese from The Cheese Traveler -- also great for all the Spanish pantry items available there. Get the Jamon, you will be
happy, very happy.
+ Cedar picnic table that seats 12 from Long Lumber in New Scotland. Receipt of this gift might get you a marriage proposal.
A night out on the town
If we are headed out for a night of awesomeness, these are among the places we would be going:
First I'll need to look good, so I'll need a gift certificate for Patsy's Executive Cutters and Spa Virgo
If we are on the prowl in Schenectady, we can go for a great dinner at Tara Kitchen for some outstanding Moroccan or to La Mexicana Grocery to grab some bangin' Mexican food and Mexican Coke (real sugar, baby).
In Troy, you could get us some extra-crispy bourbon teriyaki wings (so good) from Basil Cityon 15th. Or we could rock the steak sandwich at the Park Pub
I'd love a Sunday brunch at Illium Café with Jay as the waiter -- he's always a hoot.
A night out in Albany, my home turf, might consist of:
The Secret Menu at Manhattan Fish Fry on Central, followed by a nightcap at ROCKS.
An order of the caldo verde and then japchae at Mingle, or sitting at the bar at Sake Café on New Scotland.
Or, if we're feeling more continental, a night at Café Capriccio.
We should talk about all of this some more over fish n' chips at the Olde English Pub. When do you want to go? I need a pickle back.
Jim Larson is a wordsmith, urban farmer, and culinary demonstrator in the
Capital Region.
More holiday wish lists from this year:
+ Jim Larson
+ Jenny Witte
+ Deanna Fox
+ Tim Dawkins
+ Kate Welshofer and AnchorCat Brian Williams
Say Something!
We'd really like you to take part in the conversation here at All Over Albany. But we do have a few rules here. Don't worry, they're easy. The first: be kind. The second: treat everyone else with the same respect you'd like to see in return. Cool? Great, post away. Comments are moderated so it might take a little while for your comment to show up. Thanks for being patient.