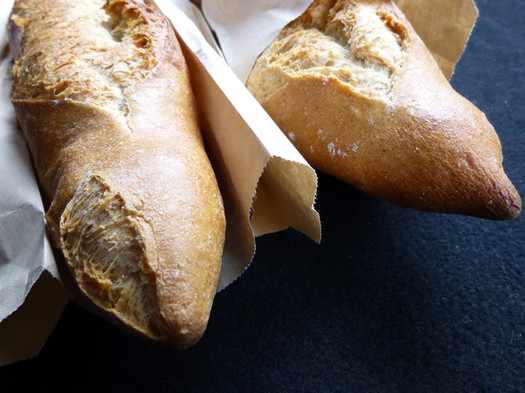 By Daniel B.
The Capital Region has no shortage of great bakeries, each with at least one thing they do better than anyone else around. Many of them have been profiled on AOA, such as:
+ Mrs. London's classic croissants
+ Crisan's fanciful sweet treats.
+ All Good Bakers and their mean grilled cheese.
+ TC Bakery's meticulously-made macarons.
+ Bella Napoli's excellent donuts (just not the glazed ones).
+ Fluffalicious's cupcakes, especially the buttercream part of their cupcakes.
+ Eastern Parkway Price Chopper's flour dusted bialys.
But there is also a great bakery in Troy that makes great croissants, sweets (including macarons), sandwiches, and breads that has gone without praise for far too long. Where's the love for The Placid Baker?
Well, let me tell you what makes their baguette my favorite in the region.
When did crusty bread lose its crust?
I'm not kidding. The elongated loaves that try to pass for baguettes in most places are anemic shadows of the form. All you have to do is give their sides a squeeze and feel the crust yield under gentle pressure. Baguette crust does not yield. Baguette crust holds firm. If it does succumb to pressure, it cracks or breaks with shards of crumbs cascading in every direction.
With real crusty bread you have to be careful, especially when it's a 22-inch long baguette. You could hurt somebody with that thing. And if you aren't mindful about chewing, that somebody could be you. Because crusty bread can have sharp jagged edges that can pierce the roof of your mouth.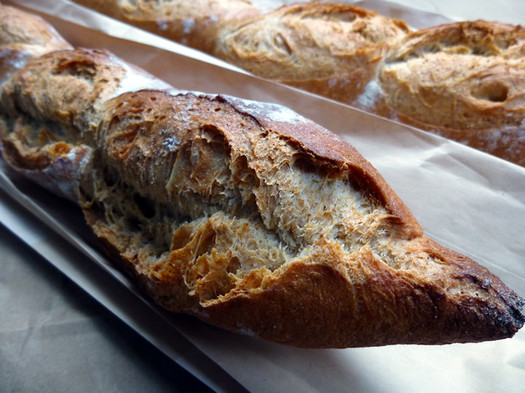 This is bread that commands your respect. Even if its outsides are a little rustic looking and flour dusted like the loaves produced at The Placid Baker. This is serious bread.
Biting through the substantial crust you get to the crumb within. This is surprising because there is clearly some amount of whole wheat flour in the dough, but there are plenty of air pockets to keep it on the lighter side and the whole wheat flour adds to the grainy, savory, and satisfying flavor.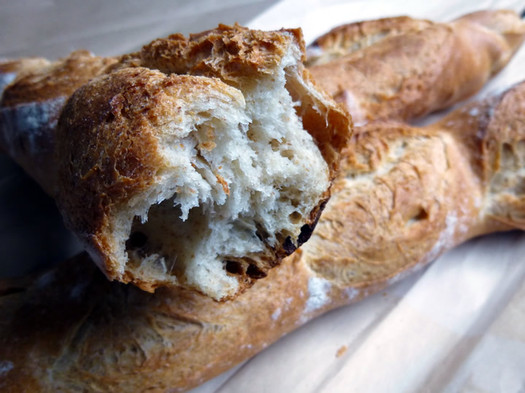 But the thing that puts this loaf over the top is that if you can to the bakery shortly after 10 am your baguette will be warm from the oven. Then you may just have to buy two. One to eat immediately, and one for later in the day.
The downside is that these loaves aren't cheap. Two of them set me back a total of $7. That may not seem like a lot, but that's about twice the price at famous boulangerie during a recent trip to Paris. But wine and cheese are also less expensive there, too. (For what it's worth, we can apparently get a much better deal on iPads here in our region than you can in France.)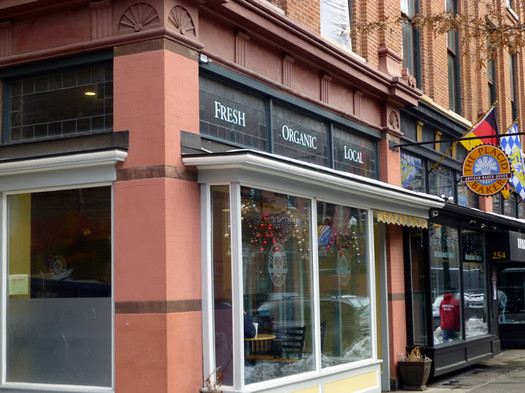 I could eat the baguette from the Placid Baker for every meal. Spread it with butter and maybe some jam for breakfast. Tuck some meat and olive spread inside it for lunch. Eat it alongside cheese and a bottle of wine for dinner. Any bread that was left over could be turned into French toast, savory bread pudding, a thickening agent for soups, or even simply breadcrumbs.
Bread should never go to waste. Because even when it gets hard, it's good for something. And when it's this good, you want to eat every bit.
Daniel B. is the proprietor of the FUSSYlittleBLOG.
Find It
The Placid Baker
250 Broadway
Troy, NY 12180
Say Something!
We'd really like you to take part in the conversation here at All Over Albany. But we do have a few rules here. Don't worry, they're easy. The first: be kind. The second: treat everyone else with the same respect you'd like to see in return. Cool? Great, post away. Comments are moderated so it might take a little while for your comment to show up. Thanks for being patient.