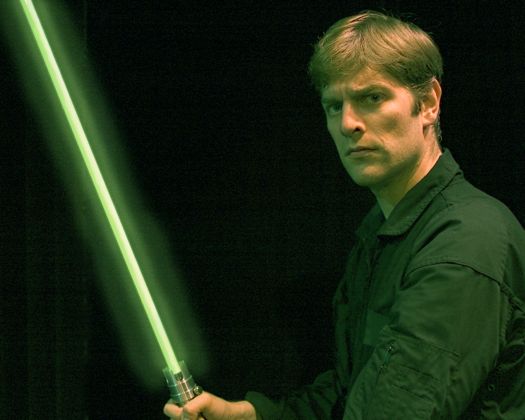 Yep, we're looking at an unabashedly frigid, stereotypical January weekend. But you live in the great Northeast. Are you going to let a little cold stand in your way? What's a little wind chill in the face of the human spirit!
That's what we're talkin' about! Now get up off that couch this weekend and do something. (Yep, need to reduce the caffeine intake.)
After the jump, a few things that could help you combat cabin fever this weekend. Got something planned that's missing from the list? Drop it into the comments. And whatever you're up to this weekend, bundle up and have fun.

One Man Star Wars
The stage show One Man Star Wars Trilogy starts a three-day run at Proctors Friday. It's pretty much what it sounds like: one guy -- Charlie Ross -- performing the original three movies, "all the ships, planets, characters," by himself over 60 minutes. The show has been running for more than a decade. Friday-Sunday various times - $25
Million Dollar Quartet
The touring company of the Broadway show Million Dollar Quartet continues its run at Proctors through Sunday. The musical is a dramatization of the 1956 recording session that brought together Elvis Presley, Jerry Lee Lewis, Carl Perkins, and Johnny Cash. Friday-Sunday various times - $20 and up
More Theater
Race
Race -- David Mamet's drama about three attorneys, two black and one white, charged with defending a man accused of a crime against a black woman -- continues its run this weekend at Capital Rep. The production stars local actor/director Kevin Craig West. Friday at 8 pm, Saturday at 3 pm and 8 pm, and Sunday at 3 pm - $20-$60

Dracula
Director Steve Fletcher presents Dracula at Curtain Call Theatre. Friday at 8 pm, Saturday at 8 pm, and Sunday at 3 pm - $23
Comedy
Kevin Meaney
Friday and Saturday at the Comedy Works: comedian Kevin Meaney, with opener Gary Ewing. 7:30 pm and 9:30 pm - $20 ahead / $25 day of / dinner and show (6 pm) $44.95/$49.95
Kevin "Dot Com" Brown
Kevin Brown is better known as "Dot Com," part of Tracey Jordan's entourage on 30 Rock. But Brown does his own stand-up act, which he'll perform on Saturday night at Trickshot Billiards in Clifton Park. Saturday at 7:30 pm - $15 in advance, $20 at the door
Jeff Dunham
Sunday at the TU Center: comedian/ventriloquist Jeff Dunham and his puppets -- "Walter the Grumpy Retiree, Achmed the Dead Terrorist, the beer-fueled redneck Bubba J, the manic purple creature Peanut, the spicy pepper from south of the border José Jalapeño, and Peanut's own ventriloquist dummy Little Jeff." 3 pm - $47.50
Spontaneous Broadway
Mop and Bucket Company's Spontaneous Broadway season opens on Friday night, underground at Proctors. Using only suggestions from the audience, the improv company makes up an entire Broadway-style musical. Friday 8 pm - $14 adults, $6 students and seniors
Improv at The Comedy Works
Mop & Bucket opens a weekly short form improv comedy show on Saturday night at The Comedy Works on Northern Blvd in Albany. Think Whose Line is it Anyway. 8 pm - $15-$20.
Troy Night Out
The first month of 2013 is just about over. Friday is Troy Night Out, so layer up and head for the Collar City to take in some art, music, and maybe dinner or a drink. A few things you might want to check out:
+ Collar Works Gallery is hosting a performance of "Speed Curses" an original work by Josh Chambers where the audience will be part of the action. It's described as a "performance extravaganza and manifesto about art-making in the form of an operatic baseball game."8pm - tickets are $15
+ Troy Dance Factory is hosting a "reviving experience" where you can checkout a meditative Thai Gong Bath at 7 pm and 8 pm.
+ The Arts Center of The Capital Region has a number of exhibits and events. Opening: So to Speak, "[a]n exhibition devoted to the reiteration of images in words, in which friction emerges in the process of translation, through a jarring of verbal and visual accounts." And one that grabs us during this brutal cold snap: The Art of The Seed, an exhibit by artists who have done the covers for the Hudson Valley Seed Packets.
+ And the TNO after-party is at Daisy Baker's.
EMPAC
EMPAC's slate is starting:
Exit/Head Swap
EMPAC's spring slate starts with two experiences:
+ Exit, in which "artist Kris Verdonck and choreographer Alix Eynaudi steer the audience's perception by playing with basic theatrical elements such as light, sound, movement, language, and scenography" -- and, perhaps, make you fall asleep (pillows provided). Friday 7 pm - free, reservations required
+ HeadSwap, in which "participants can navigate and choose their individual point of view within omni-directional footage from Japan and New York City, while 'swapping their heads' and simultaneously seeing what another person chooses to see." Saturday 7 pm - free
Masked Marvels
Saturday at Troy Music Hall: puppeteer and mime Michael Cooper will be performing his show "Masked Marvels and Wondertales." Blurbage: "a one-man extravaganza featuring handcrafted masks, stories of courage and wonder, and a physical repertoire ranging from the madcap to the sublime." 2 pm - $14 and up ($10 students)
Music
Friday: Two Cow Garage at Valentine's
"[A] muscular but kinda unhinged straight-ahead rock four piece ... that's got all the best parts of Lucero, Deer Tick, The Hold Steady, Gaslight Anthem and The Replacements fused together." With: Nightmare River Band, Todd May. 9 pm
Friday: Loudon Wainwright III at The Egg
Folk singer, actor. Father of Rufus, Martha, and Lucy (at the Egg February 15). With: The Nields. 8 pm - $29.50
Friday: Floodwood at Putnam Den
"Progressive string band" + Al Schnier and Vinnie Amico from moe. With: Rebel Darling. 9 pm - $12 ahead / $15 day of
Friday: Nigel Hall Band at Red Square
Soul. 8 pm - $8 ahead / $12 day of
Saturday: Trey Anastasio at The Palace
This show is very closed to being sold out, if it's not already. 7:30 pm - $42.50
Saturday: Manhattan Transfer at The Egg
"The world's most popular jazz vocal group." 8 pm - $39.50
Saturday: Turkuaz at Red Square
A 10-person "funk army." With: The Chronicles. 8 pm - $7 ahead / $10 day of
Saturday: Hot Day at the Zoo at Bayou Albany
"Genre-bending American roots string band." With: Blind Owl Band. 8 pm - $10 ahead / $12 day of
Saturday: Olivia Quillio, Ben KN at More Bread and Jam
You know, in Cohoes. 7 pm - free
Saturday: Brenmar + 518 DJs at Putnam Den
Familiar crowd of local DJs: Karate, Despereaux, Looney, Party With Tina, knomad. 8 pm - $7 / $12 (18+)
Saturday: Spuyten Duyvil at Caffe Lena
"Amped up Americana." With: Loves It! 8 pm - $15
Sunday: Home Bass at Helsinki Hudson
Habitat for Humanity benefit featuring: Melissa Auf der Mauer, Melora Creager, Meshell Ndegeocello, Tommy Stinson. 7 pm - $20 and up
Sunday: Alfie Boe at The Egg
Tenor. PBS fave. 3 pm - $34
Sunday: Rick Rourke at The Egg
Album release show for longtime local blues/roots man. $20 - 2 pm
Sunday: Jeremy Denk at Union College Memorial Chapel
Pianist. (He also blogs, about stuff such as Wagner, Nietsche, and pink underwear.) 3 pm - $25 / $20 students
Arts and Sciences
African-American troops in the Civil War
Dr. Allen Ballard, professor of History and Africana Studies at UAlbany, will give a presentation on the role of African-American troops in the Civil War at the Mabee Farm Historic Site in Rotterdam. Saturday at 2 pm - $5
First Presbyterian
Sunday at the Albany Institute: historian (and now-retired Assemblyman) Jack McEneny will be giving a talk about the First Presbyterian Church in Albany, "the story of the intersection of the rich history of the church and its relationship to the city of Albany." 2 pm - free with museum admission
Museums
They're warm, and full of interesting stuff. Here are a few things you can see this weekend.
Gordon Parks photography at the NYS Museum
The NYS Museum opens an exhibit of photos by Gordon Parks this Saturday. Gordon Parks: 100 photos -- a collection of work by the famous photographer/director and Life magazine's first African American staff member -- highlights photos taken in Harlem and Washington DC during the early 1940s, "when both cities were going through significant changes--arising from post-WW II urban migration, the expansion of the black press, concern for children's education, and entrenched segregation and economic discrimination."
Moonrock
Only a couple of weeks left to gawk at the moon rock at the NYS Museum.
Hudson River School
The Albany Institute of History and Art opens a new exhibit of work from the Hudson River School this Saturday. It includes works from the institute's collection as well as works from private collections. The exhibit runs through August 18.
Phoenix
If you go to MASS MoCA, look for the new exhibit "Xu Bing: Phoenix," which opened in late December.
Someday is Now
A new exhibit featuring work by Corita Kent is currently at the Tang Museum at Skidmore. The Tang is open noon-5 pm on Saturday and Sunday.
Art or Evidence
This show at the Mandeville at Union College features the work of international photojournalist Gilles Peress, from the conflicts in Northern Ireland, Iran, Rwanda and Bosnia. Here's more on the exhibit. 10 am to 6 pm Friday through Sunday. Free.
Chili Bowl
The Saratoga Clay Arts Center is hosting its second annual Chili Bowl charity event. You buy a bowl, select a time slot, and you get an hour to sample chilis made by five celebrity chefs, including Jasper Alexander from Hattie's. Each one hour time slot has a limited number of openings, so reserving a slot is recommended. Saturday 11 am-4 pm - admission is $1 or a non perishable food item / bowls start at $15.
Union vs. RPI
The men's hockey teams from Union and RPI face off Saturday at the TU Center for the Mayor's Cup. 7:30 pm - $15 / $10 students
Frost Faire
If you can't fight the cold, embrace it. Saratoga National Historical Park is hosting its 18th annual Frost Faire winter festival. Tubing on the "Big Hill," a bonfire, hot refreshments, horse-drawn carriage rides and games. Saturday from 11 am to 3 pm
Ice skating
With cold but sunny conditions, this should be a great weekend to hit the ice skating rink at the ESP. Regular hours are 11 am-8 pm. Here are other ice skating spots around the Capital Region. Be sure to dress for the weather.
See the Oscar nominees
You can see most of the best picture nominees here in the Capital Region right now. Hey, treat yourself to a double feature. And get the big popcorn.
Comfort food
Find delicious things that keep you warm. Like hot chocolate, dukbokki, or mac & cheese.
Troy Music Hall, Live Nation, the Arts Center, and Proctors advertise on AOA.
photo: Jason Woodruff / One Man Star Wars Trilogy
Say Something!
We'd really like you to take part in the conversation here at All Over Albany. But we do have a few rules here. Don't worry, they're easy. The first: be kind. The second: treat everyone else with the same respect you'd like to see in return. Cool? Great, post away. Comments are moderated so it might take a little while for your comment to show up. Thanks for being patient.