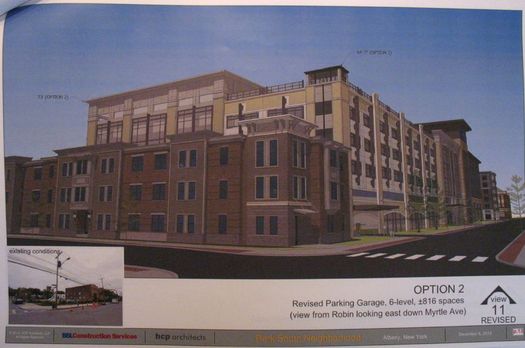 The Albany Common Council passed the resolutions necessary to advance the $110 million Park South redevelopment Monday night. The project -- which includes wiping two whole blocks clear in the neighborhood by Albany Med -- now moves on to further review by the city's planning board.
There wasn't really any drama about whether the resolutions would pass -- and they did so easily, each with 10 votes in favor (out of 13 present council members.)
A portion of the the council's actions Monday covered three amendments to a redevelopment plan approved in 2006: increasing the height of mixed-use buildings along New Scotland Ave, increasing the number of residential units, and changing the footprint of a parking garage. Those first two amendments weren't controversial, but the parking garage -- specifically its size and appearance -- had drawn a lot of attention during the process. And it did again Monday night.
Council member Leah Golby, who lives on Myrtle Ave just about a block from the development site and has been a vocal critic of the parking garage, again reiterated her opposition to the scale of the garage -- roughly double the capacity of the garage in the original plan -- and the effect she believes it will have on the neighborhood's traffic and the Myrtle Ave streetscape. And while she praised changes recently made to the plan by the developers to accommodate feedback about the garage, she said that keeping the garage in the range of 816 parking spaces was not an adequate compromise.
"I've said to the developers that they're winning [on project design] on New Scotland Ave, on Morris Street, on Dana Ave, in this plan. But for Myrtle Avenue, it is not a walkable [design] on that block."
A few other council members expressed that they, too, still had some reservations about the plan -- but on balance, they believed it to be a positive step forward.
"It's really difficult to turn down $110 million in a neighborhood that really needs it," said council president Carolyn McLaughlin in an overview of the situation. "But I learned two things here. Even though big developers come in and say they want things like this, we don't run and say, yes, we'll take your money -- there's lots of questions that have to be asked, lots of needs that have to be met. And I think that's what has taken place here. While we want to encourage other [developers] to come into our city and make this kind of investment, we also want them to know that you will be scrutinized."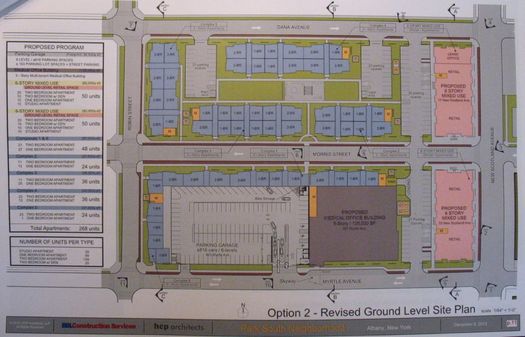 Speaking in favor of the project Monday night, council member Richard Conti described how the Park South neighborhood had been heading in the wrong direction over the last few decades, plagued by crime and problems with absentee landlords. He praised Albany Med's investment there, describing it as a "bulwark against total disaster," and commended Tri-City Rentals for committing to the significant residential portion of the plan (268 units). "Sometimes we are critical of big institutions, but I think we also recognize the contributions they make, as well."
Mayor-elect Kathy Sheehan also made an appearance at the meeting, speaking during the public comment period about the project to encourage approval of the resolutions. "I think the proposal that you're voting on today is a far better proposal than what it was when it first came to this body."
The council's votes are just one more step as the project advance toward actually starting demolition and construction. Many of the details will now be up for review by the city's planning board, and the city's industrial development agency will review the mix of requested tax breaks and incentives. So there's a lot more still to come.
The Park South redevelopment is an interesting, unusual project. It's not every day -- heck, it's not every decade -- that this much money is aimed at transforming a neighborhood in the Capital Region, especially an urban area. It will be worth watching.
Earlier on AOA:
+ Two new options for Park South
+ Six not-boring parking garages
+ A bit more about the Park South redevelopment and that big parking garage
+ A big topic for the Park South redevelopment: parking
+ The big plan for residential and retail redevelopment in Albany's Park South
Hi there. Comments have been closed for this item. Still have something to say? Contact us.