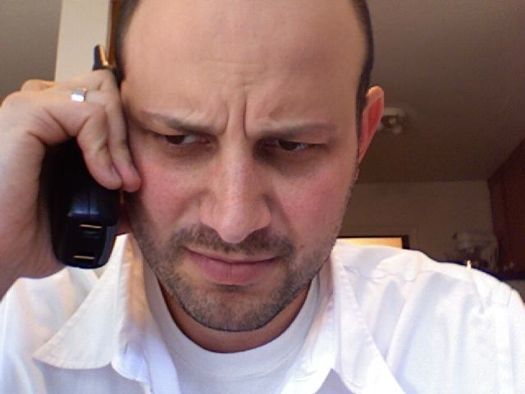 Gifts and giving are on most everyone's mind this month. So we thought we'd ask a few people to share some thoughts on presents, past and present.
Today's thoughts on gifts and giving come from Daniel B., proprietor of FUSSYlittleBLOG, AOA contributor, and connoisseur of donuts.
What gifts would you like to get this season?
It's hard to get gifts for passionate food lovers. Categorically we aren't people who tend to deprive themselves of delicious things or the tools required to make them. Sure, there's the coffee grinder that as far as I can tell isn't sold outside of Brazil, but putting one of those on your wish list is just obnoxious.
But it's cold outside, and even after seven years of living in the Northeast, I still don't even know what those mitten things that pop off to reveal fingerless gloves are even called. Something makes me think they are made from boiled wool and are super warm and cozy. I want those.
What gift would you like to give?
OK, back to food. I like giving people things that come from the great state of New York. Ideally, things that come from our little corner of it. But try as I may to encourage the local distillers to make their own Pommeau, nobody up here has picked up the gauntlet. For those who have never tried this classic mistelle, it's a blend of aged apple brandy and fresh apple cider. It's fabulous with foie gras or as an accompaniment to strong cheeses.
Anyhow, I just learned that there is a version being made at the Orchard Hill Cider Mill in New Hampton, New York. As luck would have it, that's on the way to Pennsylvania where we'll be spending the holidays. The nice part about giving a gift like this is that you also usually get to enjoy it, too.
What charity would you like to support?
I was going to say Heifer International, but Lecco already took that one.
Fighting hunger is a huge issue and one that I support. But I also think it's important to make sure people have access to cleaner foods, and one organization that is helping that charge is the Environmental Working Group. For years I have listed their report on pesticide loads on produce in the sidebar of the blog. Educating consumers and helping them to make better choices leads to more people voting with their wallets and corporations producing cleaner versions of everyday products. And it extends beyond food to things like moisturizers and sunscreens. As well branded as they are, Charity Navigator still gives the EWG a 4* rating and that gives me the assurance that my donation will be well spent.
What is your most memorable gift from childhood?
Most of the things I wanted as a kid were complete crap. I got them anyway. There was the Wayne Manor to go with my Batman action figures. But the elevator that looked so awesome in the commercials always got stuck on its plastic tracks. The metal erector set with its battery powered motor promised so many amazing devices you could build. Maybe some kid had the patience to sit through the thousands of steps and countless hours required to make those machines a reality... but it wasn't this kid. And that Swiss Army knife? I accidentally cut myself with it within the first thirty minutes. My parents did a great job getting me exactly what I wanted. It's just that all the things I wanted were horrible.
More holiday gifts:
+Erin Pihlaja from the Troy BID
+ Lauren Hittenger Hodgson from AOA and The Thrifty Ginger
+Sean Desiree from South End Pallet Works
+ Rachel Person from Northshire Bookstore
+ Musical theater teacher and performer Brandon Jones
+ Katie O'Malley Maloney from Katie O' Weddings & Events
+ Illustrator Elizabeth Zunon
+ Musician Sean Rowe
+ Heather LaVine from The Confectionery
+ Lecco Morris from the Chefs Cons
Say Something!
We'd really like you to take part in the conversation here at All Over Albany. But we do have a few rules here. Don't worry, they're easy. The first: be kind. The second: treat everyone else with the same respect you'd like to see in return. Cool? Great, post away. Comments are moderated so it might take a little while for your comment to show up. Thanks for being patient.