By Greg
We've had a string of burger-related posts this week -- a sort of fast-casual theme week. And now we're finishing up with Greg taking a look at burgers that don't involve meat.
I like veggie burgers. A lot. And in the past year I've easily eaten more veggie burgers than regular meat burgers.
The reasons include:
+ I've been trying to eat less meat for environmental reasons.
+ The meat I do eat I'd like to be humanely- and sustainably-raised. (I can do a better job of this.)
+ I think veggie burgers are interesting from a culinary standpoint because they're a different spin on something that's so common in our food culture.
So here are quick takes on seven veggie burgers from around the area that I've tried...
What I look for in a veggie burger
Everyone's tastes are different, so here's what I look for in a veggie burger:
+ All sorts of different flavors and texture.
+ I don't want a veggie burger to approximate meat -- in texture or flavor. It's OK -- preferred, even -- for it to taste like something else. (This is why I tend to stay away from the soy-based veggie burgers that aim to be meat replacements.) "Meaty" in terms of texture or chew can be good, though.
+ It should taste like something you actively want to eat. Eating a veggie burger shouldn't feel like doing penance. And I don't really care (too much) whether it's healthy. It should just taste good.

This is not a comprehensive list of veggie burgers in the area. If you know of a good one I (and everyone else) should try, please share! I'd be very happy to be pointed toward a good veggie burger.


BurgerFi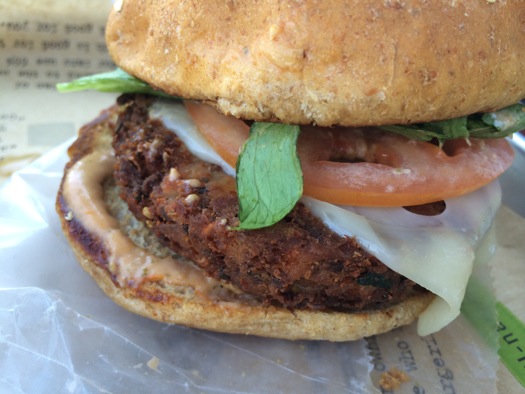 The "VegeFi" burger at BurgerFi is made of quinoa and vegetables, and topped with white cheddar, lettuce, tomato, and BurgerFi sauce. It comes on a multigrain bun. The best thing about this veggie burger is that quinoa patty -- it has a great crunchy crust, and there's almost a falafel quality about it. I really like it. But I gotta say that on the few times I've had tried it, the toppings have left me cold. The cheese didn't do a lot, and the lettuce and tomato were just kind of there.
Detour: Can we talk about tomatoes for a second? I admit that I'm kind of a snob about tomatoes -- either eat them fresh when they're in season locally or use them out of can for applications like sauce. Most of the tomatoes I get on sandwiches from restaurants usually taste like... well, they taste like nothing. They're just kind of this wet piece of plant matter. I'd much prefer that place just skip the tomatoes if they're not good, because slapping those tasteless slices on out of some sense of duty or tradition isn't doing anyone a favor. detour over
The multigrain bun is fine, though I'd probably prefer the bun BurgerFi uses for its regular burgers.
Crave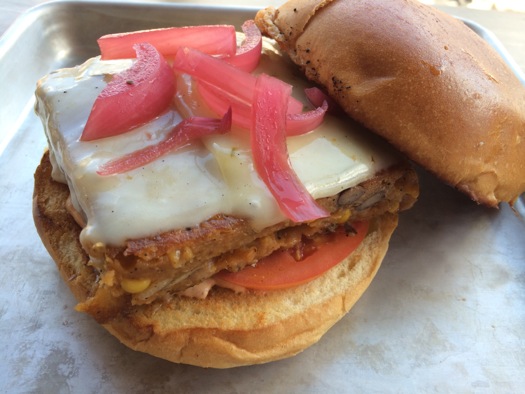 The veggie burger at Crave is corn, roasted onion, black bean, white bean, mushroom, and polenta, with tomato, pickled onion, pepper jack cheese, and chipotle lime sour cream. When I tried it, it came as square slice, which is a little bit different.
I like the flavors involved here (especially the pickled onion) -- no, surprise, given chef Devin Ziemann's talent for combining flavors on a burger -- but the texture doesn't really work for me. The patty/square I tried had a texture that sort of mashed potato-y. I'd like something with a bit more body.
Druthers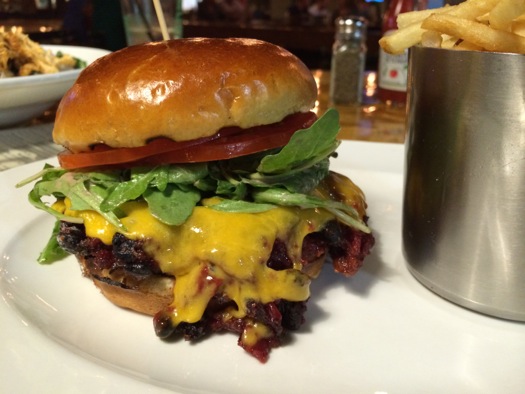 The veggie burger at Druthers is a combination of roasted beets, brown rice, and black beans with tomato, cheddar, five-onion aioli, "honey bbq sticky glaze," and arugula. Roasted beet and black bean is a good combination -- one of the best veggie burgers I've had, the veggie burger from the Northstar Cafe in Columbus, Ohio famously uses that combo -- and it lends some good, deep flavor. There's also a meaty texture. I enjoyed this burger. But there are two things that, for me, could have been better: 1) The patty didn't hold together very well, so by the end I was eating bits with a fork. 2) The whole thing was bit on the sweet side, maybe because the roasted beets or that honey barbecue glaze.
Burger 21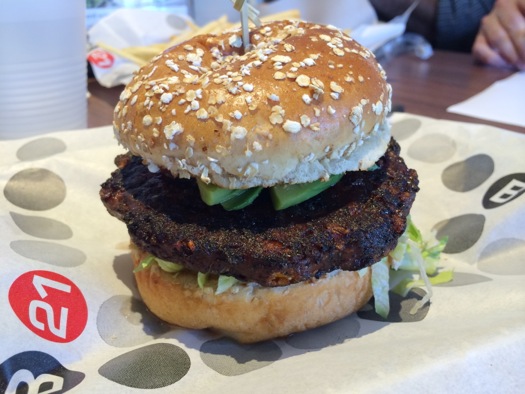 Burger 21 has two veggie burgers -- a black bean burger with LTO, salsa, avocado, sun-dried tomato aioli, and cilantro cream on a whole wheat bun; and "The Greek," a non-black bean veggie burger toppings like roasted red peppers and feta. I tried the black bean burger. And it's... OK. The patty came with a remarkably uniform crust on it and tasted like (surprise) black beans -- it was also very salty. The toppings just seemed wet. And to the whole wheat bun's credit, it was able to stand up to the wet toppings. This isn't something I'd be eager to try again. Maybe The Greek is better.
Smashburger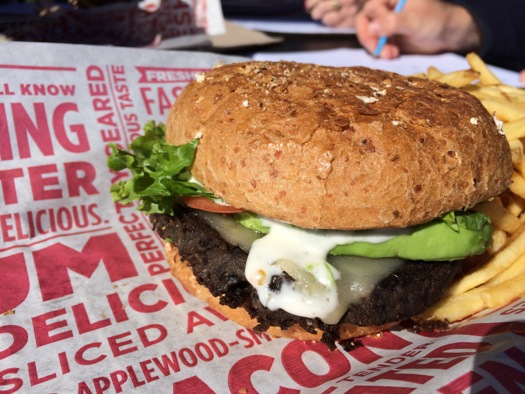 Smasburger also has a black bean veggie burger -- specifically an "Avocado Ranch Black Bean Burger." It came with lettuce, tomato, avocado, and a lot of ranch dressing on a whole grain bun. The black bean patty had a good crust on it. And it was very salty. The ranch dressing covered everything with an odd flavor (cilantro, maybe?). Not a fan. Let's just leave it there.
The Cheesecake Factory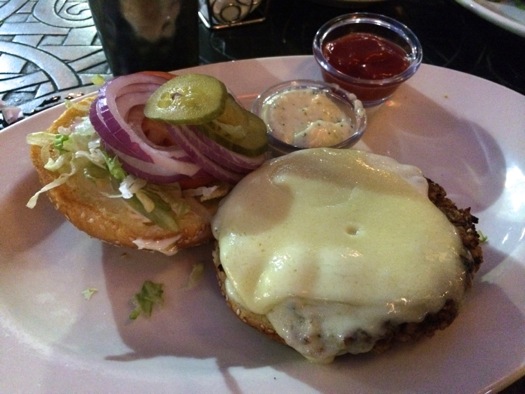 Yep, the portions are enormous. And the decor is over the top. But the Cheesecake Factory has a decent veggie burger. The patty is made with brown rice, farro, mushrooms, and black beans. (The grains appear to be the predominant ingredients.) And it's topped with fontina cheese, lettuce, tomato, red onion, pickles and a garlic-y mayo. The more grain-focused patty is a nice change of pace, and it has a nice chewiness. The fontina cheese works well, lending a nice deep flavor. But the grain patty and cheese are a lot to get through. The pickles and garlic-y mayo help. And the onions are sharp, though too many can be overpowering. It's just that the patty is a lot more texture than flavor.
The Standard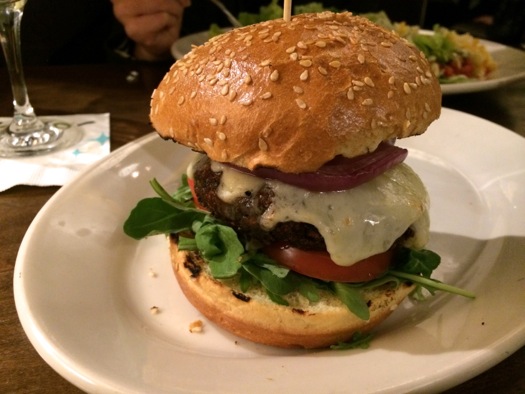 The Standard's veggie burger uses black beans and corn for its patty, and is topped with avocado, white cheddar, tomato, grilled red onion, a lemon garlic aioli, and arugula. I really like this veggie burger. A lot. The patty has a really nice meatiness -- it holds together well, but isn't tough. And the toppings are all work together really well -- the avocado is soft and fatty, the grilled onion have a smoky savoriness, the arugula is a little spicy, and the aioli adds some really great zing. (I take the tomato off.)
I look forward to eating this veggie burger. My only complaint: In the many times I've had it, the veggie burger hasn't always come out with all its elements. Sometimes it's missing the aioli, sometimes the onions haven't been grilled, last time it was missing the avocado and the aioli. Stuff like that happens, it's not a big deal and the staff has always been very nice about making sure it's fixed. But if you try it, make sure you get everything.
____
Earlier on AOA:
+ The art of creating a burger
+ The new-school burger chains: fries
+ A tasting tour of the new-school burger chains
+ Drawing: What's your favorite burger in the Capital Region?
Say Something!
We'd really like you to take part in the conversation here at All Over Albany. But we do have a few rules here. Don't worry, they're easy. The first: be kind. The second: treat everyone else with the same respect you'd like to see in return. Cool? Great, post away. Comments are moderated so it might take a little while for your comment to show up. Thanks for being patient.