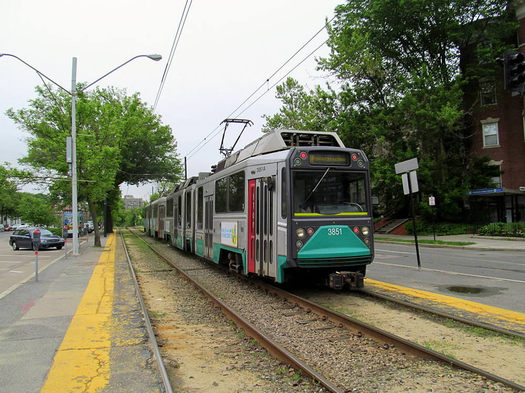 By Sandy Johnston
A couple of weeks ago I tackled the question of whether the Capital Region should build a commuter rail system, answering with a resounding "maybe... at least not yet."
As promised then, today I'm taking on whether our area should embrace a different mode of rail transit: light rail.
As opposed to commuter rail, which uses equipment resembling full-size trains and runs on mainline tracks, light rail typically employs vehicles descended from the trolley cars of decades past, running in streets or on a dedicated right-of-way and powered by electric current. While in a North American context the mode is more common in the Sunbelt, Northeasterners might be familiar with the Green Line in Boston or Buffalo's Metro Rail.
Like many American cities, the Capital Region once boasted an extensive -- in fact, near-ubiquitous -- network of trolley lines. Indeed, we are occasionally reminded of their one-time presence in the strangest of ways.
Heres the site of the Madison Ave sinkhole circa 1905. These trolley tracks are visible again in the hole. #Albany pic.twitter.com/sxGxKAGbfu

— Albany Archives (@AlbanyArchives) May 26, 2016
It is perhaps thus unsurprising that many people here in the Capital Region harbor a fair amount of nostalgia for the trolley paradise lost -- and see in electric traction and steel wheels on steel rails the future of transportation in the region as well as the past.
For example, Kent wrote in the comments section of my previous piece: "I've always wanted a way to visit Troy from Albany and vice versa, via train or light rail. Bus is simply not an option." Kent's attitude is unsurprising; it's a long-established rule that consumers prefer trains to buses.
The existence of that preference, though, is not enough to start asking CDTA to put shovels in the ground. For one thing, research indicates that the preference is largely unrelated to economic or travel benefits. Indeed, when buses provide service as good or equal to rail -- as they are capable of doing, given political will to allocate road space to transit -- the assumed preference more or less disappears.
The key question, then, is whether rail can attract enough additional riders to justify its massive capital cost premium over bus service. The question is not whether people who prefer light rail over buses exist, but whether it is in the taxpayer interest to try to attract them to transit, and if so, whether building rail is the best way to do so.
And let's be honest: light rail, while nice, is very, very expensive. The cheapest projects check in around $30 million per mile, with more complex installations being much more expensive. Meanwhile, CDTA's Central Avenue BusPlus project -- while not "true" BRT -- cost only $16.5 million, or about $1 million per mile, to get off the ground.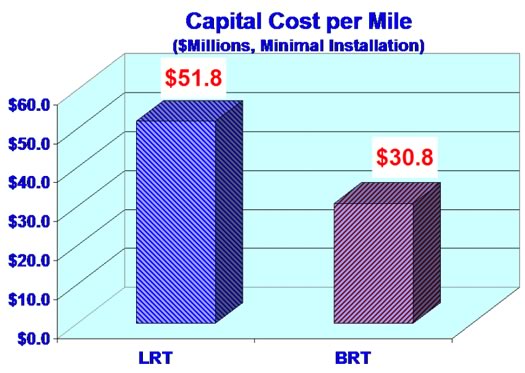 graph: Henry and Dobbs (2012) APTA/TRB conference presentation
As you can see, both light rail and the more infrastructure-intensive versions of bus rapid transit -- such as Hartford's CTfastrak, which cost about $567 million -- can be quite costly. This video gives a sense of the extent of construction that was necessary to create the CTfastrak busway. It is therefore quite important to determine whether the density of ridership along a particular corridor will actually support that kind of expenditure.
Let's assume any light rail we might see in the Capital region would occur in the three corridors for which CDTA has built or planned higher-capacity transit. What does the ridership density tell us? (Ridership numbers here are estimated from CDTA's most recent annual Route Performance Report.)
| | | |
| --- | --- | --- |
| Corridor | Daily Ridership per mile | Total Daily Ridership |
| Central Ave. (1, 355, 905) | 783 | 12,530 |
| Central Ave. (BRT only) | 397 | 6,350 |
| Washington/Western (10, 11, 12, 114) | 1550 | 10,855 |
| River Corridor (22, 522, 85, 87) | 462 | 6474 |
Central Avenue is the best test case since it already has a limited-stop BusPlus service approximating light rail. The Washington/Western corridor has far and away the region's highest density of ridership, but that number is accumulated across four lines on three different arterials; it's hard to know how many of those people would switch to a potential light rail line. The River Corridor between Albany and Troy is similarly hard to calculate, but scores lower than the others. We can assume overall ridership would grow somewhat with the introduction of rail service; but whether potential exists for an increase that would justify the expenditure is a different question.
To put these numbers in context, we can refer to Wikipedia's (yes, yes, but the data is culled from reliable-but-poorly-formatted sources) list of North American light rail systems by ridership. By sorting based on ridership per mile, we can see that CDTA's Central Avenue BRT would be among the lowest-performing in the nation for a light rail line, above only the diesel-powered River Line in New Jersey and Tampa's tourist trolley.
As for the Washington/Western corridor, even if we assume that half of existing riders would switch to a new light rail, it would still perform on the lower end of national comparisons. Given the unpredictability of that calculation, though, and the sheer density of ridership concentrated along it, that corridor may very well be the Capital Region's best bet for light rail anytime in the future.
"But Sandy!" You might say (as Sean did on the previous post), "isn't part of the point of building transportation infrastructure not just to reflect existing trends, but to plan for, and shape, existing growth?"
Yes. Kind of. Let's be careful about that.
Sean is right that there is massive potential for transit-oriented development (TOD) in our region, especially along Central Ave and in the river towns. TOD thrives on brownfields sites and on filling in vacant lots in neighborhoods that feature "good bones" like a strong street grid, but have seen disinvestment; these situations are common in both the Central and Broadway corridors.

Wouldn't the old Delaware & Hudson railyard and shops in Watervliet make a nice TOD development?
This approach can absolutely work, but a couple of recent examples illustrate the dangers of the if-you-build-it-they-will-come approach. Both the Green Line in Sacramento and the Waterfront Line in Cleveland were built to support major developments that have not fully penciled out -- and now both are in danger of being shut down because of low ridership.
And that kind of failure can be devastating to transit in a much broader region than the immediate area served by the affected line. Not only is it a waste of capital funds, but, as Tim Kovach lays out, refusal to shut down Waterfront Line is arguably taking much-needed operational funds away from Cleveland's hugely stressed bus services.
It is, of course, not inevitable that build-it-and-they-will-come lines will fail, or damage other transit in the process; but we need to be aware that such projects are, at best, highly risky, especially in cities with moderate to mediocre growth patterns like Cleveland... and the Capital Region.
Look, I'd love to hop on a light rail train from my home in Center Square to Schenectady, or Troy, or the university from which I just graduated. But we need to face some realities. Light rail is really expensive, and our regional transit ridership can't really justify the capital investment. We know that people prefer trains to buses; but we also know that, given equally performing buses, they will still ride buses. More and more cities are getting this.
People love trains. But that love is generally weaker than we know, or biased by non-economic factors, which gives planners and policymakers leverage to use incremental bus improvements and the umbrella of strategies known as transportation demand management to increase transit usage without spending massive sums on capital improvements.
Ultimately, while I'm being cautionary here, I'm cheered that so many folks in the Capital Region want light rail. There's a fine line between the place where obsession with technologies like rail is forward-thinking and the place where it totally misses the point that we live in a slow-growth region that's not especially wealthy and doesn't have a ton of infrastructure money to spend. Let's be careful of that line.
Sandy Johnston recently finished his Master's in Regional Planning and a certificate in Urban Policy at UAlbany. He blogs at www.itineranturbanist.wordpress.com and is a vocal presence on Twitter @sandypsj. Before moving to Albany, Sandy had lived in New Jersey, Oregon, Iowa, Connecticut, Chicago, Jerusalem, and New York City. Sandy lives in Center Square/Hudson Park with his partner Gabriella, a state worker, and their two cats. You can reach Sandy with comments or complaints through his website.
Earlier on AOA:
+ Thinking about Capital Region commuter rail
+ Designing for safer Capital Region streets
+ What if tearing down I-787 could actually improve traffic?
+ Thinking about high-speed rail in New York
Say Something!
We'd really like you to take part in the conversation here at All Over Albany. But we do have a few rules here. Don't worry, they're easy. The first: be kind. The second: treat everyone else with the same respect you'd like to see in return. Cool? Great, post away. Comments are moderated so it might take a little while for your comment to show up. Thanks for being patient.