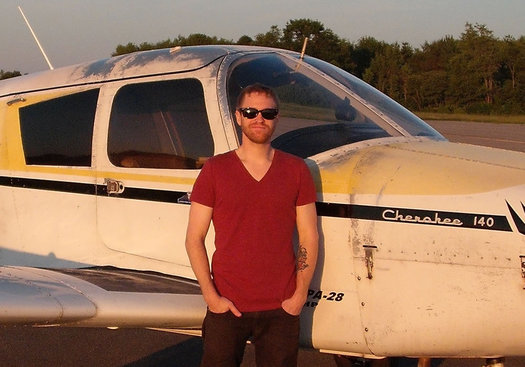 Gifts and giving are on most everyone's mind this month. So we're asking people to share some thoughts on presents, past and present, charities, and wishes for the next year.
Next up: Jeff Krenn is an entrepreneur, adventurer, and MBA grad; owner and operations at ToastedTech; and cocktail bartender at Speakeasy 518.
What gifts would you like to get this year?
As the years go by it gets harder and harder to come up with things to put on a holiday wish list, since the things I wish for become less and less material. I just peeked at my Amazon wish list and apparently I'd like a few books, a couple pairs of fun socks, and some cocktail bitters. What I'd really like is the ability to help those who are less fortunate than I am to have a safe place and a warm meal or two for the holidays.
What gifts would you like to give this year?
My favorite kind of gift is anything I know someone would love but either hasn't discovered yet, or something they have seen but likely wouldn't buy for themselves. The look on someone's face when you really nail it with a perfect surprise gift is priceless. Honestly, that reaction is probably my favorite part of the holiday gift exchange experience.
What charity would you like to support?
I actively support any charity that promotes the adoption of abandoned animals. Mostly recently I worked with a few MBA classmates to raise over a thousand dollars for Out of the Pits, an Albany-based pit bull rescue and advocacy foundation. I encourage anyone considering buying a pet to reconsider their purchase and instead think about adopting a furry friend, either through a charity like Out of the Pits, the Mohawk Hudson Humane Society, or really any adoption foundation you might like. You'll likely save money adopting rather than going with a breeder, and the bond you'll forge with a pet you gave a new chance at life to will be a wonderful and transformative experience for you both.
What is your most memorable gift?
Around the time I was graduating college (undergrad) I was gearing up to tour nationally with a band I was in at the time and my folks paid for me to work with a luthier I had befriended on a hand-made custom electric guitar to take with me on tour. When it was completed and he gave it to me, he had me open the electronics panel which revealed a little placard my parents had gotten made and had the luthier affix to the inside of the panel's cover. That guitar traveled with me for over a half decade and saw stages in close to 48 states. It's one of the few material possessions I have that I honestly can say I love. And it always reminds me of my mom and dad when I pick it up.
What is your wish for the New Year?
My wish this year is the same as it is every year, which is simply to become a better version of myself in all capacities, both for the furtherment of my own self and goals, as well as for being a more beneficial presence in the lives of those I care about.
____
Compiled by Deanna Fox.
More holiday gifts 2016

+ Jamel Mosely

+ Nicki Brown

+ Paul Curran

+ Kim Neaton

+ Jeff Smith
+ Aray M. Till