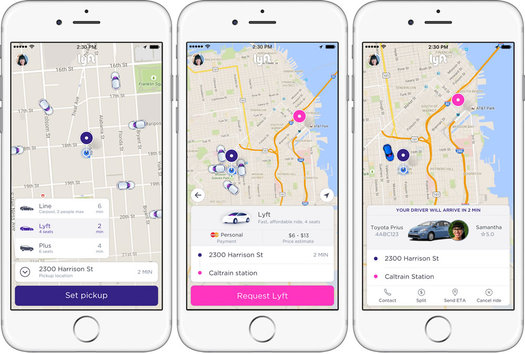 As you've no doubt heard, the big blob of legislation that wrapped up the new state budget included a provision opening the way for ride hailing companies such as Uber and Lyft to start operating across New York State.
The services will be allowed to start operating 90 days after the governor signs the budget legislation. So, it's probably going to be sometime this July. And then whether the services are offered in a specific market will be in the hands of the individual companies.
The legislation sets out rules for a handful of issues that had been holding up the approval, including insurance requirements and local regulation. Here are a few bits and other stuff...
A few bits about the rules
The provision allowing ride hailing services -- "transportation network companies," as the state refers to them -- to operate in places within the state that are not New York City (where the services already operate) is embedded deep within a much larger piece of budget legislation (Part AAA if you'd like read through it yourself). A few bits:
Receipts and whatnot
+ The companies are required display a picture of the driver and provide info on the make, model, color, and license plate number of the vehicle in the app when a person has ordered a ride.
+ Companies are required to provide an electronic receipt in a "reasonable period of time" that lists origin and destination, total time and distance, itemization of total fare paid, state any applicable fee or surcharge, as well as the name and operating license number of driver.
+ There will be a 4 percent state tax on fares.
+ The legislation says companies shall have a policy prohibiting solicitation or acceptance of cash payments for fares for prearranged trips and that drivers shall not solicit cash payments.
+ Companies are prohibited from discriminating against customers on range of characteristics, including destination, race, and disability.
Drivers
+ Companies are required to do criminal background checks on drivers.
+ Participating drivers are not allowed to accept street hails.
Insurance
+ The amount of required insurance had been a topic of debate within the legislature, and it shook out this way: When the drivers have the app on, but aren't responding to a ride request or carrying a passenger, there's a requirement for at least $75,000 in coverage for death or injury for one person, and at least $150k for more than one person. When drivers are responding to a request or have people in the car, the requirement is at least $1.25 million.
Local control
+ The legislation includes a provision allowing counties -- as well as municipalities with more than 100,000 people -- to opt-out of allowing ride hailing within their borders. That shouldn't be an issue here in the Capital Region -- many local leaders have consistently said they welcome the services. (Also: The Capital Region doesn't have any cities or towns with more than 100,000 people, though there's maybe some chance Albany might make it over the mark in the next Census.)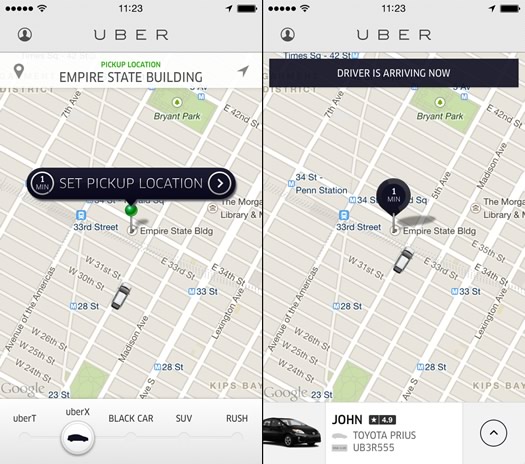 images: Uber
A few other things
Expectations after all those years
The push to open the way for these sorts of companies to operate here has been years in the making. (It was more than three years that local restaurant owners Matt Baumgartner and Vic Christopher started publicly advocating for the services.) And there's been a lot of hype over that time about how the services will be able to shake up the local taxi scene here.
There's plenty to shake up. The current state of taxi service is, by all accounts, not good. Introducing new competition is a good thing. But it'll be interesting to watch the degree of change, and how much these services do -- or don't -- expand the supply of rides for hire. Companies such as Uber and Lyft -- if they decide to operate here (and there's no reason to think they won't) -- will no doubt draw more people and vehicles into the pool by appealing to people who, say, might do it as a job on the side. Are there enough of those people to significantly change the situation, though?
Is the concept better than the business?
The ability to request a ride from your mobile and then handle the whole transaction virtually is a great idea, especially from the user's perspective. But this sort of business is still relatively young and there are still some real questions about how things are going to work in the longterm. Uber has been burning through tons of cash as it tries to expand market share, subsidizing rides. All the while drivers have started to complain in many markets that they're not being paid enough, and there are serious questions about the employment status of drivers and the employment practices of the companies.
One view has been that Uber and other companies are essentially trying to hold out until self-driving cars are viable, and that will allow them to eventually cut costs -- by cutting out the drivers. But that's not a sure thing, and if it comes to pass, it blunts the employment benefits touted by these companies.
This shouldn't the end of the taxi and transportation discussion
It might be tempting to say, "Hey, we have ride hailing apps now, problem solved." But the push to expand -- and improve -- local transportation options needs to continue. That means CDTA needs to keep moving on its efforts to finally regionalize rules for local taxi service. It means local taxi services need to up their game. And, of course, the region needs to keep rolling along on bus service, bus rapid transit, bike share, and car sharing.
A big reason to keep pushing on all these fronts is to make sure there are good, affordable transportation options for all sorts of people in this area. But it's also about diversifying the portfolio so that if one part fails, there are other services ready to help fill the gap.
Earlier
+ New York State could be closer to allowing Uber and Lyft to operate here. Maybe. Sort of. (2016)
+ A few more thoughts about the push for Uber, Lyft, and similar services upstate (2015)
+ A Lyft for Albany? (2015)
+ "The cab driver was eating an entire plate of take-out food while driving. I'm not kidding." (2015)
Say Something!
We'd really like you to take part in the conversation here at All Over Albany. But we do have a few rules here. Don't worry, they're easy. The first: be kind. The second: treat everyone else with the same respect you'd like to see in return. Cool? Great, post away. Comments are moderated so it might take a little while for your comment to show up. Thanks for being patient.