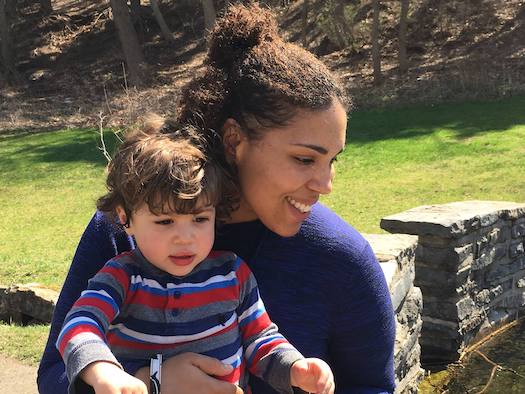 Gifts and giving are on most everyone's mind this month. So we're again asking people to share some thoughts on presents, past and present, charities -- and wishes for the next year.
Next up, Danika Atkins.
Danika hails from Yonkers and has lived in the Capital Region for nearly 15 years. She works at Excelsior College and lives with two Charleses: her husband Chuck and her son Charlie.
What gifts would you like to get this year?
Forgiveness. If I did anything that hurt you or offended you this year and you're holding on to the grudge, I'd love if we could just let bygones be bygones.
What gifts would you like to give this year?
I am grateful that most people in my life have the means to buy the things they want when they want them. So rather than giving gifts for the sake of the season, I prefer to give gifts when I come across something the person will really enjoy. That can be a little anxiety producing because some years I just can't find the right things for the people in my life. In those cases, I try to give a little bit of my time, whether that's helping people get through a project or scratch off something on their to-do list.
I also like to give ridiculous things based on inside jokes. It's entirely possible someone in my life will get an ornately-framed picture of Ronald Regan this year.
What is the most memorable gift you have ever received?
My husband got an inflatable dinosaur costume for me last year. I'm pretty sure it's memorable to everyone I've exposed it to since then.
What charity would you like to support?
The Regional Food Bank of Northeastern New York. They make it easy to donate time, goods, and money to help alleviate hunger and poverty in our region. I fully support any effort that helps eliminate food waste and keeps people from going hungry.
What is your wish for the new year?
My son is absorbing more and more of what he sees and hears each day. I hope this year brings tons of opportunities for him to learn about all the things that make this a beautiful world.
Also, I'd like less traffic on 87 northbound after 5 pm. A girl's allowed to dream.
More holiday gifts
+ Holiday gifts: Josh Coletto
+ Holiday gifts: Roni Choudhury
+ Holiday gifts: Alexandra Stafford
+ Holiday gifts: Jammella Anderson
+ Holiday gifts: Hali Bey Ramdene
+ Holiday gifts: Kristin Jackson
+ Holiday gifts: Evelyn Melendez
+ Holiday gifts: Nick Foster
+ Holiday gifts: Jason Vengersammy