AOAOA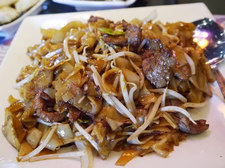 Nancy emails:
For several years we have enjoyed going to Karavali in Latham on Christmas Day. This year we'd like to explore somewhere else. Nothing wrong with Karavali - it's great and very busy that day.
We are looking for something in the nearby Capital Region - NOT a typical Christmas Buffet at a hotel, but an interesting, non-religious restaurant which is open on Christmas Day and provides great food and a festive atmosphere.
May I ask the readers of AOA to make suggestions, please?
We get the feeling from Nancy's email that she's very interested in heading to another ethnic restaurant, or just trying something a bit different.
Anyone have local Christmas Day dining experiences or suggestions to share with Nancy? Please share!
We like maps. And we like to make clickable maps to post here on AOA. Maps about patterns in Census data. Maps about election results. Maps about suggestions you've offered. (We might like all of this a little too much.)
Many of you also seem to like maps. And some of you have been curious about how we make the maps for AOA.
So here's how we do that.