Items tagged with 'Corning Preserve'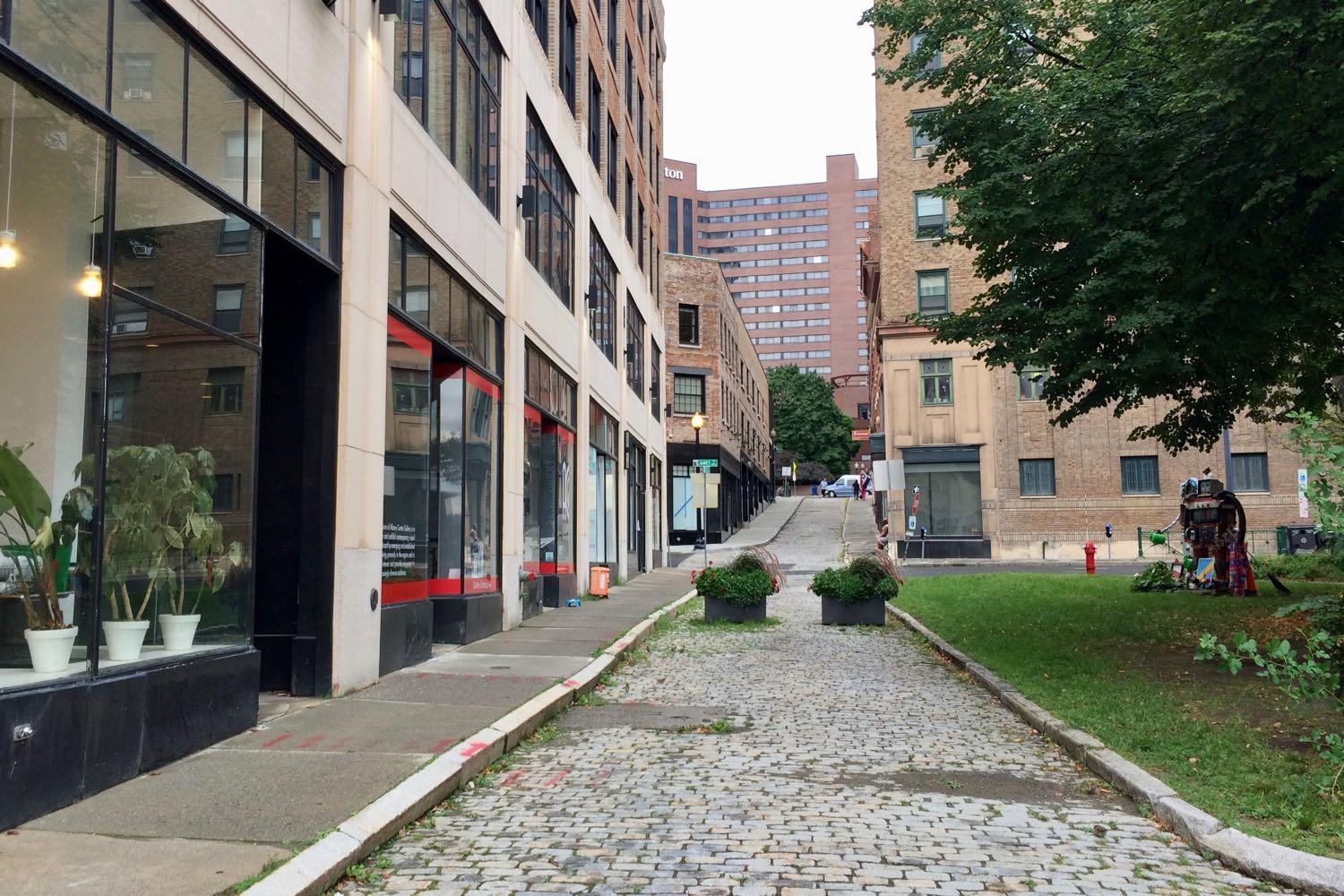 Maiden Lane is one of Albany's oldest streets -- it dates back to the mid 1600s -- with a scale that makes it feel today like it's from a different time.
It's also a path straight from the heart of downtown to the pedestrian bridge leading over to Corning Riverfront Park and the waterfront.
But the current design and streetscape in that part of town don't really do a good job of communicating those ideas or drawing people in.
So the city of Albany is looking to change things up.
Here's what's in the mix...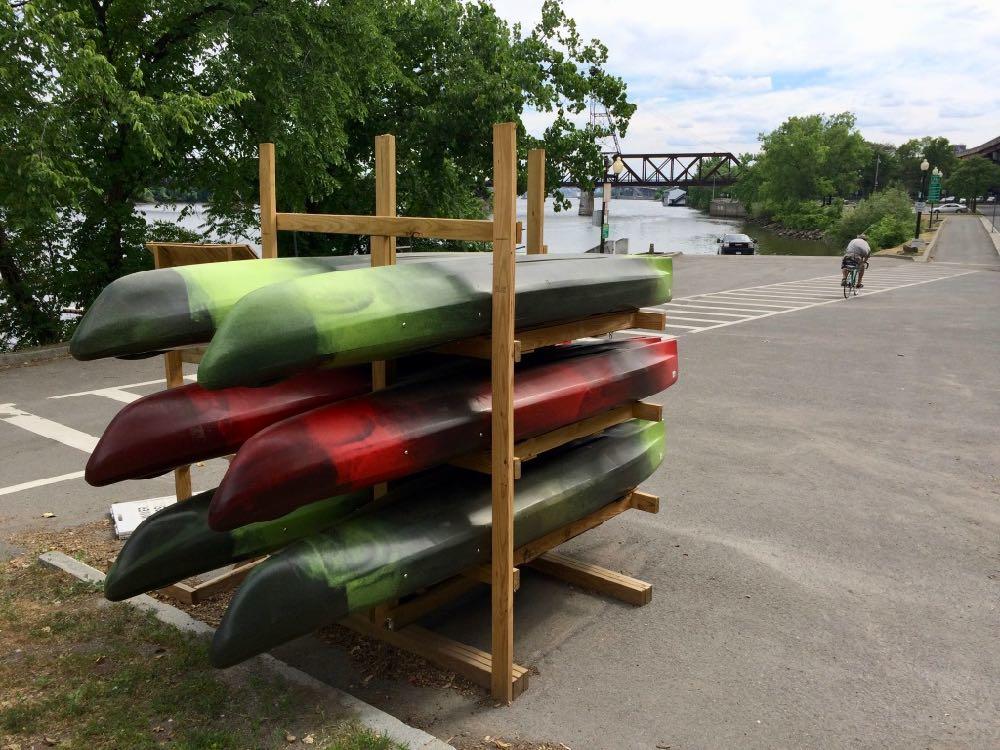 You can now rent kayaks at the Corning Riverfront Park in Albany.
A company called Upstate Kayak Rentals has installed a self-serve kayak rental hub near the boat launch. As company states on its website, "It's similar to a bike share, only equipped with kayaks!" Further blurbage:
Renting kayaks from our Hubs are no different than renting a bike, car, or a kayak from a rental store and transporting it yourself. You are responsible for your own safety and decisions, we are simply providing the equipment in a more convenient manner at different locations for your use. If you do not feel safe paddling in a kayak, please do not rent our equipment. Our Kayak Hubs are meant for paddlers who are comfortable being on the water and familiar with boating safety. It is always recommended to start your excursion up stream if paddling in a current. And please paddle close to the shore lines, especially if you see large vessels approaching.
Each Hub consists of a rack of 6 locked kayaks which are available to rent to the public 7 days a week, in 1 1/2 hour intervals (plus an additional 15 minutes to clean and lock up equipment). In order to access our kayaks, renters will need a smart phone with Bluetooth and the ability to download a free App to unlock the equipment.
The kayaks are rented in pairs, the company says life jackets must be worn at all times. It's $50 for 1.5 hours (plus 15 minutes for cleaning up and locking up). The fee includes life jacket and paddle rental.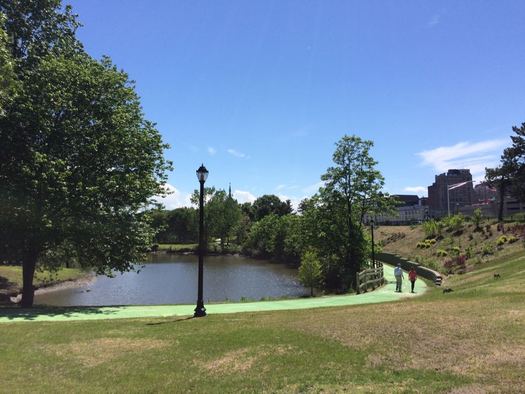 Some quick photo follow-up on the pedestrian and bike upgrades project at the Corning Riverfront Park in Albany. This is the $5 million project that was under construction last year, and prompted the move of Alive at Five to Broadway last summer.
The goal of the upgrades was to widen the (now vibrantly green) multi-use path through the park, provide a route for through walkers and bikers to bypass events in the park by going along the back of the tidal ponds, and making it easier for people to find connections between downtown and the park.
The project is finished and so we figured we'd swing back and walk it...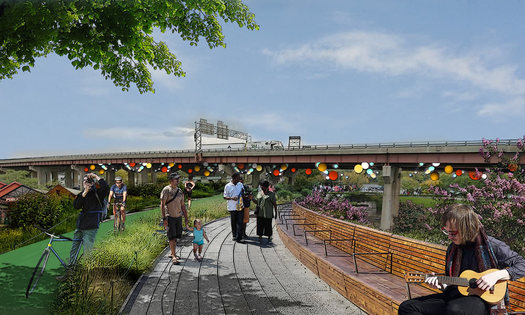 Updated with comment from NYSDOT.
One of the more intriguing Capital Region projects to pop up in the state's Regional Economic Development Council funding announcements this week is a linear park that would take over an off-ramp that connects currently connects Quay Street along the Albany riverfront to Clinton Ave downtown.
Here are a few details about the "Albany Skyway"...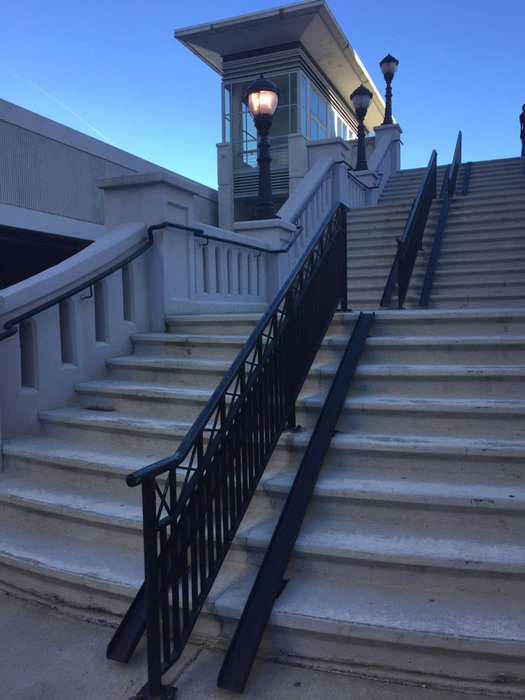 New-to-us pedestrian and bike infrastructure, a continuing (?) series: Jodi pointed out to us on Twitter this week that there are now bike ramps along the stairs leading to the pedestrian bridge that connects Corning Riverfront Park/Jennings Landing and downtown Albany. That's her pic above.
We hadn't seen ramps like this before. And while it might not be a big thing, it is another way of 1) making things a little easier for cyclists and 2) communicating that, yes, there's a place for bikes here.
Which reminds us... we have to get over Corning Riverfront Park and check out how the pedestrian and bike upgrades project is coming along. We've spotted the (very, very) green bike lane in a few spots lately.
(Thanks, Jodi!)
Earlier on AOA:
+ (blink) pedestrian crossing (blink)
+ Adapting to the Madison Ave Road Diet
+ Connecting Albany's riverfront park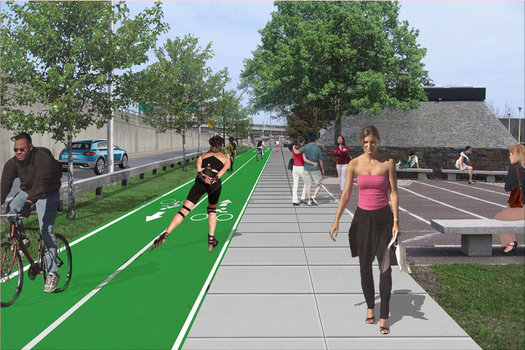 Corning Riverfront Park -- wedged between I-787 and the Hudson River -- has always been like a stray puzzle piece for the city, with people looking at it, scratching their heads, and asking: "How does this fit?"
It took the city decades to figure what to do with the slice of land. Should it exist as a nature preserve? Maybe farm land? If it's an active park, what should it include?
More than anything, though, the spot has just been persistently difficult or confusing to reach. It is the place in Albany that you can't get there from here.
But now there's a $5 million project aimed at upgrading pedestrian and bicycle amenities in the park -- and making it clearer how exactly it connects to other parts of the city.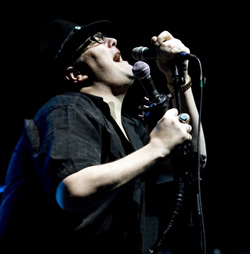 Alive at Five series starts up again June 4 at the Corning Preserve. A few notables from this year's lineup: Blues Traveler (that's singer John Popper on the right) and... the Village People.
The full schedule is after the jump.