Items tagged with 'Election 2016'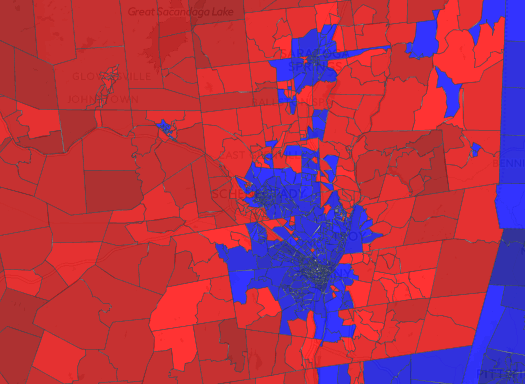 A link follow-up of sorts to the stuff about how populations are changing around New York State and the urban/rural split...
That map above is a clip of how Capital Region election districts voted in the last presidential election. It's from a larger national map by Ryne Rohla at Election Desk that aggregates the results from virtually all of the nation's election precincts.*
One of the things that sticks out when looking over New York State on the map is how stark the urban/rural split was between districts that went for Hillary Clinton versus Donald Trump. That's not all that surprising -- it's not a new pattern, as Rohla's map also shows for 2012. But the pattern appears to have intensified in this past election.
Another interesting bit: The Rohla map also shows which direction districts shifted between 2012 and 2016. And the way things shook out in the Capital Region core is kind of surprising. Even in such Democratic strongholds as the city of Albany, there were districts that shifted toward Trump.
(* We had thought about doing something similar for New York State, but the challenge of pulling together the necessary election data and map files for all 62 counties in the state seemed too daunting. For someone to do this for the entire nation is crazypants dedicated/ambitious.)
Earlier on AOA:
+ Another look at New York State's population change, this time along the urban/rural split
+ Clickable county by county results for 2016 presidential election in New York State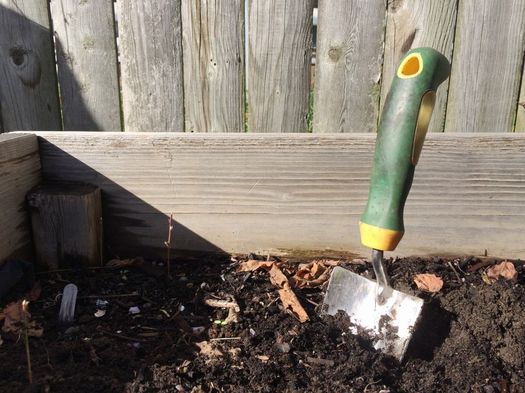 By Greg
It's clear that this presidential election season left a lot of people discouraged and fearful. Even if you were OK with the outcome of the vote, there's still a not-small chance that you don't feel good about how the whole process played out. As a nation we didn't wrap ourselves in glory on this one.
The uncertainty about what happens now -- the anxiety -- is understandable. I've felt it in a way that I don't think I've ever felt about politics before. And I can't even imagine how people who already felt threatened because of some of the rhetoric during the campaign now feel. There's a lot for all of us to consider about how we ended up here.
So, it might feel like a time to withdraw. But what I've tried to remind myself is that now is actually the time to dig in, to steady ourselves for the ongoing push to make the sort of country in which we want to live.
And a good place to start is on a local level. Here are a few ways to do that.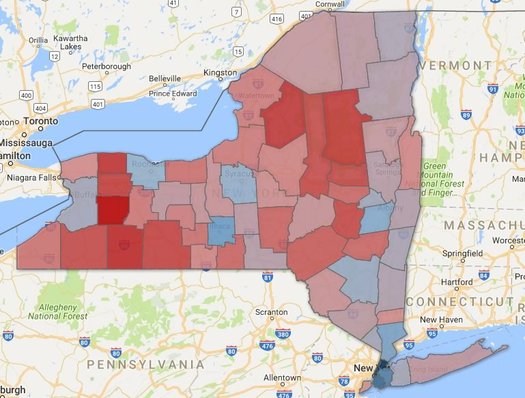 Updated
In a presidential election marked by polling surprises, the voting in New York State pretty much shook out as expected.
Here are county-by-county clickable maps of the results, along with a few notes about some geographic voting patterns around the state...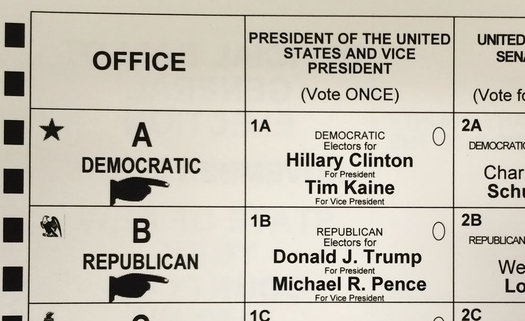 Here's a quick scan of results from elections around the Capital Region Tuesday. This is not a comprehensive list, just some highlights. Numbers are unofficial, and there are bound to be some changes on Wednesday.
On with the results...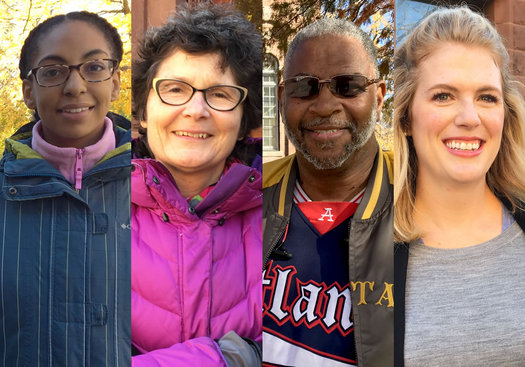 So, about this election. It's been tough.
On television, on social media, and face-to-face we've gotten the sense that a lot of people are discouraged right now. This election cycle has, for some people, brought out some challenging realizations about our differences. And whatever happens Tuesday night, the nation is going to have to find a way to pick up the pieces and move on together. We've been thinking about how hard it's going to be for people do that because of where the election has left people emotionally.
So we stopped outside a few polling sites around the Albany area Tuesday to ask people this question:
Based on everything that's happened this election season, how do you feel about our country right now?
Here's are some of the answers we got...