Items tagged with 'GlobalFoundries'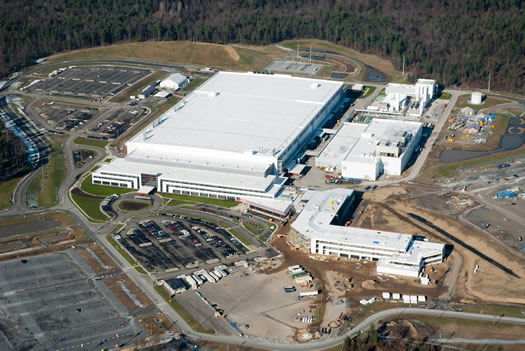 So, there's planning to spend some money, and there's planning to spend some money. This is the latter: The head of the holding company that owns GlobalFoundries tells Reuters it has received a commitment from its Abu Dhabi state investment fund backers to spend $9-10 billion on expanding capacity at GloFo's facility in Malta.
From the article:
The New York factory, which started operations in 2012, has the capacity to produce 300mm wafers at around 60,000 a month. The wafers are used to create integrated circuits, which are at the heart of all electronic devices.
ATIC wants to expand the factory to produce 20 and 14 nanometer nodes, which will be growth areas in the next three to four years, Ajami said.
Utilizing smaller nodes, crucial parts of computer chips, is a vital part of making electronic devices smaller, such as thinner mobile phones.
Growth rates in the semiconductor industry, which has been hit by falling demand for personal computers as people switch to mobile devices such as tablets, are around the high single- digits, Ajami said.
The Biz Review's Adam Sichko puts the news in some perspective -- the new money would basically double GloFo's investment at the Malta site to date -- and highlights what's still not known -- mainly, whether this means a second fab is on the way. The company has gone through the necessary local approvals for a second fab, but it's yet to publicly commit to building one.
[via @AlbBizHaley]
photo: GlobalFoundries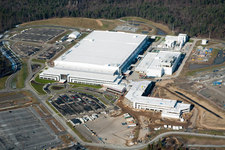 The Cuomo administration and GlobalFoundries officially announced today that GloFo will be building a $2 billion R&D center at Luther Forest. The target date for completion is late 2014. The new center is expected to prompt another 1,000 jobs at the site.
The Cuomo admin noted that "no new incentives were provided from the State" for this new project.
From a statement by GlobalFoundries CEO Ajit Manocha:
... [W]e are making significant investments in strengthening our technology leadership, including growing our workforce and adding new capabilities to make Fab 8 [that's Malta] the hub of our global technology operations. New York State's continued support of the semiconductor industry has created a strong collaborative ecosystem and helped pave the way for this additional investment. ...
The long-held hope has been that the Malta fab and the multiple investments at Albany NanoTech would push this area to become a cluster of tech-related projects, with its gravity pulling other stuff to it. Maybe that's starting to happen now. (And if that mysterious Project Azalea takes root here...)
Another small bit that points toward the tech actually being in Tech Valley: The TU's Larry Rulison noticed that Samsung has recently started trying to recruit "semiconductor talent" from the Albany area -- to go work in Austin.
photo: GlobalFoundries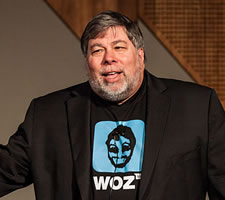 Apple co-founder and general uber nerd Steve Wozniak will be in town next week for two public events. On September 6 he'll appearing on a panel at GlobalFoundries in Malta -- "What's Next For Tech Valley?" (link added):
An esteemed panel featuring Steve Wozniak, [fiber optics inventor] Peter Schultz and local technology executives will discuss innovation and technology development in Tech Valley. The focus will be on driving economic growth and jobs for the next two decades.
The panel is from 3-4:30 pm. Tickets are $75 / $25 students (with ID). Proceeds will "benefit a local charity as directed by Steve Wozniak." Registration is required.
Speaking of charities, Woz will also be appearing at a fundraiser that evening at Proctors for Peaceful Acres Horses:
Enjoy hors d'oeuvres, a cash bar and conversation with personal computer inventor "The Woz," followed by a concert featuring the wonderful Canadian artist Ariana Gillis.
Tickets for that are $60.
Peaceful Acres is in the Pattersonville. You might remember that Woz was in the area a few months back visiting the horse sanctuary. [CBS6 YouTube] [via TU]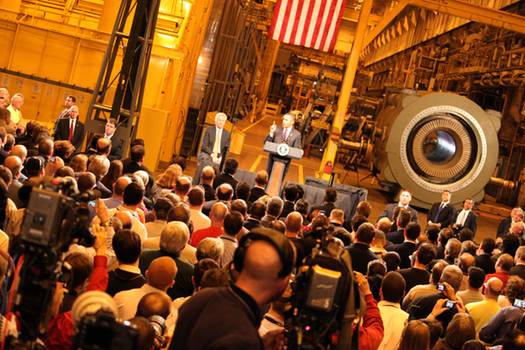 Update May 4, 2012: The President will be visiting UAlbany's College of Nanoscale Science and Engineering instead.
Barack Obama will be touring the GlobalFoundries chip fab next Tuesday (May 8), according to multiple reports -- Daily Gazette, AP, Times Union -- citing unnamed officials. A source tells the Gazette's David Lombardo it's an official visit, not a campaign stop.
We got a tip this morning that a visit to the area was in the works, but couldn't get an official confirmation. Apparently the administration has been laying the groundwork for logistics and lodging over the last month. We hear that an advance team is already in the area working on security. Our unofficial source says the plan includes the POTUS flying in Tuesday morning.
We're still waiting on official word from the White House about the visit. But Chris Gibson's office announced that Gibson and Paul Tonko would have media availability this afternoon at Saratoga STEP campus to talk about the upcoming presidential visit.
This will be the President's third visit to the Capital Region. He visited HVCC in 2009, and GE in Schenectady last year. In both those visits, the President flew in and out on the same day.
In a way, a visit to the GloFo fab brings together Obama's previous two visits. At HVCC, he highlighted training for skilled manufacturing jobs. And at GE he highlighted sophisticated manufacturing in America. The chip fab represents the product of both.
The much hyped ABC World News story about the GlobalFoundries chip fab and Malta aired last night. And it was shockingly bad.
As reported by ABC, the chip fab story is one in which a plucky "tiny American town" got together, put on a show, "beat out of the world," and is now "coming back to life." And (best TV reporter smile voice) look at those crazy white coverall suits people have to wear at a chip fab!
No mention of the fact this "tiny American town" isn't actually in the middle of nowhere, but rather is part of the 59th largest metro area in the country -- and in the middle of the most prosperous county in that metro area. No mention of the $1.4 billion in public incentives used to lure the fab project, including an unprecedented $665 million cash grant. No mention of UAlbany's College of Nanoscale Science and Engineering and its focus on chip fab research, the presence of which was key to attracting the fab. No mention of the billions in public and private investment going into this metro area for chip fab research.
There are so many angles to this story that could have highlighted both that Americans are capable of advanced manufacturing -- and the investment, complications, and side effects of attracting that sort of development.
What makes ABC's story even worse is that the correspondent, David Muir, is from upstate New York. He grew up in the Syracuse area, went to Ithaca College, and was on the local TV news in Syracuse. It's not like this place should be totally foreign to him. We're reasonably sure he's heard of the Albany metro area.
But attention is attention.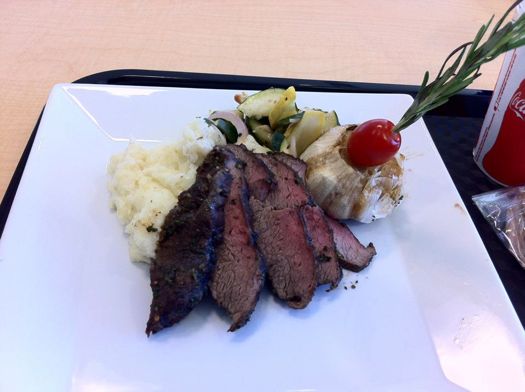 It sounds like the new cafeteria at the GlobalFoundries chip fab in Malta is probably a bit nicer than the snack bar at your office, in part of because of the mix of employees from all over the world. From a recent bit on the website for industry publication Semiconductor Manufacturing and Design, which notes that half of the contractors working at the fab are from abroad:
These workers from abroad have raised the standards for the Fab 8 cafeteria, said Angelo Mazzone, the CEO of a company which runs five cafeterias and six restaurants in the area. "We have a lot of people here from Singapore and Dresden, and these people from overseas know so much about food," Mazzone said.
Each food station has a bona fide chef, and there is a full-time coffee barista who offers drinks made from beans sourced from around the world. "The people from Dresden like real strong coffee," Mazzone noted.
The fab is ramping up production, and the cafeteria may eventually go 24/7.
photo: Mat Maessen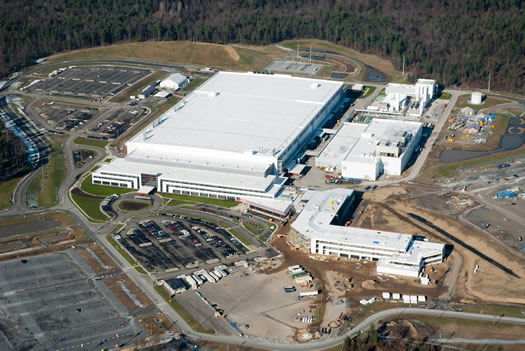 GlobalFoundries announced today that its chip fab in Malta has started making chips. The company is working with IBM on an initial production run of chips at both the Malta fab and IBM's fab in East Fishkill.
GloFo says the chips are based in part on technology that was researched at UAlbany's College of Nanoscale Science and Engineering. And here's where the "nano" part of this comes in: the chips make use of transistors that are just 32 nanometers wide. To say that's tiny doesn't quite cover it -- 4 million 32 nm transistors could fit on a period at the end of sentence. The GloFo fab in Malta -- Fab 8 -- was built to make chips with 32 nm and 28 nm transistors, and smaller.
The company says it expects to be ready for volume production by second half of this year. Once Malta is at full production capability, the fab will be able to produce 60,000 chips a month.
GloFo says it's created 1,000 jobs at the Malta fab -- with another 400 expected this year. It's having a job fair this Thursday at the Saratoga County admin building.
photo: GlobalFoundries