Items tagged with 'Jimmer Fredette'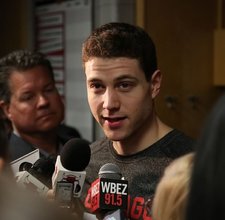 It was just three years ago that the college basketball world -- well, parts of it, at least -- were gripped with Jimmer Mania. The favorite son of Glens Falls, a local folk hero, was lighting up BYU opponents for to the tune of 28.5 points per game -- and doing so with style. It was a lot of fun.
Then Fredette got drafted by the Sacramento Kings with the 10th pick in the NBA draft. What followed wasn't fun. Jimmer struggled at first in the NBA and he languished on the bench. And even more recently, when he hasn't even been bad, he was still riding the pine. The Free Jimmer movement simmered.
And now he has a new chance. Sacramento bought out Fredette's contract last week, and the Chicago Bulls picked him up. Jimmer made his debut for the Bulls last night (three minutes of garbage time).
This could be a good thing. Sacramento is, um, not a model organization. But Chicago has its act together, with an excellent coach who has a rep for making the most of previously overlooked players. And, really, Jimmer's not bad! He's shooting almost 50 percent from three-point range this season (really). And his PER -- an incredibly geeky statistical measurement of player performance -- is totally respectable. Heck, when he played 27 minutes against the Knicks in February -- the most minutes he's played all season -- he put up 24 points on 6-8 shooting from three. (OK, it was against the Knicks, but still.)
Jimmer's probably never going to be a big star in the NBA. But a guy who eventually plays 15 minutes every night and averages 8-10 points a game? Sure, why not. Maybe he'll get his chance now.
Earlier on AOA: 28.5 facts about Jimmer Fredette
photo: Chicago Bulls Instagram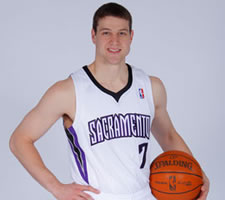 After the full blown Jimmermania of his senior year at BYU, Jimmer Fredette's first season in the NBA with the Sacramento Kings was a let down. The Glens Falls folk hero fizzled. It wasn't pretty. And expectations weren't high for this season.
But so far this season: not bad!
A few signs that Jimmer's starting figure out things in the NBA...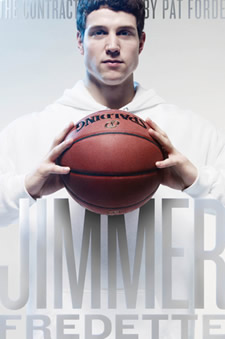 Jimmer Fredette will be at the Colonie Center Barnes & Noble on Monday (September 17) to sign copies of the new book, The Contract: The Journey of Jimmer Fredette from the Playground to the Pros. The event starts at 6 pm. We suspect there will be a long line.
From the blurbage on the The Contract, which was written by veteran sports writer Pat Forde:
This is the story of two brothers from a blue-collar Mormon family in upstate New York Jimmer and T.J. both in need of help. One trying to make it to the NBA. The other trying to stay alive due to a debilitating illness. Both a lifeline to each other. T.J. wrote a contract for Jimmer to sign: I, James T. Fredette, agree on this day, Jan. 27, 2007, to do the work and make the necessary sacrifices to be able to reach my ultimate goal of playing in the NBA. Jimmer signed the contract, T.J. signed as the witness, and as Jimmer s fame spread, the contract became a prominent part of his backstory. Readers will learn about Jimmer s childhood and teen years as well as his special bond with his brother, T.J. Chapters include Jimmer s college basketball experience, his doubts, his goals, and the role his faith plays in his life.
The book is scheduled to be released Monday. It's being published by Shadow Mountain, an imprint owned by a publisher owned by the Church of Latter Day Saints. (As you well know, Jimmer is a member of the LDS church and attended BYU.)
This past season was Jimmer's first in the NBA. His season with the Sacramento Kings didn't go particularly well -- he averaged 7.6 points in 18 minutes a game while shooting 39% from the field. Not so hot for the #10 pick in the draft. Jimmermania was put on hold. And there have been trade rumors recently. That might be a good thing -- Sacramento seems like a mess of a team.
Earlier on AOA: 28.5 facts about Jimmer Fredette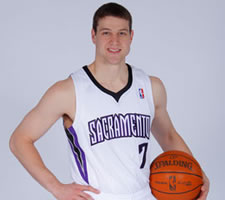 Jimmer Fredette had one of the best games of his sort NBA career last night, scoring 19 points for the Sacramento Kings in a win over the Minnesota Timberwolves. It was his second highest point total of the season (he went for 20 back in January). [ESPN] [ESPN]
Jimmer hasn't exactly lit up the NBA this season. The Glens Falls folk hero is averaging a little more than 7 points a game on 39% shooting in 18 minutes a game. That's not necessarily bad for a rookie, but he was the #10 pick -- and, you know, people are accustomed to Jimmer being Jimmer. Many games this year he's played more like a James than a Jimmer. [ESPN]
His struggles have prompted the inevitable "What's wrong with Jimmer?" questions.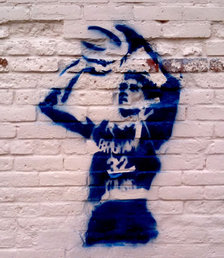 Because Jimmer Mania is unstoppable, there's now a race horse named after Jimmer Fredette. It looks like "Jimmer" will make his race debut at Saratoga this season. [TU]
The backstory on the name: Pat Hammel, the wife of the basketball coach as Glens Falls HS, is on the barn staff for one of the trainers at the stable that owns the horse -- she suggested naming the colt after Fredette (sadly, they didn't go with "The Jimmer"). Hammel says the horse reminds her of Jimmer: "You look at him and you're not 100 percent sure he's an athlete, but hopefully he'll prove us all wrong like Jimmer did." [Saratogian] [Yahoo Sports]
This horse is the third thoroughbred to carry the "Jimmer" name, according to the Pedigree Online Thoroughbred Database.
What obviously has to happen now: a game of H-O-R-S-E between the two Jimmers. Come on, NYRA, let's make this happen.
Jimmer tribute in Glens Falls photo by Trampoline Design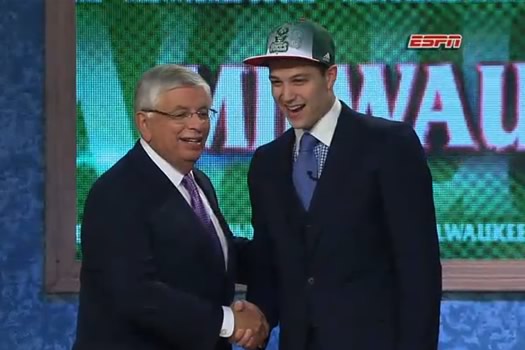 Jimmer Fredette was selected with the 10th pick in the NBA draft by the Milwaukee Bucks -- but he's headed to the Sacramento Kings via a trade.
Sacramento's roster is thin at the guard position, so Jimmer should have opportunity. The Kings have a few very talented young players -- notably guard Tyreke Evans -- who also have reputations for being... difficult. So it could all be interesting.
Sports Illustrated's Michael Rosenberg wrote before the draft about it being important for Jimmer to land in the right situation -- and he didn't see Sacramento as that spot:
The highest I have seen him in mock drafts is No. 7 to Sacramento, which would be a disaster on several levels. He would presumably take Tyreke Evans' job at point guard, which would probably tick off Evans; Evans isn't really a point guard, but neither is Fredette. Evans would move to shooting guard. If you think he and temperamental center DeMarcus Cousins would be happy with shot-happy Jimmer as their shooting guard, you're nuts. Plus the team might move, and Fredette would be saddled with two savior labels -- top-10 pick, and likable guy on an unlikable team. No. Please: No.
For a somewhat more entertaining projection, Grantland -- Bill Simmons' new site -- imagines movies Jimmer could star in with the Kings' cast.
Earlier on AOA: 28.5 facts about Jimmer Fredette
screen capture: ESPN