Items tagged with 'Roy McDonald'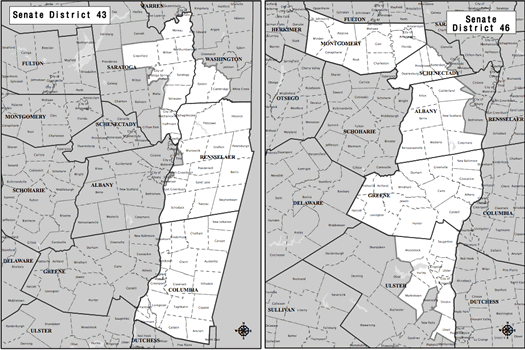 A couple of interesting things about two local state Senate races in the Siena poll out today:
Roy McDonald
Here's how respondents said they'd be voting in the state Senate 43rd election:
Kathy Marchione (R): 40%
Roy McDonald (I): 29%
Robin Andrews (D): 25%
(MOE +/- 4.4%)
Yep, Roy McDonald -- who stopped campaigning after narrowly losing the Republican primary -- polled ahead of the Democrat in the race, Robin Andrews. Two questions that occurred to us because of this result:
+ Could Roy McDonald have won the general election if he kept going?
+ And/or, is McDonald's relatively strong showing in the poll just an artifact of incumbency? Of all the candidates in the field, he's the one most likely to be known by voters. And 67% of respondents in the Siena poll said they didn't know about/didn't have an opinion of Robin Andrews.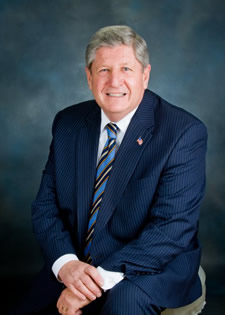 In a statement today Roy McDonald announced that he will not "actively campaign" in the upcoming general election for the state Senate 43rd.
As you know, the incumbent state Senator from Saratoga County lost the Republican primary to Kathy Marchione -- the election came to down to absentee ballots, and McDonald came up about 100 votes short. McDonald could have continued in the general election on the Independence Party line. [State of Politics] [TU] [Daily Gazette]
From McDonald's statement:
Moving forward, I will be supporting all Republican candidates - including Kathy Marchione - in the General Election, because I believe maintaining the Republican Majority in the New York State Senate will continue to positively change state government. It is important to recognize the need for checks and balances in our democracy, which can only be assured by a multi-party system.
Marchione's challenge of McDonald was prompted by the senator's vote in favor of the Marriage Equality Act. Of the four Republican state senators who voted for the act, two survived primary challenges, another chose not to run, and McDonald lost. He didn't mention the vote in his statement.
Even so, McDonald will be remembered for that vote on the historic legislation -- and his awesomely non-politician statement that preceded it:
"You get to the point where you evolve in your life where everything isn't black and white, good and bad, and you try to do the right thing.
"You might not like that. You might be very cynical about that. Well, f--- it, I don't care what you think. I'm trying to do the right thing.
"I'm tired of Republican-Democrat politics. They can take the job and shove it. I come from a blue-collar background. I'm trying to do the right thing, and that's where I'm going with this."
His vote and statement made him a temporary viral star online and won him a relative avalanche of campaign funding. [AOA] [NYDN] [AOA]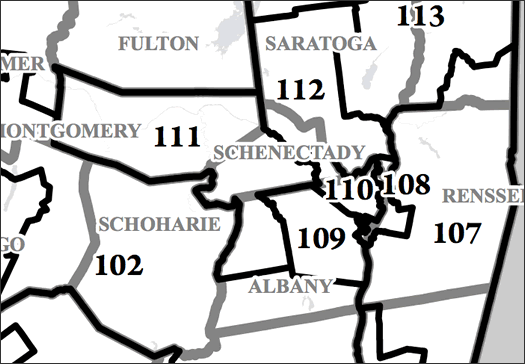 Update: Andrew Cuomo says he'll veto the new lines, which probably means negotiations and adjustments. [AP/WSJ]
____
The task force in charge of drawing new districts for the state Senate and Assembly released its slate of proposed maps this week. As this is New York State politics, there was much criticism. And we'll get to some of that in a bit.
The Capital Region could potentially end up being affected by a lot by the proposed new district lines. Most significantly, the task force is proposing to add a new Senate district that would cover the southwest corner of the area. But there are also shifts in the city of Albany, Saratoga Springs, Schenectady, and Troy.
Reading about all this, we found it kind of hard to keep all the old and new maps straight. So we've we've put together before-and-after versions of the Capital Region's legislative districts -- the current districts side by side with the proposed new lines.
Citizens of the Capital Region, meet what could be your new gerrymanders...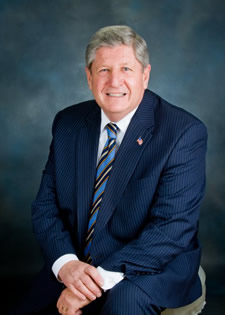 Roy McDonald's now-famous line about his switch on same-sex marriage -- "Well, f--- it, I don't care what you think. I'm trying to do the right thing." -- has made him a small-scale viral star online.
On Buzzfeed, a site that "tracks the web's obsessions in real time," the post about McDonald's line has racked up more than 82,000 likes on Facebook. (It also earned him the "badass" and "win" badges.) Searches on Google for "Roy McDonald" shot up to a level almost 20 times the average rate after his comments started spreading (that's relative, of course, we doubt there was mass googling of him before this). And, in a sentence we never thought we'd type, there was a story about Roy McDonald on TMZ (11k FB likes).
Comments praising McDonald's switch have been showing up on his Facebook page's wall at a healthy clip. His page is promoting his position on the issue, with a profile pic that says he's "standing up for your equal rights." He also a "Stand with Roy" petition. And he's asking for campaign contributions ("a little bit will go a long way towards silencing the critics").
Also: The column by the Post-Star editor Ken Tingley about McDonald's switch is worth reading.
Earlier on AOA:
+ Roy McDonald will vote yes on same-sex marriage
+ To: Roy McDonald, From: Bombers and Matt Baumgartner, Re: marriage equality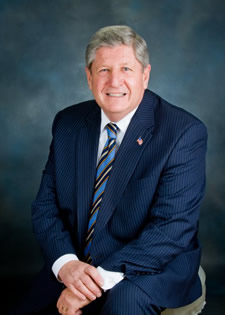 The Capitol media Twitter feeds erupted late this afternoon with news that state Senator Roy McDonald -- who reps Rensselaer County and most of Saratoga County -- will vote yes on the bill that would legalize same-sex marriage. That brings that vote count in favor to 31 (one short of a majority).
Said McDonald to the Times Union's Jimmy Vielkind:
"I'm trying to do the right thing. Rather than wait I worked with the governor ... I'm not out to alienate anybody. This is driven by compassion. ... My lifestyle is my lifestyle -- I don't want anyone telling me or my children what to do."
McDonald, as quoted by the NYDN's Ken Lovett:
"You get to the point where you evolve in your life where everything isn't black and white, good and bad, and you try to do the right thing.
"You might not like that. You might be very cynical about that. Well, f--- it, I don't care what you think. I'm trying to do the right thing.
And McDonald quotes via tweets by NYT's Danny Hakim:
"I think I'm doing the right thing, it's the appropriate thing, and if the public respects that, I'm grateful. If they don't... then I move on. ..."
"I'm tired of blowhard radio people, blowhard television people, blowhard newspapers. They can take the job & shove it."
McDonald had voted "no" the last time around, and he's said for weeks that he was undecided on the issue. He had been the subject of some intense lobbying lately, including a billboard along I-787 urging him to support same-sex marriage. He becomes the second Republican Senator to say he'll vote "yes."
There's a clip of McDonald talking about his decision, after the jump.
Andrew Cuomo submitted a bill today that would legalize same-sex marriage (the bill is embedded after the jump). From the memo for "The Marriage Equality Act":
Section 3 of this bill would add new Section 10-a to the Domestic Relations Law (DRL) providing that: (1) a marriage that is otherwise valid shall be valid regardless of whether parties to the marriage are of the same or different sex; (2) no government treatment or legal status, effect, right, benefit, privilege, protection or responsibility relating to marriage shall differ based on the parties to the marriage being or having been of the same sex rather than a different sex; and, (3) all relevant gender-specific language set forth in or referenced by New York law shall be construed in a gender-neutral manner.
The Cuomo admin says the bill aims to keep civil marriage separate from "the religious institution of marriage." One of the provisions of the bill amends the current law "to make clear that no member of the clergy acting in such capacity may be required to perform any marriage."
The bill would take effect 30 days after it's signed.
A similar bill has passed the Assembly in previous years and is expected to do so again. Dean Skelos has said the Senate could have a vote on the bill this week. [Daily Politics]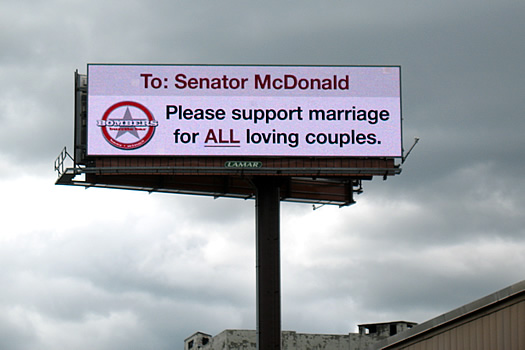 This electronic billboard message is now showing along I-787, just north of the Central Warehouse. Bombers owner Matt Baumgartner bought the billboard to reach one person: state Senator Roy McDonald. The Republican, who represents Rensselaer County and much of Saratoga County, is publicly "undecided" on legalizing same-sex marriage.
We emailed with Matt, who's gay and has been an outspoken proponent of marriage equality, this afternoon about why he chose a billboard to reach McDonald.
State police have arrested a man for an alleged murder from 40 years ago. Investigators say Nelson Costello murdered David Bacon over a woman. Costello, who most recently has been living in Arizona, was a part-time cop in the Town of Waterford in 1969. Bacon's disappearance had been deemed a missing persons case four decades ago. Officials haven't said what led them to treat the case as a murder, but they say they will probably release details later this week. [Daily Gazette] [TU] [Troy Record]
The state's political leaders are lining up to push for a high-speed rail line connecting cities along the old Erie Canal. [TU]
Former Schenectady police chief Greg Kaczmarek was sentenced to two years in prison yesterday for his involvement with a drug ring. Kaczmarek's wife, Lisa, was also sentenced yesterday -- she got six months. That sentence has drawn criticism for being too light, but Judge Karen Drago told Lisa Kaczmarek, "your culpability with respect to getting illegal drugs on the street was far less than your co-defendants." The busting of the organization has led to convictions for 24 people. [TU] [Daily Gazette] [TU]
AMD says it wants to start clearing the land for the Luther Forest chip fab in March and start construction in June. But first its board has to approve the spin-off of the company that will actually own the fab. [TU] [Daily Gazette]