Items tagged with 'Sheridan Hollow redevelopment'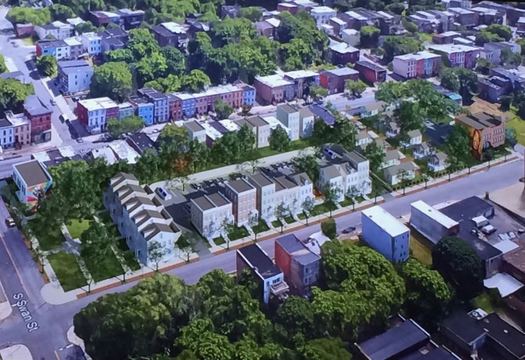 Sheridan Hollow is one of Albany's oldest neighborhoods. And throughout much of that history, the neighborhood has repeatedly been overlooked, bypassed, or excluded. It's gotten the short end of the stick many times.
But in recent years the neighborhood tucked into the center of Albany has added new, affordable housing and mixed-use space, and it appears to be gaining some positive momentum.
How to keep that going was one of the central questions in a recent week-long intensive look at the neighborhood, an extension of the city's Rezone Albany initiative. Consultants were in town studying the neighborhood, talking with people, and imagining new possibilities -- which they presented at a public meeting last Thursday.
Here's a look at what they came up with. (Are there renderings? You know there are renderings.)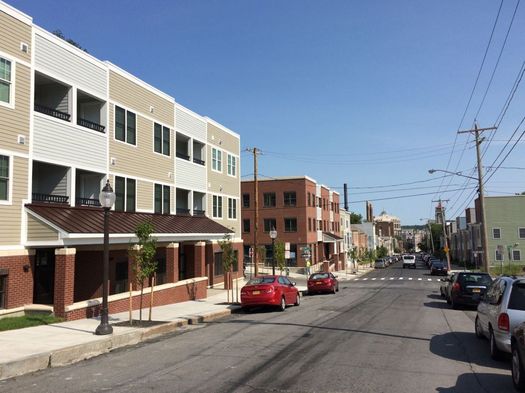 What are the possibilities in Sheridan Hollow?
That question is at the center of a series of events this week focused on the future of the Albany neighborhood.
The events are the latest in a string of similar neighborhood-focused reviews during Rezone Albany that also looked at the Warehouse District, the South End, Central Ave, and the area around the downtown UAlbany campus. Consultants from the national firm Dover Kohl are in town talking with people, gathering input, and mapping out potential plans for the neighborhood.
City planning director Chris Spencer said the Sheridan Hollow review is focused on issues such as in-fill development (tiny houses maybe?), streetscape design, stormwater, and codes and safety. Many of these topics are connected to the actual physical landscape of the neighborhood, which is tucked into a valley between the Capitol and Arbor Hill, just west of downtown proper.
Sheridan Hollow has seen a burst of development in recent years, thanks in large part to new housing and mixed-use buildings built by Habitat for Humanity Capital District and Housing Visions.
The opening public workshop for this week's series was Monday evening. There are open design studio sessions at 200 Henry Johnson Blvd from 9 am-6 pm this Tuesday and Wednesday. And on Thursday the consultants will do a public work-in-progress presentation at 6 pm.
Earlier
+ Imagining possible futures for the neighborhood around UAlbany's downtown campus
+ A few versions of the South End's potential future
+ Thinking about the direction of Central Ave
+ What sort of place should Albany's Warehouse District be?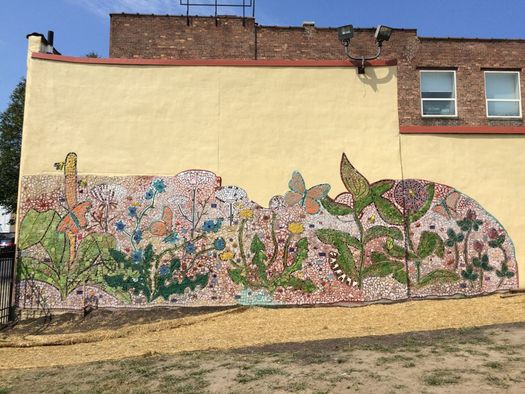 We took a few minutes this weekend to stop by the new mosaic mural on Orange Street in Albany's Sheridan Hollow neighborhood. It was unveiled Friday evening.
The mural's on the side of the building at Orange and Dove that houses the Community Loan Fund of the Capital Region and Albany Center for Economic Success. There's also a new community space there, Sheridan Hollow Commons.
There are a handful of large photos after the jump.
Artist Jillian Hirsch headed up the design of the mural, and its installation included the help of many volunteers and donors. Also involved: thousands of Albany school kids, who made tiles for the mural.
The work is really bright and fun. And because it includes mirrored pieces, it catches the light in interesting ways and creates a sense of motion as you walk past it. It's worth a stop sometime to check it out.
The mural is just up the street from the ongoing Sheridan Hollow redevelopment project, where Habitat for Humanity and Housing Visions are buildings new, affordable owner-occupied and rental housing. And The Hungry Hollow cafe is set for a grand opening in in a mixed-use building there in October.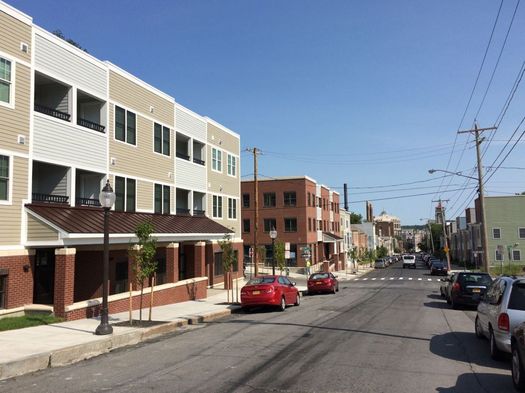 Here's a quick update on the ongoing Sheridan Hollow redevelopment project in Albany, one of the most interesting real estate projects in the Capital Region...
The 57 rental units centered around Sheridan Ave and Dove Street have been rented or otherwise set aside, and a large majority of them are now occupied. (There was an official ribbon cutting this week.) The units are distributed among 17 buildings constructed by the Syracuse-based org Housing Visions, and they join the 20 owner-occupied single-family and two-family homes already built there by Habitat for Humanity Capital District. (Habitat's now working on 10 new homes nearby.)
The rents for the affordable housing units are based on a sliding scale, according to Housing Visions. For example: rents for a 1BR unit range from $615-$1076 based on a household's income. If you're curious, there's a more detailed breakdown of the rents after the jump.
Housing Visions has also built two mixed-use buildings at the site. Both will include residential units upstairs, one of them with units set aside from tenants referred to Housing Visions by social services orgs. Also planned for the mixed-use buildings: office space for Habitat and a cafe -- the Hungry Hollow -- scheduled for a grand opening in October.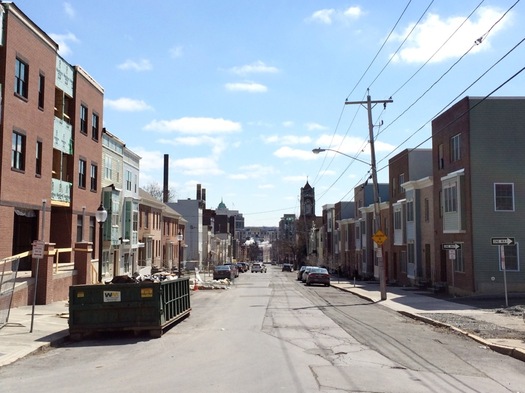 The most interesting real estate project in Albany -- and maybe the whole Capital Region -- has completed its first phase and is now moving onto phase two.
Habitat for Humanity Capital District and a group of partners recently finished building 14 new homes in the Sheridan Hollow neighborhood, and work has already started on another 10 new homes nearby on Orange and Lark streets. At the same time, an org called Housing Visions is building 57 new residential rental units, along with mixed-use space that will include offices and a cafe.
So, what's next? And how does this fit in with downtown Albany's ongoing residential transformation? We stopped by the project this week for a walk and talk with Habitat for Humanity Capital District executive director Christine Schudde.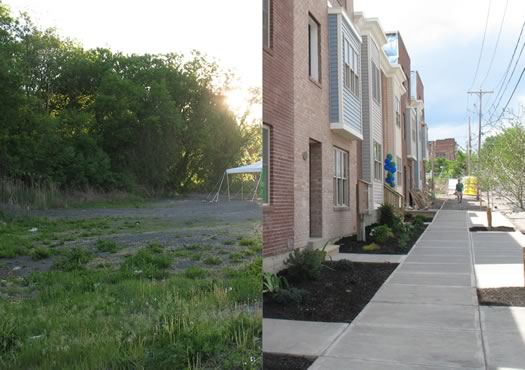 This is sort of like a bonus track to Tuesday's post about Habitat's Sheridan Hollow development.
It's a pair of "sliding" before/during photos of the scene. The before photos are from the groundbreaking in 2013. The during photos are from this week.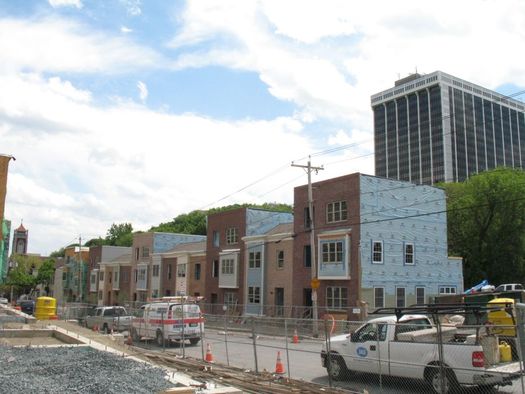 The most interesting real estate project in Albany -- and maybe the whole Capital Region -- is in Sheridan Hollow. Yep, that Sheridan Hollow, the neighborhood that has so often been bypassed, overlooked, and otherwise left with the short end of the stick throughout the city's history.
So what's happening? Habitat for Humanity Capital District and a group of partners are in the process of building a new core at the heart of the neighborhood.
Here are a few reasons why that's so interesting...