Items tagged with 'bike share'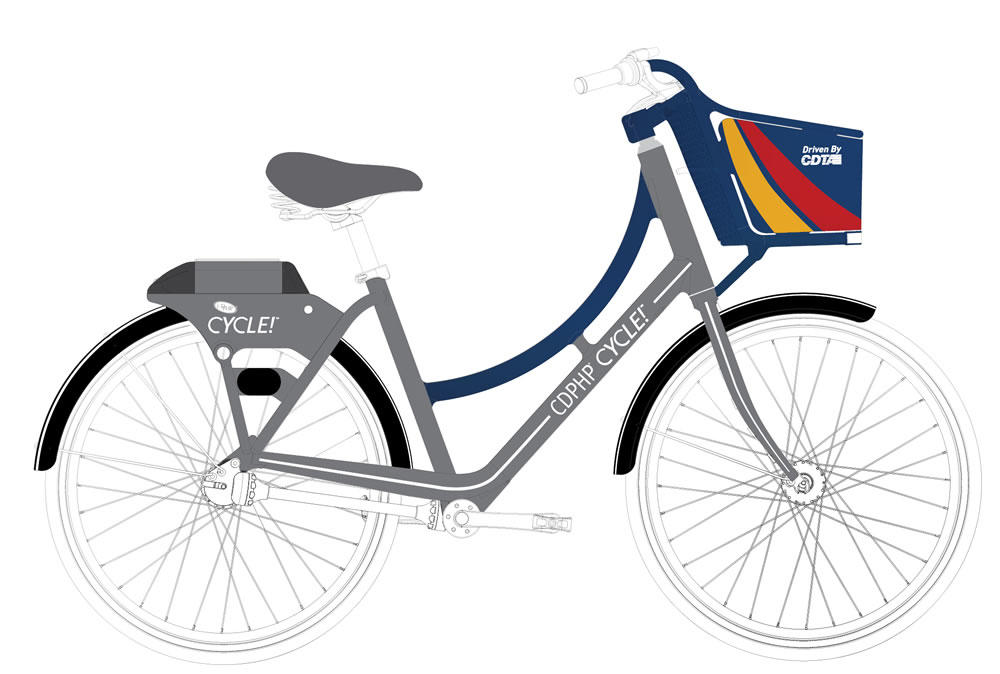 Updated
CDTA announced Wednesday that it will start rolling out "unicorn" bikes as part of the CDPHP Cycle bike share.
The bikes have color schemes different from the typical green and purple of the bike share bikes. The image above is of the design for the CDTA-themed unicorn. There will be six designs in total.
The unicorns bikes are mostly for fun. But trip taken on one this summer, CDTA says it will be making a contribution the philanthropic arm of CDPHP. The Rose & Kiernan insurance agency is also kicking in some money, too.
When we first heard about these unicorn bikes a few weeks back, we expressed our extreme disappointment to CDTA officials that they wouldn't literally be unicorn-themed bikes, with a horn or rainbows or whatever. But there's always hope for the future.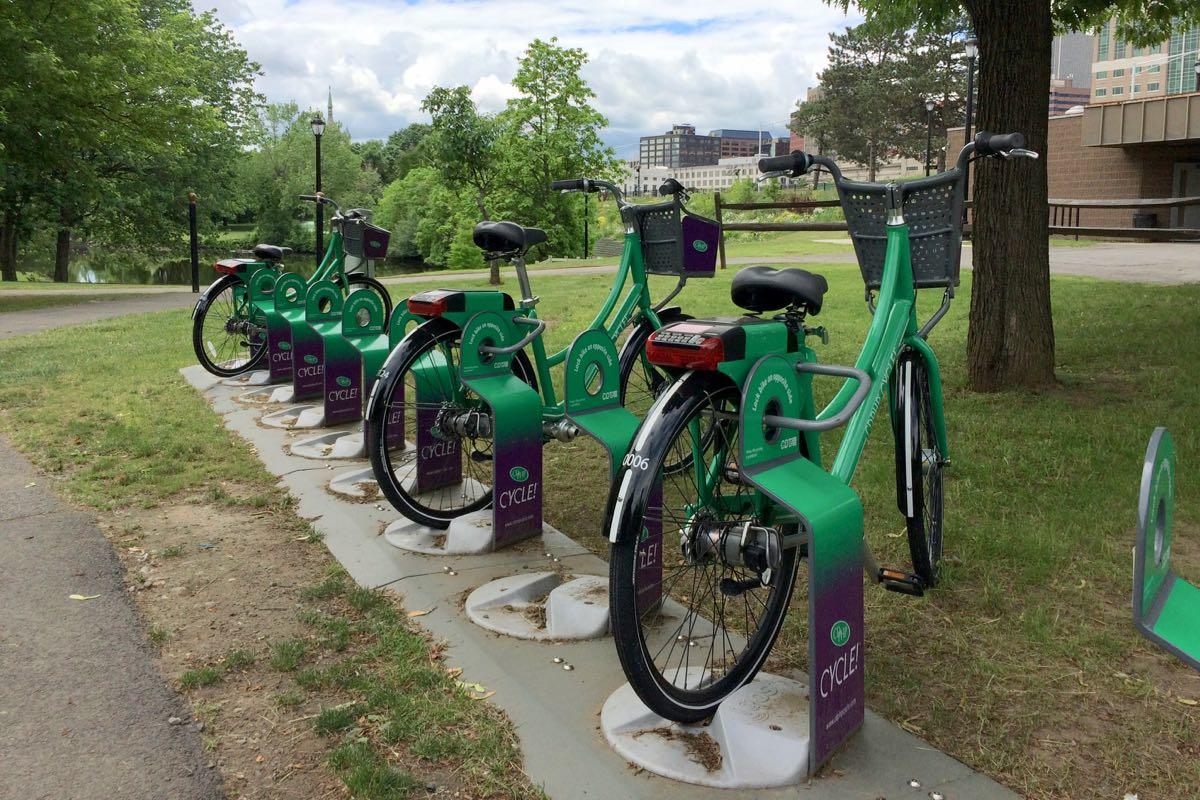 The CDPHP Cycle bike share and the New York Bicycling Coalition are offering a free safe cycling class at the Albany Jewish Community Center on June 23. You can register online -- sign-ups close June 21. (Updated. The old deadline had been a typo in the materials.)
Class blurbage:
Refresh your bike skills and get ready to Cycle! The New York Bicycling Coalition will be leading cycling classes to get you ready to ride safely. You'll learn the rules of the road, safety maneuvers, and become acquainted with the CDPHP Cycle! bike-sharing system. All participants will receive a free helmet and a free monthly membership to CDPHP Cycle! This program is brought to you by Capital Coexist.
(Capital Coexist is a local bike and pedestrian safety campaign from the Capital District Transportation Committee.)
It sounds like this class could be good if you're maybe a little uncertain about being on a bike around town and/or you're maybe a little hesitant about how the bike share works.
The class is Saturday, June 23 from 10 am-2 pm at the Sydney Albert Albany JCC (340 Whitehall Road).
Earlier: How I ended up riding a bike as one of my primary ways of getting around town -- and how that's gone
CDPHP advertises on AOA.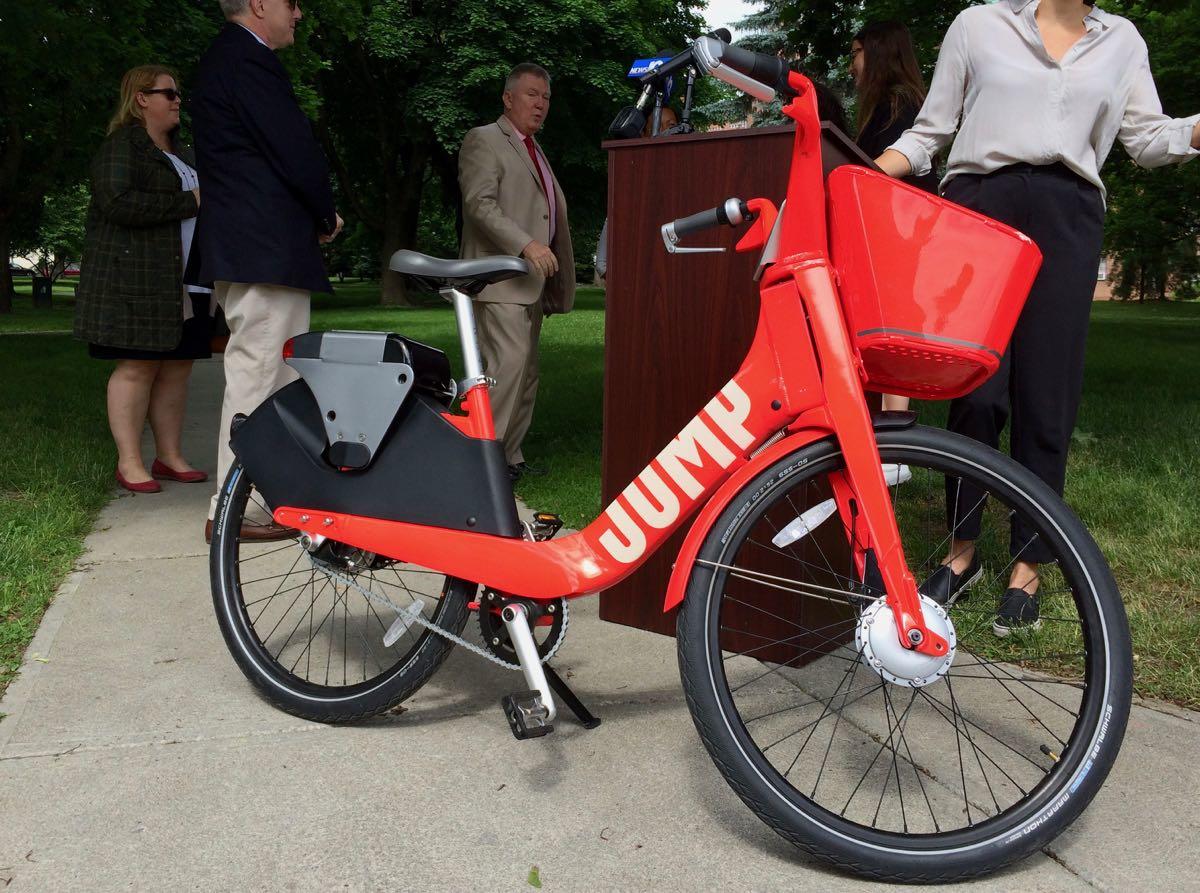 E-bikes hold the potential to stretch the use of bikes in all sorts of interesting ways, but they're not currently legal in New York State.
There's a push to change that, and advocates are pedaling hard to make it up the hill before the state legislature ends its current session later this month.
On Wednesday reps from the company behind the bike share operated by CDTA were in town to argue the case for e-bikes along with a handful of state and local leaders. The pitch: e-bikes can be a new way for people to commute, they'll open tourism opportunities, and they'll expand the pool of people who ride bikes.
So here are a few bits about how e-bikes might work with bike share in the Capital Region, and a check-in on where things are at in the state legislature...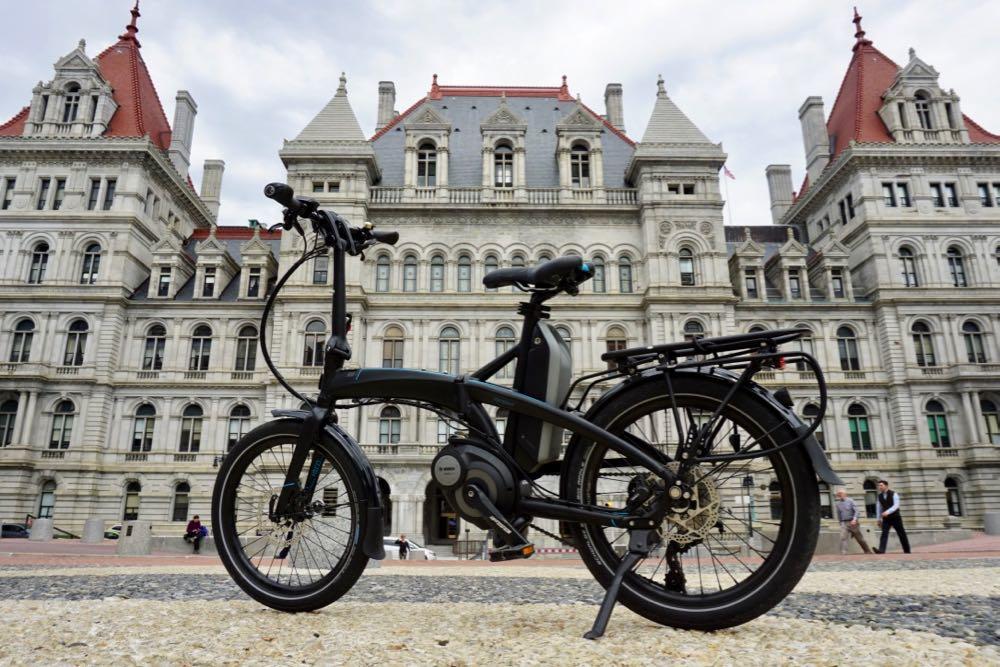 Bikes can be a good way to get around. They don't take up a lot of space on roads. They're environmentally friendly. They're fun.
There are also some drawbacks that prevent people from embracing bikes as an everyday transportation option: the relatively slow speed of travel, the sweat, just the general physical exertion of riding.
E-bikes -- which give riders a little help thanks to an electric drive -- can address a lot of these issues. Riding one feels a little bit like magic. And their popularity is on a big upswing.
But there's a snag: New York State doesn't have clear rules for e-bikes.
And that casts some doubt on their future here.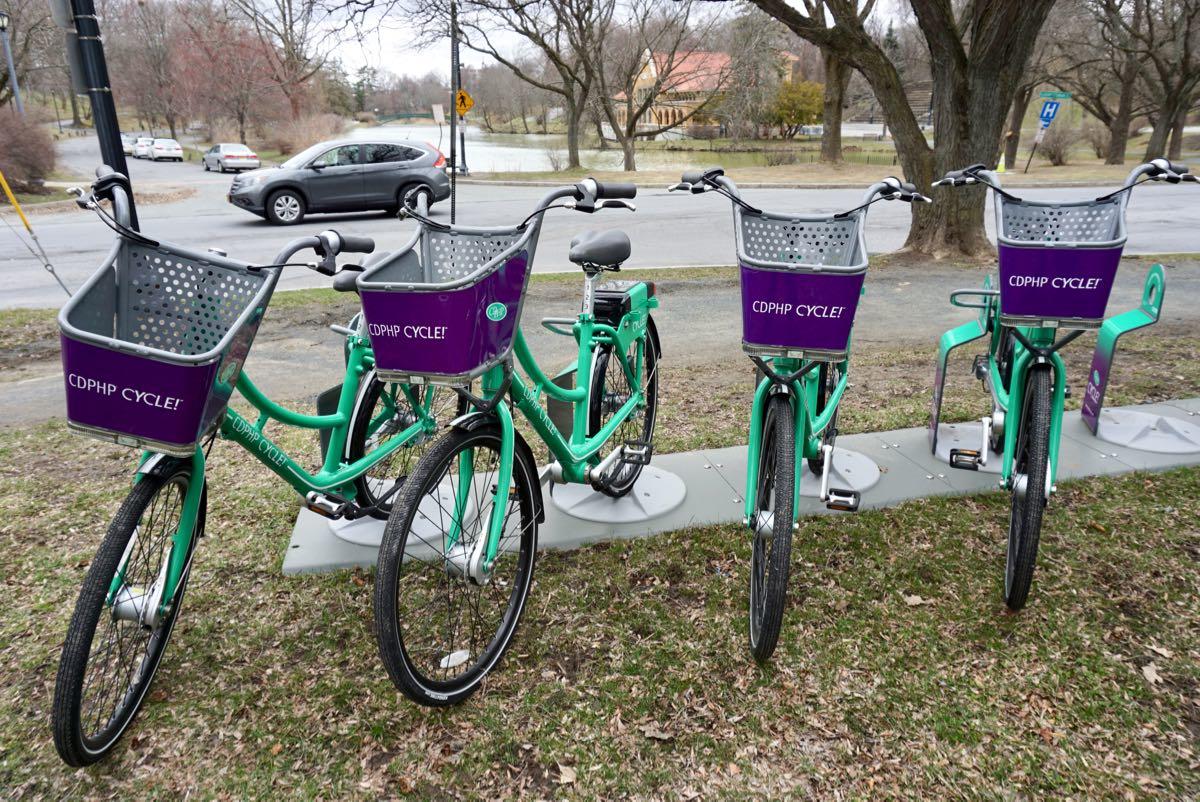 The new season for the bike share operated by CDTA -- CDPHP Cycle -- started in mid-April. And the for the second season, the transit org promised more bikes, more hubs, and a wider service area.
The details for that expansion are now out. CDTA has released maps for this season's hubs -- some already place, some still to come -- as well increased geographic boundaries for the system. The transit org says this season will include 350 bikes (versus 160 last year) and 80 hubs.
The expanded system areas in Albany, Schenectady, Saratoga Springs, and Troy are notable for a few reasons. 1) The relatively compact boundaries for the first season were a frequent complaint. 2) The new boundaries cover much of their respective cities, including more neighborhoods beyond the downtown cores. 3) The "out-of-system" fee for dropping a bike outside the boundary is $100.
See below for maps of the planned rack locations. The bike share's website has the racks that are currently in place (along with counts of how many bikes are available at each location). There's also a mobile app with this info.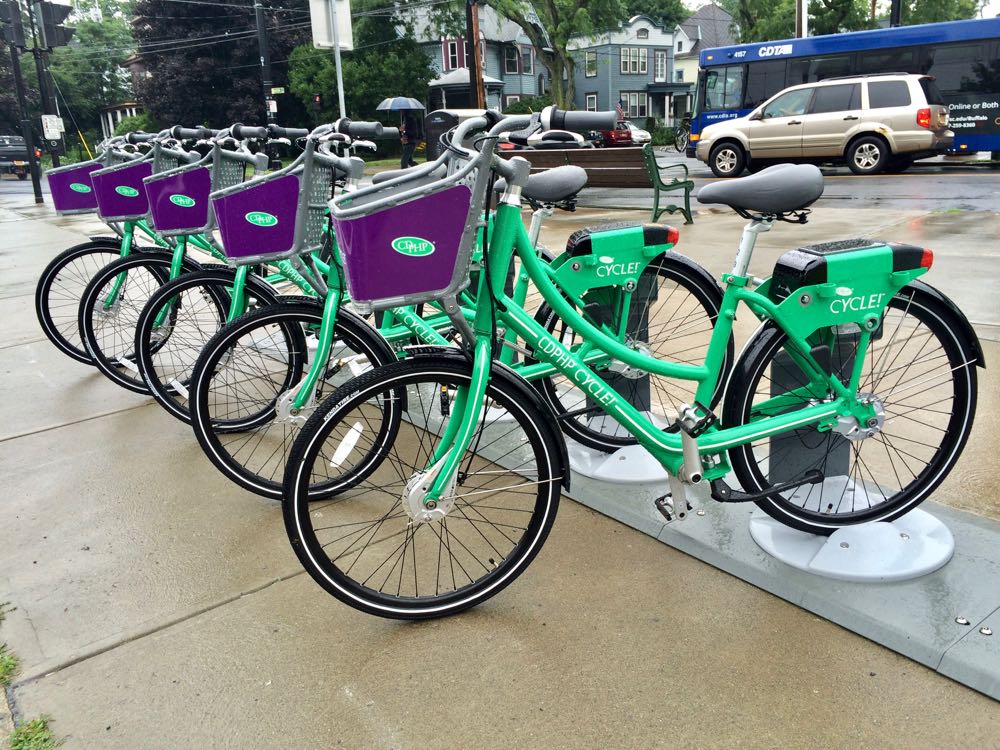 The next season of the bike share operated by CDTA -- CDPHP Cycle -- is lined up to start later this spring. And the service is offering early bird pricing.
A season membership is currently $65 through April 19. After that the price increases $20. The membership includes 60 minutes of free bike use per day, so if you think you'll be using the bikes often, this could save you a few bucks.*
The base price for using a bike without a seasonal pass is $5 per hour (prorated to the minute), with an "out of hub" fee of $2 and a "brought to hub" bonus of $1. (The bikes don't have to returned to a hub. The electronic tech for the renting the bikes is on the bikes themselves, and they're equipped with GPS.)
In addition to the season pass, there's a $15 monthly membership that includes 60 minutes of time each day. And there are also student rates, which are half the typical price at each level.
By the way: The "out of system area" fee this season will be $100. (It was $25 in 2017.)
The bike share operated by CDTA -- CDPHP Cycle -- is set to return for its second season this spring. And it will do so with 160 more bikes and more than 20 new rack locations.
So that means CDTA needs to make decisions about where to deploy the new bike stations. And it's again looking for public input: If you head over to the CDPHP Cycle site there's a map on which you can suggest a rack location and/or vote for one that's already suggested.
As in the lead up to the launch of the program last year, CDTA says it will be adding the public voting to a decision making mix that also includes population, city layouts, and existing bike infrastructure.
The first season of CDPHP Cycle, which ran from late July through November, included 160 bikes and 40 rack locations. The program signed up 2,467 members (the goal was 2,000) and logged 11,481 trips, averaging 2.34 miles per trip.
The initial group of rack locations was clustered fairly tightly in the downtowns of Albany, Schenectady, Saratoga Springs, and Troy in an attempt get people noticing the bikes and using the system. Lauren Bailey, who oversees the program as CDTA's mobility manager, has said one of the goals for the 2018 season is to expand the system farther into neighborhoods.
CDTA says the start of the 2018 bike share season is weather dependent, but it's aiming for late spring.
Earlier: What's next for the CDPHP Cycle bike share
CDTA and CDPHP advertise on AOA.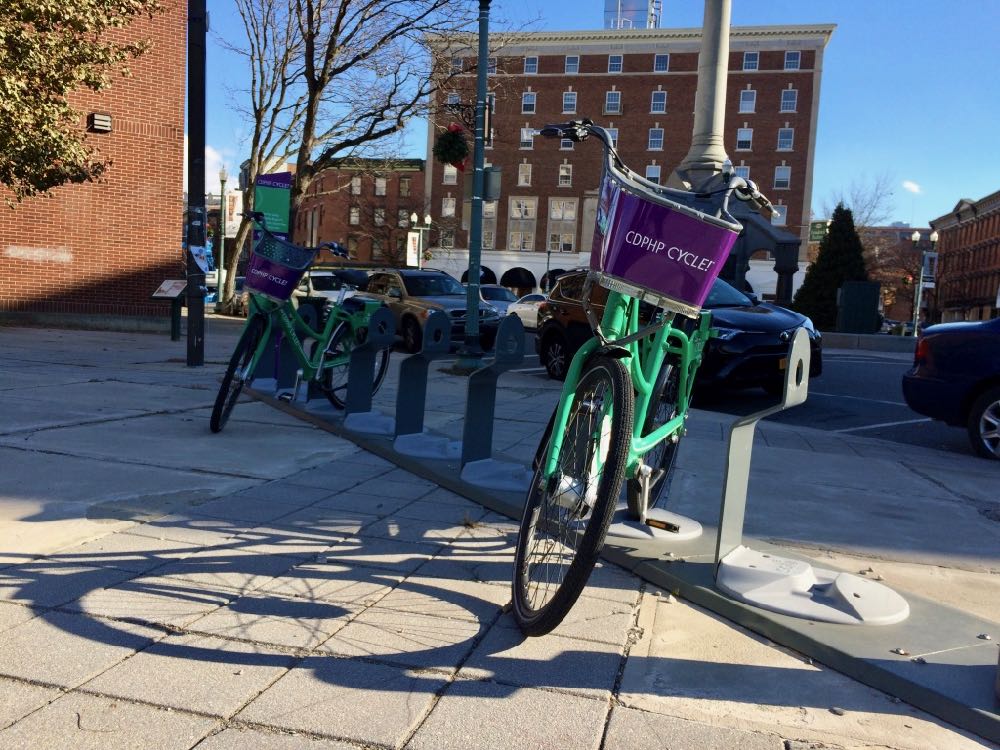 Today (Thursday) is the last day of the season for CDPHP Cycle, the new bike share run by CDTA.
A few of the first-year stats released by the transit org for the system, which included 40 stations and 160 bikes:
+ The bike share signed up 2,467 members
+ The system logged 11,481 trips
+ Those trips covered 26,877 miles (2.34 miles per trip on average)
Here's more about the bike share's first season and what's in the works for next year...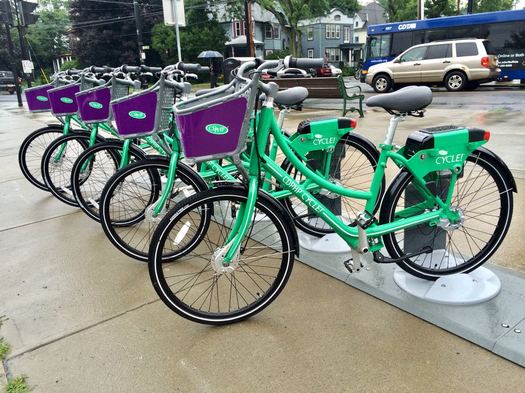 CDTA says it's ahead of its goal for the number of people signing up to use the new bike share -- the transit org says CDPHP Cycle has 2,028 members so far. The goal for the entire 2017 season was 2,000 members.
That was one of the numbers CDTA released Thursday in an update about the bike share. It reported that people have taken 7,615 bike rides using the system. Here's a breakdown of rides by city (rides per hub in each city):
+ Albany: 5,274 (264)
+ Saratoga Springs: 1,121 (280)
+ Troy: 764 (109)
+ Schenectady: 456 (65)
That Albany's had the most number of rides isn't surprising -- it also has way more hubs (20) than other city (7 for both Schenectady and Troy, 4 for Saratoga Springs). But its rides-per-hub number is still relatively high compared to Troy and Schenectady.
CDTA has said it would be using this first season to gather data about what's working -- and not working -- as it plans for expanding the system next year. It's looking like a key question will be why ridership is Troy and Schenectady is so far behind the other two cities.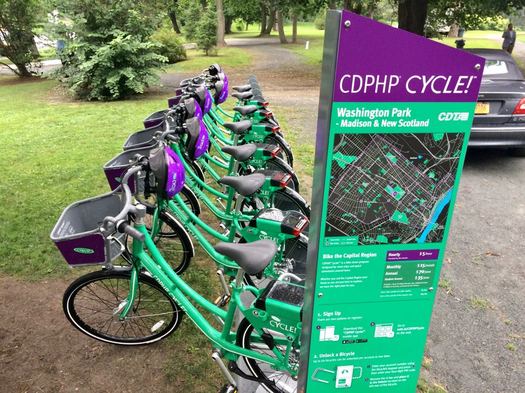 The new bike share backed by CDTA -- CDPHP Cycle -- launched Thursday. You can now sign up for an account and check out a bike from one of the stations in the Capital Region's four core cities.
Here are details about how it works, and a few thoughts after trying it out.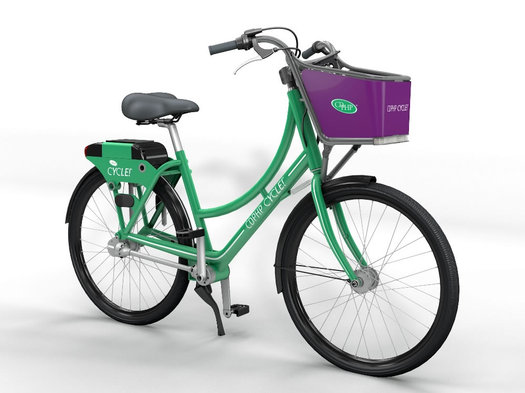 The upcoming bike share from CDTA -- CDPHP Cycle -- has now posted pricing info.
The base pricing for using the bikes will be $5 per hour (prorated to the minute). There's also an "out of hub" fee of $2 and a "brought to hub" bonus of $1. In other words, checking out a bike will incur a $2 fee (before any time is used) and you get a buck back if you return the bike to one of the bike share hubs. (The bikes don't have to returned to a hub. The electronic tech for the renting the bikes is on the bikes themselves, and they're equipped with GPS.)
The bike share is starting off in zones that include the cores of Albany, Saratoga Springs, Schenectady, and Troy. There's a charge of $25 for leaving a bike outside the zones.
As mentioned, that's the base rate. There are also membership plans that, like buying in volume, will make using the bikes cheaper on a per-minute basis: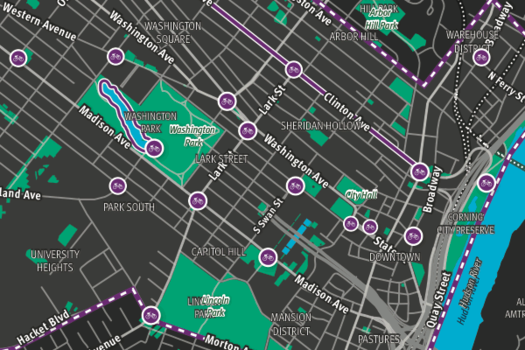 The new bike share that CDTA is launching later this summer -- CDPHP Cycle -- is now one step closer to starting up: The transit org has announced the locations of the stations for the bike share.
So let's have a look...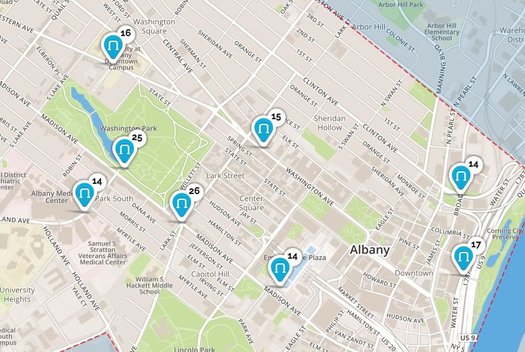 Another quick follow-up on CDTA's upcoming bike share. The online suggestion and voting for bike share stations continues to run through April 30 -- and the results are being mapped.
That's a clip of the map above. The top suggestions in Albany so far are pretty much you'd expect: Washington Park, the ESP, Lark Street, the pedestrian bridge to Corning Riverfront Park, and so on. (One location that doesn't have many votes, yet, but seems like it could be a good idea: Swinburne Park near Clinton Ave, which has a bike lane.)
It looks like the other three cities -- Schenectady, Troy, and Saratoga Springs -- could use a few more suggestions and votes for stations.
There are two more upcoming public info/suggestion events for the bike share:
April 25: Saratoga Springs Recreation Center on Vanderbilt Street - 6-7:30 pm
April 26: Albany Public Library, Washington Ave Branch - 6-7:30 pm
____
Earlier: A few more details about the upcoming CDTA bike share
CDTA and CDPHP advertise on AOA.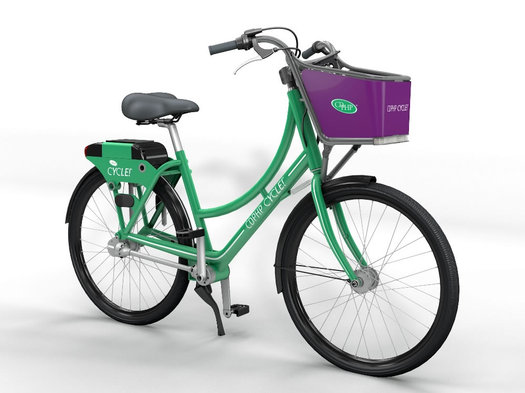 Quick follow-up to that recent post about the bike share CDTA's planning to launch later this year...
The online site to collect suggestions from the public about where the the CDPHP Cycle 20 bike stations should be located is now up and running. Blurbage:
Tell us where you want to pick up CDPHP Cycle! bikes. Use our map or download the Social Cyclist app to vote for our suggested rack locations. You can also comment on why you think it's a good spot for a CDPHP Cycle! rack. Be sure to navigate the map of your city to find suggested locations.
Decisions on rack locations will be guided with your feedback, along with the following criteria: available space, pedestrian traffic, population density, bike infrastructure, and transit options. You can also vote by downloading the free Social Cyclist mobile app, emailing cdphpcycle@CDTA.org, or calling (518) 437-6844.
Voting ends Sunday, April 30 at 11:59 p.m.
Via the suggestion site's map, there's also a peek at the initial coverage zones for the bike share in the cities of Albany, Schenectady, and Troy.
As CDTA mobility manager Bailey said in March, the overall goal of the bike share program initially will be to extend people's transportation options from nodes in the CDTA network (example: The upcoming Uncle Sam Transit Center), and to cover short-distance trips within downtowns. The second phase of the program will focus on reaching out farther into neighborhoods with additional bikes.
Public events (updated)
There are also a series of upcoming public info sessions, where you'll be able to ask questions, offer suggestions, and see one of the bikes that will be used in the system...