Items tagged with 'Albany aquarium'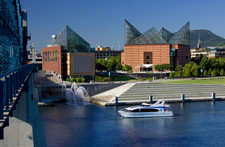 With all the talk about an aquarium for Albany, the Biz Review's Mike DeMasi went to Chattanooga to check out the Tennessee Aquarium, which has been used as case study in the aquarium conversation here. One of the things we took away from his article: The aquarium was just one part of an overall redevelopment picture. A clip:
Chattanooga and Albany are similar in other ways: Both are on a river, home to a major state university, and within a three-hour's drive of major cities.
There is another direct parallel: accessibility to the river.
One of the elements to Chattanooga's rebirth was removing what had been a physical and figurative barrier between downtown and the Tennessee River: a four-lane highway.
In the mid-2000s, then-Mayor Bob Corker, now a U.S. senator, drove the charge to raise $120 million in public and private money to expand tourist attractions downtown and upgrade the waterfront.
A key piece was reducing a portion of the highway next to the aquarium to two lanes and building new exits to alleviate traffic, making the area more welcoming.
"It's a huge asset if you can figure out how to integrate it," Arant said.
Also: "10 takeaways from Chattanooga, and why they matter to Albany."
Earlier on AOA:
+ Albany aquarium study: there's potential demand here
+ Thinking differently about what a destination museum in Albany could be
+ Push continues for Albany aquarium
+ "The Life and Death of Urban Highways"
photo: Tennessee Aquarium / Todd Stailey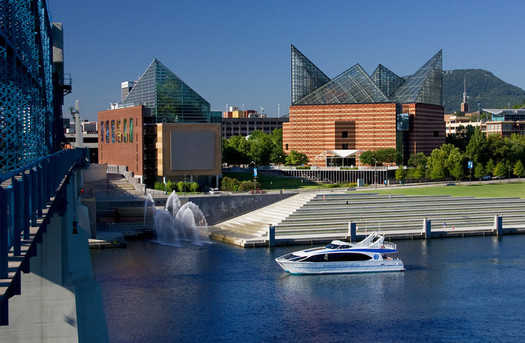 The company that's been pushing the idea of an aquarium for downtown Albany -- Omni Development -- released the first phase of a feasibility study for the idea yesterday. And the very short story: the report concluded there appears to be demand for something like an aquarium here.
After hearing hearing a presentation about the study, and going over the materials distributed from the first phase, here are a few bits, observations, and thoughts...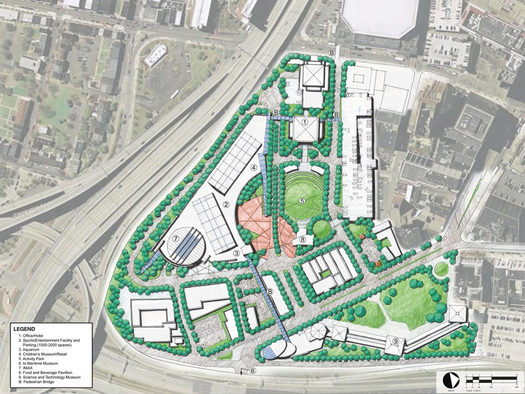 Omni Development announced today that it's hired a consultancy to "study the potentials and challenges for an economically rejuvenating project to be located in downtown Albany." In other words: Omni wants to see how feasible it would be to build the proposed aquarium/science museum/IMAX theater/thing at the site of the land gathered for the Albany convention center project.
From the press release:
Omni decided to take the lead with this investment in the future of the Capital Region after receiving weeks of enthusiastic public support to their proposal for a destination-caliber project to transform downtown Albany economically and culturally. In June, Omni provided numerous examples of how such a venue -- featuring an aquarium as the hub of an educational, scientific and entertainment attraction -- would be a regional stand-out and generate extensive visitation and revenue for the area. The study now initiated by Omni will be specific to Albany, with expert analyses and projections of current and future demographics, revenue potentials, competition, trends and "right-sizing" of facilities.
Earlier this summer Omni pitched the idea of a large development at the convention center site that could include an aquarium, museums, entertainment venues, and parks. And, of course, the Albany Aquarium group has also been rallying attention and support along its own track.
So, this could be a good thing for the conversation. It's one thing to toss an idea like this out there for discussion, it's another to put a team of people to work on figuring what might it actually end up involving. (And yet another to find the money to pay for the project if it moves ahead.)
The consultancy that Omni's hired -- ConsultEcon in Cambridge, Massachusetts -- worked with a bunch of aquarium and museum clients around the world, and helps clients with "determining concept definition and refinement, establishing market proof of plans and concepts, determining financial viability, supporting project funding or creating sustainable operating strategies," according to its website.
Omni says it expects something back by the end of September, and that it will share the results with the public.
Update: Here's some good follow up by the Biz Review's Mike DeMasi about whether the consultancy would actually return a study reporting an aquarium is a bad idea, and skepticism from Albany mayoral candidate Kathy Sheehan.
Earlier on AOA:
+ Soapbox: Thinking differently about what a destination museum in Albany could be
+ Push continues for Albany aquarium
image: Omni Development / MLG Architects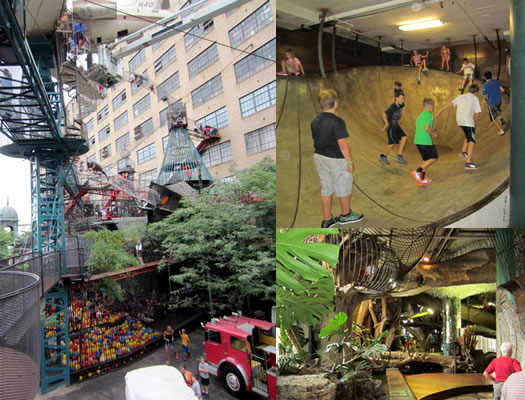 By Katie Beltramo
Lately, plenty of people have been talking about building an aquarium in Albany. I support any efforts to make the Capital District more fun, informative, and entertaining for families, and I like aquariums and have visited several with my family.

But if we're trying to draw people into our area, I don't think that an aquarium is our best choice. There are some terrific ways to encounter water creatures not terribly far away, including the New England Aquarium in Boston, Mystic Aquarium in Connecticut and The Wild Center in Tupper Lake. Granted, these aren't close enough to be easy day trips for us locals, but the point is, don't we want to draw visitors from outside the Capital District? Who's going to drive from Boston or Connecticut to see an aquarium in Albany?
Is there anything we can offer that's unique enough to draw visitors from far and wide, while being fun and active enough to build memberships and repeat visits from us locals? My whole family was inspired by such an idea on a recent trip to St. Louis.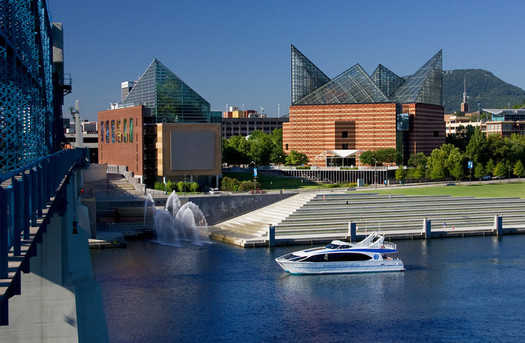 A few more bits about the push for an aquarium in downtown Albany:
Omni and the convention center site
Omni Development continues to advocate for an aquarium/science museum/IMAX theater on the site of the land collected for the stalled Albany convention center project -- despite a cold shoulder from the convention center authority. ( The authority's executive director says it's staying the course of trying to build a convention center until directed otherwise by the state.) [Biz Review] [TU]
Omni has been using the Tennessee Aquarium in Chattanooga as a model for what an Albany aquarium could be -- and today in a press release it urged Jerry Jennings to talk with the mayor of Chattanooga and schedule a trip to see the aquarium there (it even said it would pay for the trip). Jennings told JCE he'd call, but he's not making the trip. [@JCEvangelist_TU]
More details about Omni's preliminary proposal -- along with concept renderings -- are after the jump.
Albany Aquarium
The Albany Aquarium group -- which has been rallying support for the idea on Facebook -- announced that it's organizing a public meeting July 15 at the Albany Public Library main branch. The goal: to "outline their vision and solicit public feedback."