Items tagged with 'Albany mayoral race 2017'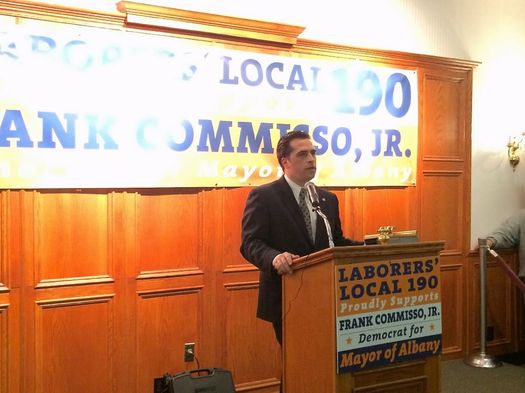 Common Council member Frank Commisso Jr. officially announced Thursday that he's running for mayor of Albany.
His announcement speech before a crowd at the Polish American Citizens Club focused largely on the city's fiscal issues and taxes. A clip:
The mayor's economic development policies are not developing Albany's economy. Instead of encouraging strategic investments and tactical investments in our city where we can make improvements, put people to work, create taxable revenue, the Sheehan model of economic development is irresponsible. It's become a system of corporate welfare. (applause) The mayor's argument goes that if we provide millions of dollars in tax breaks, it will benefit you and your neighbors and your families, that it will spur improvement in the surrounding neighborhoods. But that growth hasn't occurred, right? Even worse, Albany's largest non-tax-paying entities are enriching themselves at the expense of workers, seniors, small businesses, young professionals, and working class families more broadly. So there will be a lot of folks over the next six months who say Albany's economy is growing and it's growing well and we have all this great new development. Well, the reality is that none of that development is taxable. When those folks say the economy in the city of Albany is growing, you need to ask yourself -- or ask them -- who is it growing for?
Commisso, a Democrat, represents the 15th ward, on the city's west/southwest side. He was first elected in 2009. He currently works in the Albany County comptroller's office, and previously worked for the office of the state comptroller. His father, Frank Commisso, has been the majority leader of the Albany County Legislature since 1993.
Commisso joins Common Council president Carolyn McLaughlin, also a Democrat, as official entrants into the race. Mayor Kathy Sheehan has not yet publicly stated that she's running. The field will be focused on the September party primary, which has historically been the de facto election for the office because of the party's overwhelming enrollment advantage in the city.
Dan Plaat has announced his intent to run for mayor on Green Party line.
Commisso was introduced Thursday by a lineup of speakers that included Judy Logan, a candidate for city treasurer; Common Council members Mark Robinson and Judd Krasher; and county comptroller Mike Conners.
Here's video of Commisso's announcement speech...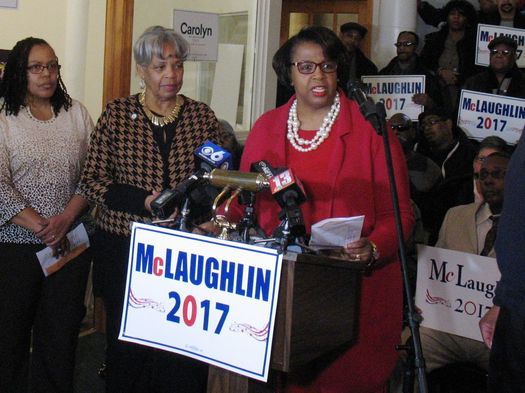 Common Council president Carolyn McLaughlin officially announced Saturday morning that she's running for mayor of Albany.
From her announcement speech at the Albany Colosseum building on South Pearl Street:
We know it's not about us as an individual, but it's about what we as a community can do to make this city of Albany that ultimate community for which we all can be proud to say that we live in, that we work in, and that we play in. We know that this can be the kind of city that recognizes that you can't be about one neighborhood, but it's about all neighborhoods.
McLaughlin, a Democrat, was first elected to the Common Council in 1997, representing the 2nd Ward, which includes the South End. She won the Common Council presidency in 2009. (She was also chair of the Albany County Democratic Committee for two years until losing out in a party election this past September in what was seen as part of the build up to the mayoral race.)
McLaughlin is the first candidate to officially announce she's in the pool for mayor. She will presumably face incumbent Democratic mayor Kathy Sheehan in the party's primary this September (and perhaps one other person?). The Democratic primary has historically been the de facto election for the office because of the party's overwhelming enrollment advantage in the city.
If elected, McLaughlin would be the first African-American mayor of Albany.
Here's video of McLaughlin's announcement speech, along with another clip of her talking about her personal and professional history...