Items tagged with 'sandralee'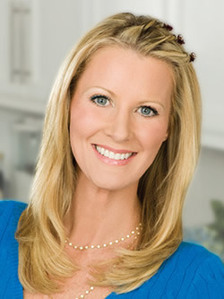 From the NY Mag cover package about Andrew Cuomo and First Lady-friend Sandra Lee:
The media in the state capital of Albany, a.k.a. the world capital of boring, bristled with excitement from the moment it became clear that Andrew Cuomo would run for governor. Not because of Cuomo so much as for the woman whose home he shares in Westchester. Eleanor Roosevelt aside, the First Ladies of New York have heretofore not merited inclusion on TMZ's stalk list. (Quick: State a single fact--anything at all--about Libby Pataki.) Sandra Lee was something entirely new: a bona fide famous person in her own right.
The speculation was partly political. With her cheery mass-market appeal, would Lee be an upstate asset, an electoral-map ringer in remote towns where Cuomo, the dark prince of a New York City-oriented political dynasty, was a less-natural sell? But mainly what galvanized the Albany crowd was her raw human star power. ... It's hard to think of another First Lady, anywhere, whose Q rating eclipses her significant other's, with the possible transatlantic exception of Carla Bruni and Nicolas Sarkozy and trans-space-time-­continuum exception of Grace Kelly and Prince Rainier. ...
Would Lee redecorate the governor's mansion? Enliven those fusty rubber-chicken dinners with festive tablescapes? There was a touching Waiting for Guffman quality to the way the glamour-starved local press corps dubbed the prospective gubernatorial couple Sandrew. ...
We seem to have been absent on the days when the media here "bristled with excitement" over Sandra Lee. There were a few moments of amusement, sure (raises hand). Siobhan's description is probably more accurate.
The article covers a lot of a familiar ground, but unlike most other pieces, Lee agreed to be interviewed. It once again makes the point that is Lee is not a regular person -- she's tougher, smarter and more resourceful than most of the rest of us (with a better organized closet). And she has a Jedi-like ability to influence people. (There's a great scene in the piece in which Lee basically owns this guy from Tyson, convincing/forcing him to triple the company's donation of chicken to New York food banks.)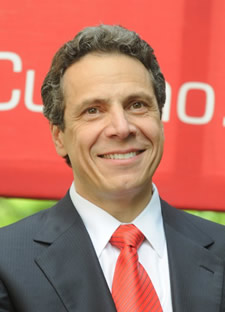 Of all the criticisms one could make of Andrew Cuomo, this is probably the weirdest (and dirtiest sounding): "public concubinage."
Edward Peters -- self-described as "one of the most widely-known lay [Catholic] canon lawyers in North America" and reportedly an adviser to the Vatican -- wrote earlier this year that Cuomo and First Lady-friend Sandra Lee live in "public concubinage" -- and as a result, Cuomo should not be allowed to receive communion. [NYT] [Canon Law Blog]
And Cuomo did just that at the Cathedral of the Immaculate Conception in Albany after his inauguration -- during a mass led by bishop Howard Hubbard, no less. Peters accused Hubbard of a "dereliction of pastoral duty" for not admonishing Cuomo and Lee "for their objectively and publicly sinful status." And Peters recently told a conservative news site that Cuomo's action "produces grave scandal within the faith community." [NYDN] [CNS]
The Albany diocese released a statement this afternoon about all this in which it basically told Peters to mind his own business (politely). And Cuomo said to reporters today: "For me, I choose to keep my religion and my religious practices private and not discuss it in the political arena." [State of Politics] [TU CapCon]
Not being read up on concubinage -- public or otherwise -- we did a little research. According to Wikipedia (so you know it must be true), it's defined as:
Concubinage is the state of a woman or man in an ongoing, usually matrimonially-oriented relationship with somebody to whom they cannot be married, often because of a difference in social status.
Well, there are certainly status differences here. She is more famous than he is. And a lot richer.
Earlier on AOA: Sandra Lee in Vogue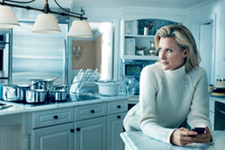 Sandra Lee is featured in the latest issue of Vogue. The story, "Sandra Lee: The Woman in White," touches on her painful childhood, her relationship with Andrew Cuomo and her rise to Food Network fame.
Some not-so-well-known facts that come out in the story: She's street savvy (when Sandra and the writer, Gully Wells, were walking in New York City she pulls Wells from some fast-moving cabs); she lived with her grandmother for her first four years and then was taken back by her mother and father, who both abused her; and she loves the color white. A lot.
From the story:
A creamy carpet covers the entire floor, a family of decorative polar bears frolics on the sideboard in artificial snow, an enormous silver tiger reclines on a mother-of-pearl coffee table, and in the fireplace are -- what else? -- white birch logs that are clearly never going to see a match.
But other than the white obsession, she seems pretty normal. She even ordered "eggs and bacon with a side of granola" for breakfast during the interview. (Though it did seem to be a bit of a "documented instance of public eating.")
Earlier on AOA:
+ Yes, usher in the golden age of semi-homemade dinner parties
+ It uses tomato soup, too
+ New York's next First Lady-friend?
photo: Vogue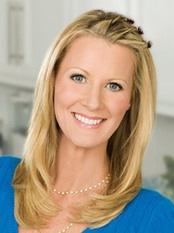 Because we know this has been consuming your thoughts: Sandra Lee won't be relocating to the Governor's Mansion, nor will she have any official state titles, duties or staff. [WSJ] [NYDN]
Alas. She won't be here to "usher in a golden age of dinner parties and cocktail hours" in our fair capital. There will be no tomato soup lasagna. And local bartenders, note: you can scale back the ordering of appletini supplies.
We're still holding out hope for great garnishes, though.
Earlier on AOA: New York's next First Lady-friend?
photo: Food Network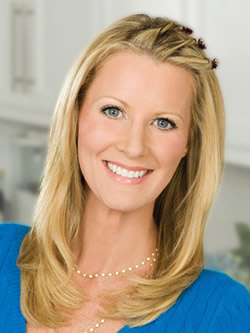 From a NYT profile of the relationship between Andrew Cuomo and Food Network star Sandra Lee:
In Albany, which is not known for its cuisine or its social scene, the most anticipated question about Ms. Lee is whether she will move into the governor's mansion and usher in a golden age of dinner parties and cocktail hours. (Ms. Lee creates a new drink for nearly every episode of her show. Her Christmas concoction: a Gingerbread Martini, made with ginger beer, hazelnut-flavored liqueur and butterscotch schnapps.)
As Joshua David Stern notes at Eater, Lee does enjoy a cocktail -- and, when armed with a can of Pam, could have quite the effect on Albany.
The Cuomo-Lee relationship also sets up an interesting possible situation: that the governor of New York's significant other could be both richer and more famous than he is.
By the way: Cuomo is expected to maybe/probably/oh-who-really-knows officially declare that he's running for governor next week. [Bloomberg]
Earlier on AOA: New York's next First Lady-friend?
photo: Food Network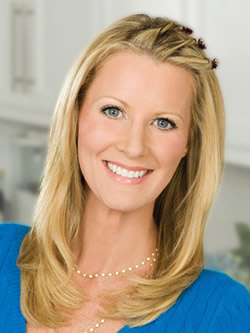 Page Six Mag had a piece this past weekend on the relationship between Andrew Cuomo and his ladyfriend, Food Network star Sandra Lee. Apparently it's all rides on the Harley, watching Ice Road Truckers on the couch and eating lasagna made with canned tomato soup.
Cuomo and Lee haven't said much publicly about their relationship. But it does come up. Lee recently said on a talk show that she would cook in the Governor's Mansion (and bring "great garnishes"). She's said Cuomo is "the most amazing person I've ever met in every way" and referred to his kids as her "weekend daughters."
And the two do sometimes appear together at events together. From Anthony Bourdain's blog post about his encounter with Lee and Cuomo at the Julie & Julia premiere: