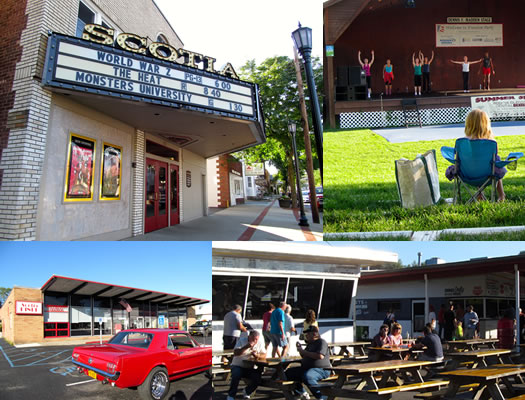 By Casey Normile
The Capital Region is full of cities, towns, villages, and hamlets. And some of these places -- like Albany or Saratoga Springs or Troy or Schenectady -- get lots of attention. This series isn't about those places. It's about those other spots -- the "in-between" places.
Next up: Scotia -- the tiny village on the Mohawk River in Schenectady County.
If you haven't visited in a while, or ever, here's a quick look at the place named after Scotland...
Location
Scotia sits on the Mohawk River, across from the Schenectady to the west. The two municipalities are linked the Western Gateway Bridge, which carries Route 5 over the river. It's part of the town of Glenville.
Some numbers
+ The village of Scotia is only 1.8 square miles. That makes it about 1/6 the size of Schenectady by area.
+ Population: 7,709
+ Median age of residents: 39.5
+ The median household income is $56,828.
+ Homeownership rate: 72.8 percent.
+ About 9 of every 10 workers who live in the village work at a job outside the village. Average commute time: 21.7 minutes.
+ Though the village was settled by a Scottish man and his family and the name Scotia literally means "Scotland," now there are only 176 people living in the village who claim a Scottish heritage.
History
The land was originally purchased by Scotsman Alexander Lindsay Glen in the 1650s, who then named his estate Nova Scotia -- Latin for "New Scotland." In February of 1690, Lindsay's estate became a refuge after the Schenectady Massacre. Sixty people were killed in the pre-dawn raid by the French, Sault, and Algonquin -- but because Lindsay was on good terms with the French (reportedly because of an incident involving a captive priest, liquor, and a bung hole), he was allowed to save his relatives and house them across the river. As the story goes, he claimed far more blood relatives than he actually had.
In 1713, it became necessary to move the mansion after being flooded by the shifting course of the Mohawk River. So using the available materials of the old house, Alexander's son John built a new home. It became the foundation of today's Glen Sanders Mansion. A village developed around the mansion and the residents began calling their village the name of Alexander Lindsay's original estate, "Scotia." It was officially incorporated as a village in 1904.
Today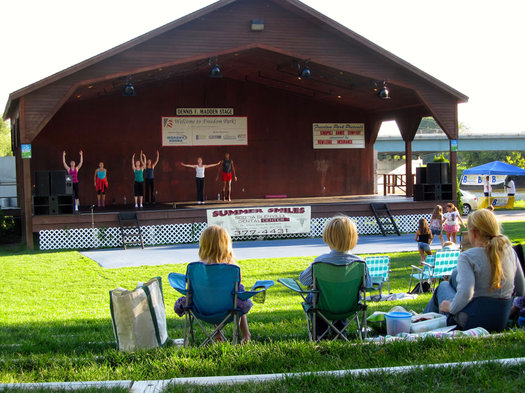 Freedom Park
Today the village is a little busier than it was years ago. New apartments and chain stores have popped up nearby, increasing traffic a bit, but residents still consider it a small-town place. Twenty-year-resident Harry George Pellegrin still considers himself an outsider, but said:
"My wife and I relocated from New York City in 1993 because we could not afford to live in a neighborhood where one didn't require eyes in the back of one's head. I still like the fact that I can leave my car unlocked most of the day and that I can walk places without being hassled. It is quiet for the most part, and until recently you had to drive for miles to get to a big box store.  Now we have Walmart and Target, but I am not sure the convenience outweighs the loss of the calm, bucolic charm, that brought us here."
"In Scotia, everyone still knows everyone. There is a sense of continuity here that you just don't find in many places these days. It also means that every aspect of your private affairs is often discussed publicly."
Places to eat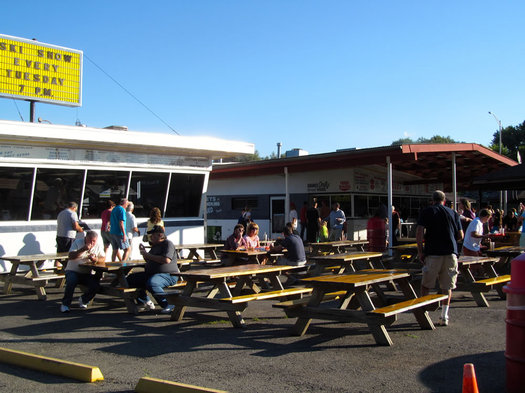 Jumpin' Jack's
1. Jumpin' Jack's Drive-In: Of course. This place basically represents Scotia. It's your classic drive-in menu. People love it so much they countdown their opening day in the spring.
2. O'Leary's: a pub-style restaurant further west on Mohawk Ave, a place for a burger or prime rib and a beer on a weekend evening. 
3. Scotia Diner: When it re-opened in 2012, the owners redecorated in a 1950s Vegas theme. Now, they've furthered their Vegas dedication by offering after-hours wedding vow renewal.
4. Visco's Vley Road Pizzeria: Sometimes the most important thing to know is where is the best pizza in this little-known village? Pellegrin tells us this is the place to go.
5. 5th and 50 Pizza: A finalist in the 2011 Tournament of Pizza.
Highlights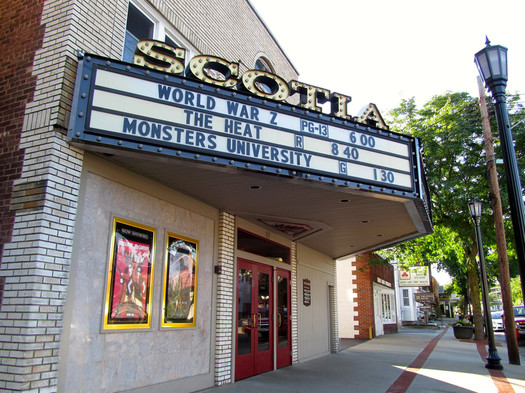 + The beloved Scotia Cinema is a one-screen theater at the heart of town. The movies are usually not first-runs so you can't go on opening night and the one screen limits the choices, but the villagers kind of love that. It's a comfortable, small neighborhood theater with cheap tickets and plenty of quaintness.
+ Collins Park/Freedom Park is a good place to find the crowds of Scotia residents during the summer. The lake is not open for swimming this year, but it's a great place to stroll, watch the boats ride by and picnic with some Jumpin' Jacks.
+ There's also the Empire State Aerosciences Museum just up Route 50 in Glenville -- it has a bunch of historic military aircraft to explore, not just pictures of them to look at.
In a few words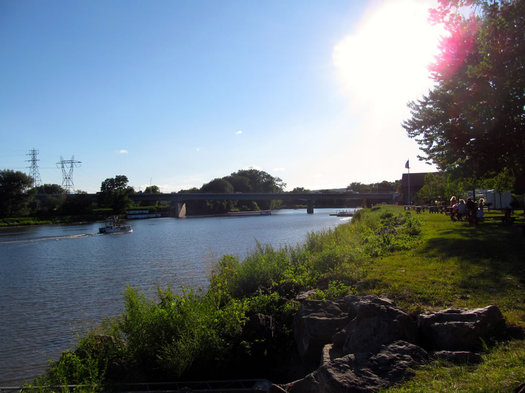 Carl Johnson, a native of Scotia:
"The great thing about growing up in Scotia when I did was that it was really a self-contained, walkable, bikeable community. I walked or biked to school, the grocery store, the pharmacy, the movie theater. We had a great park and playgrounds, the most charming library ever, and the Mohawk River as our playground. When Freedom Park was built, it was built by local volunteers lugging railroad ties and packing dirt with shovels. Even the bank was and is still locally owned. Everyone looked out for everyone else, as in the pre-cellular days if your parents wanted to find you, they had to call around the neighborhood. Growing up as a boy there in the '60s and '70s, it was pretty much idyllic. If you wanted a real-life approximation of Bedford Falls, you could do a lot worse."
____
More in-between places:
+ Mechanicville and Stillwater
+ Ballston Spa
Hi there. Comments have been closed for this item. Still have something to say? Contact us.