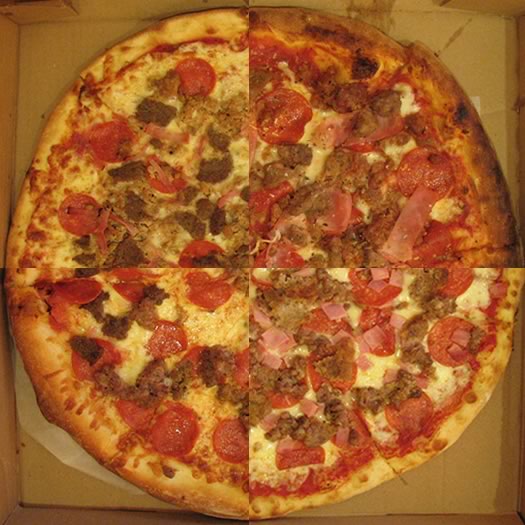 We've arrived at the final week of the 2013 Tournament of Pizza -- sponsored by The College of Saint Rose. And it's time for the semi-finals.
The match-ups in this final four:
DeFazio's (Troy) vs. Mama Mia's (Saratoga)
DC's (Albany) vs. Mario's (Schenectady)
DeFazio's is coming off a huge performance in the second round, posting a tournament-record-tying high score. Mama Mia's grabbed the opportunity afforded it by fate. DC's posted the upset of the tournament so far in knocking off overall defending TOP champ Marisa's Place. And Mario's finds itself in the semis for the second straight year after a low-key win in Round 2.
The last round was veggie pizzas. On the crust for this year's semi-finals is a version of the "meat lover's" pie: sausage, pepperoni, meatballs, and ham.
A quick note about how all this works:
The judges taste the pizzas blind. That is, they don't know which pizza they're tasting during judging. They taste the competitors side by side. Each judge assesses the pizzas by crust (5 points possible per judge), sauce (5 points), toppings (5 points), and overall taste (10 points). Each judge represents either 1/4 or 1/5 of the possible points, depending on the number of judges present. However many judges, all scores will be according to a 100-point scale.
How this year's brackets were selected.
If you'd like to get a closer look at the pizzas, there are large-format closeups above -- scroll all the way up.
DeFazio's vs. Mama Mia's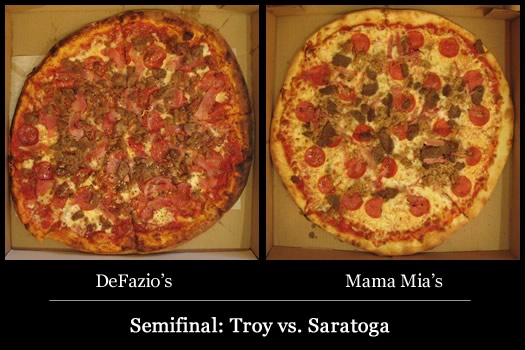 A tough matchup, with two very solid scores.
Crust
A draw. DeFazio's crust was described as "pooftactular" by one judge -- but two others marked it down a bit for unevenness. The judges called Mama Mia's base "crisp" and "sturdy," but it got nicked for being uneven and lacking good chew.
Sauce
Where DeFazio's started to create some separation. The Troy shop's sauce was called "thick," "chunky," and "just sweet enough." Mama Mia's sauce lit up a few judges, but others found it more pedestrian -- and one thought it wasn't applied nearly thickly enough.
Toppings
Here's where DeFazio's sealed the matchup. Its meats got raves both for individual flavor ("oh, hello, ham, let's meet again") and how they worked together. If the judges wanted something a bit different, it would have been more flavor in the meatballs and crisper pepperoni.
Mama Mia's won praise for a "friendly, fun cheese" and some of its toppings -- specifically, the meatballs and pepperoni. But the judges thought the ham was too thin and the sausage texture a little "gritty." And taken together, the combination didn't groove for the judges.
Overall
A 65 isn't a bad score by any measure. And Mama Mia's represented itself well in this year's tournament after getting the first-round bye because of Amore's absence.
But it would have taken quite an effort derail to DeFazio's. With the Troy shop's two pizzas so far in this year's tournament, it has posted two top-10 all-time scores. If DeFazio's isn't primed to win the whole thing this year, we have no idea when it will.
DC's vs. Mario's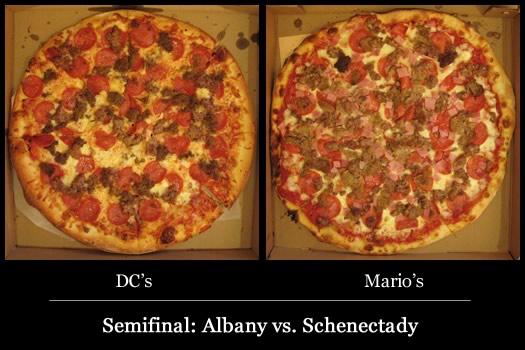 Not exactly a barn burner, but another solid score for DC's.
Crust
Mario's had an earlier lead in this matchup based on its crust. Two judges really liked the Niskayuna restaurant's "burnished" crust, with one commenting "there's something that keeps me coming back." DC's crust score was knocked as the judges called it "too thick" and some called it a little tough.
Sauce
A shift toward the Albany shop. One judge described DC's sauce as "sweet, salty, rich" and another called it "sweet and tangy." Mario's sauce didn't fare as well, with judges commenting that its flavor didn't extend much beyond sweetness, and a few noting its texture had ended up a bit too thick.
Toppings
Neither shop posted a very strong score in the category, but DC's was able to get out ahead. In particular, DC's sausage won praise for "good texture and good spiciness" -- though some of the judges thought it included too much pepperoni. Mario's toppings fell based on its square-cut ham -- judges thought it was too thick and there was too much of it (but its meatballs and pepperoni won praise).
Overall
Sometimes a shop's style or approach just doesn't match up with a round's theme, and that appears to have been the case here with Mario's. Over the course of three tournaments now, the River Road restaurant has posted a string of decent scores -- but the ham threw it for a loop here.
And look at DC's -- a shop new to the tournament making it to the final. It's already taken down one local pizza titan. Can it produce a pie to topple one more?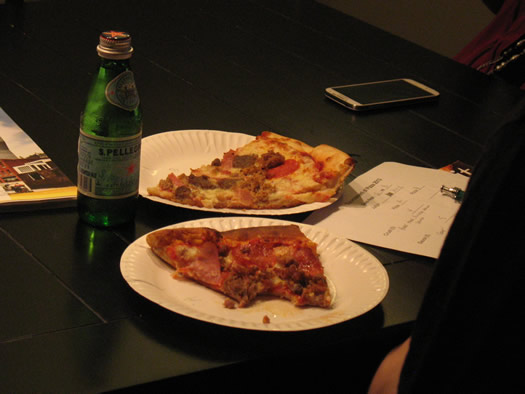 Up next
It's the final. Results from DeFazio's vs. DC's for the whole tournament on Thursday.
Thank you, thank you
Our continued thanks to the judges and everyone who's helped with logistics for the TOP this year. We very much appreciate it!
The 2013 Tournament of Pizza is sponsored by The College of Saint Rose.
Hi there. Comments have been closed for this item. Still have something to say? Contact us.