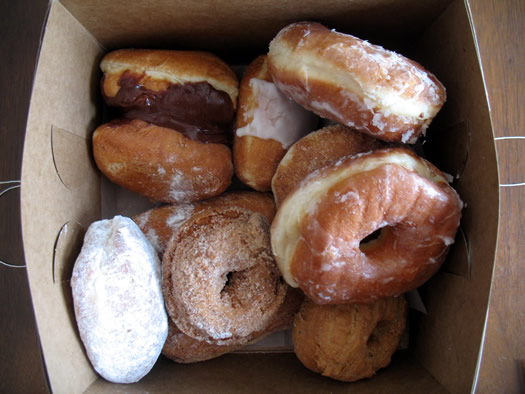 By Daniel B.
We've enlisted Daniel B. to survey Capital Region donut shops -- and pick his favorite donuts -- for a short series called The Best Dozen.
Donuts are old fashioned. Sure, there are new places sprouting up all the time offering a new take on the classics, whether via new flavors or new processes. But Schuyler Bakery offers those who walk through its doors a look into the past.
The trays of donuts that sit in the window are clearly made by human hands. The shapes are not uniform and the toppings are uneven. You will not find a hibiscus-glazed donut in this Watervliet institution. What you will find are some excellent versions of the classics.
Surely, each and every donut the bakery makes has its fans. And there may be some flavors that have been family favorites for over 60 years. However, if you're stopping in for the first time -- or willing to stop in again while taking a little friendly advice -- here's how you can cobble together the best dozen.
About the shop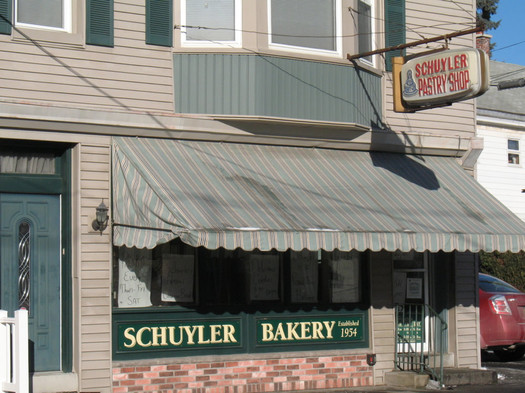 On a recent Saturday morning there was a constant stream of people through the doors of this small local bakery. And it's no wonder why this place is so beloved. Schuyler Bakery makes delicious breads and sweets, and sells them for an incredible value. For example, a dozen donuts is a mere $6. I almost felt compelled to buy more things because that didn't seem like nearly enough money to justify the excursion, but a box of donuts is more than enough food for one person.
There were eight varieties of donuts on display in the window. Apple cider donuts are also occasionally available, but those are kept behind the counter (they can still be included in your $6 dozen).
That makes ordering a mixed dozen a relatively easy affair. You can get one of everything and can double up on three different flavors. My gut instinct was pretty good at identifying what would be the best from visual appeal, but it missed the unexpected shining star of the bunch.
The mixed dozen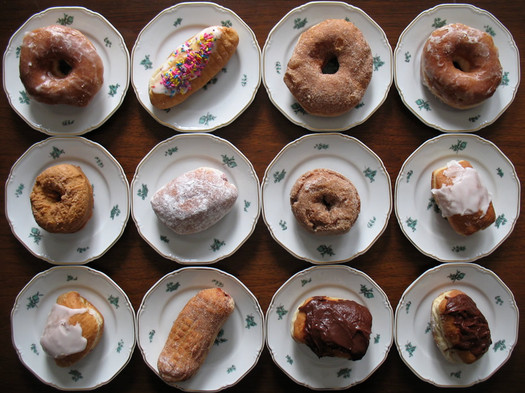 Column by column, left to right.
Glazed
Cake
Lemon /
Iced jelly stick
Jelly
Cinnamon jelly stick /
Cinnamon
Apple cider
Boston cream /
Glazed
Lemon
Boston cream
The best of the bunch
Cake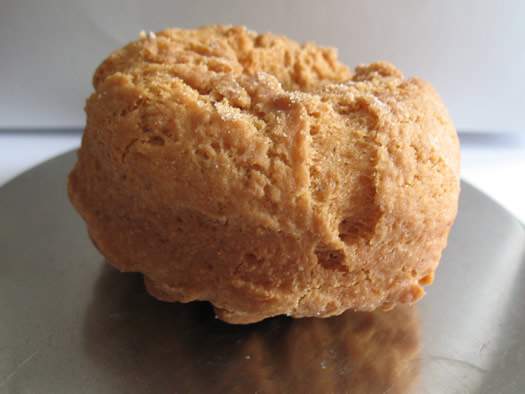 Plain cake sounds far too dull. There is nothing plain about this donut. It's a nutmeg donut, and it's delicious. But its shining glory is the intensely crisp crust that borders on being crunchy. Biting through that shattering layer of fried cake, you are treated to a dense tender crumb that's lightly sweet and aromatic with nutmeg. This isn't a donut for kids. This is a donut for grown ups, and it's spectacular.
Boston cream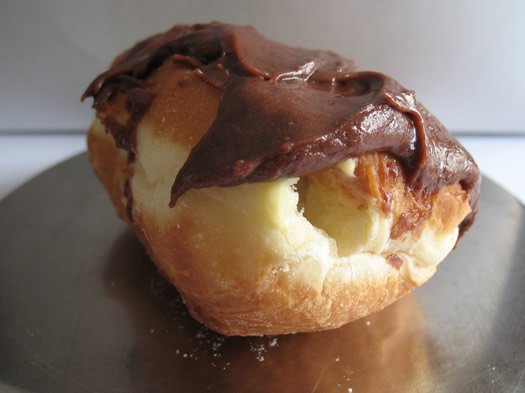 This proves that a little of a good thing can sometimes go a long way. This is a donut that's enriched with a custardy vanilla filling, and not some kind of delivery device for vanilla "cream". The chocolate icing is very loose, and has less cocoa flavor than one might expect. However, the totality of this donut is greater than the sum of its parts. Everything works really well together, and hits all the right notes.
The solid choices
Glazed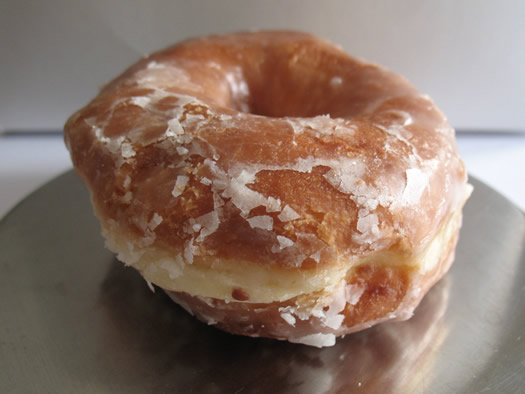 Just look at the color of that shell. It's magnificent. And with a nice coat of crackling glaze, expectations were running high. Without a doubt, this is a fine glazed donut. It deserves a space in your dozen. But beyond its visual appeal, it's lacking a bit of pizzaz that would come from a silky crumb contrasting with its crisp coating.
Lemon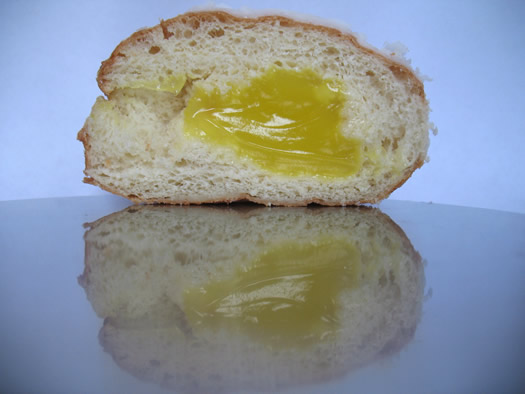 Here's another example of where Schuyler Bakery pulls of a donut that is greater than the sum of its parts. The thick white icing is a simple glaze that tastes of powdered sugar. The lemon filling is far from an old fashioned lemon curd. But taken together with the fried shell, this donut tastes just like a Hostess fruit pie. In a good way. Man, I loved those things.
Jelly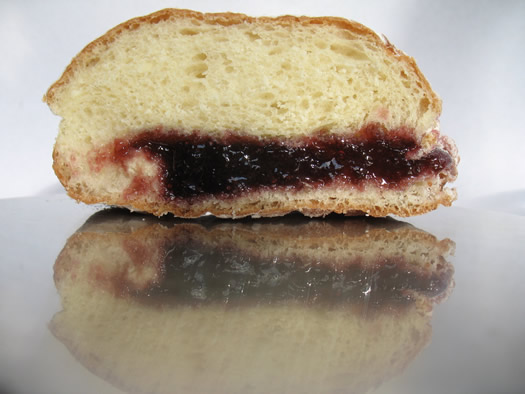 If I were a betting man, I'd wager that this is the same sort of jelly used by ShopRite in its donuts. Beyond the similar color, they both shared those gummy bits which presumably are supposed to mimic bits of raspberries. However, this donut used such a small amount of the stuff, and it was so evenly spread throughout the shell, that it totally works.
The disappointments
Iced jelly stick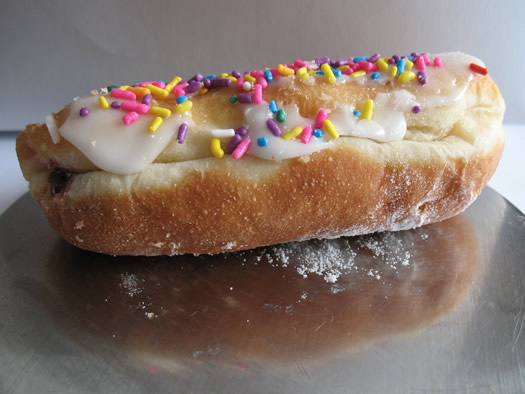 Forget my hatred of sprinkles for a moment. This donut fails in that the first couple of mouthfuls are little more than industrial donut jelly. Perhaps if the distribution of the filling were a bit more even, my opinion could change. But you can only judge the donut that's in front of you.
Cinnamon jelly stick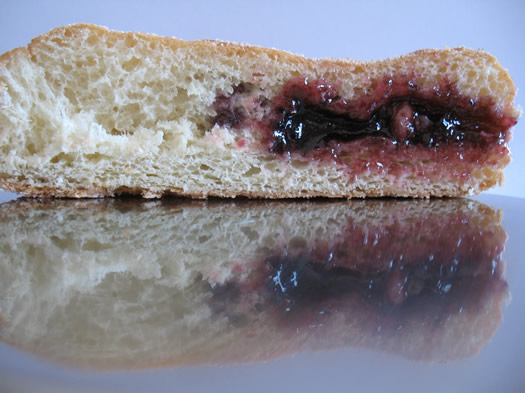 No, the jelly isn't cinnamon. It's the same raspberry flavored donut jelly from all the other specimens. However, this stick is oddly dusted with cinnamon sugar. I thought the flavor combination would be much more jarring, but it was fine. What wasn't fine were the bites of pure donut jelly. That stuff needs to be used sparingly, or even better, not be used at all.
Cinnamon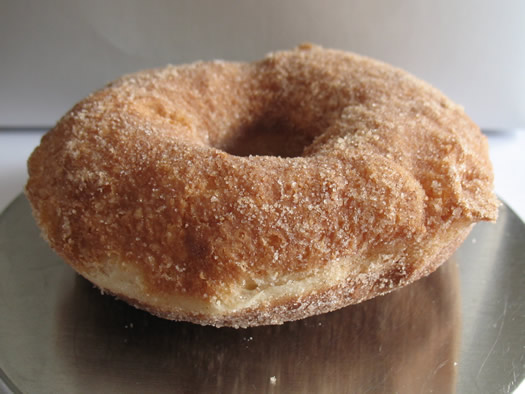 I'm still not sold on the notion of putting cinnamon sugar on a yeast raised donut. Schuyler's take hasn't convinced me. This donut feels super light, but has a firm crust. It's fine. It's not awful. But there's no compelling reason to get this when there are other much more delicious donuts to eat.
Apple cider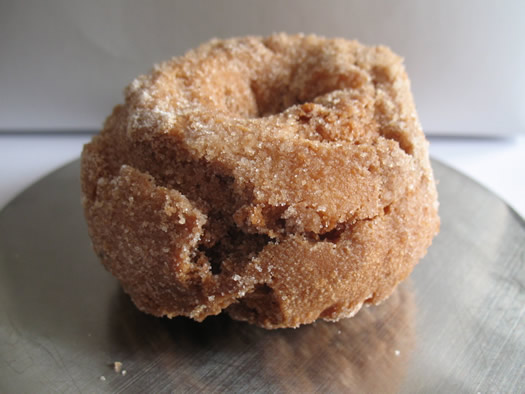 This was a surprise because Schuyler's apple cider donut did respectably well in the Tour de Donut. It is interesting to eat this cider donut side-by-side with the cake one. If you are one of those people who struggle with identifying the apple cider flavor in a donut, here's your chance. But this donut wasn't as crusty as what I remembered from the shop. But the avalanche of sugar and cinnamon has been consistent visit to visit. As with the Boston cream, sometimes less is more.
The best dozen
3 Cake
3 Boston cream
2 Glazed
2 Lemon
2 Jelly
With these 12 donuts you have all the bases covered: crunchy, creamy, chocolate, crispy, tart, and fruity. More importantly, you'll have a box of old-fashioned favorites. Coming from a place like Schuyler Bakery, that just makes sense.
I did have to ask for a box, as the default packaging device seemed to be a wax paper bag. But you should ask for a box. It's worth it because it provides better protection for those precious Boston cream donuts. Be forewarned, given that the chocolate icing is so wet, the standard procedure is to couple pairs of Boston cream donuts together on the icing side. It's a plan to make sure chocolate icing doesn't get all over every donut. But it's a challenge to separate the pairs without making a mess or robbing one of the donuts of its topping.
Hopefully on your visit to the bakery you can pick up some other things besides just donuts. Every time I come here, I say to myself, "I have to come back more often."
Schuyler Bakery is a regional gem, and fortunately those who live in the neighborhood are keenly aware of this fact. But even if you don't live in the neighborhood, it's totally worth a trip.
Daniel B. is the proprietor of the FUSSYlittleBLOG.
More from The Best Dozen:
+ Cider Belly
+ ShopRite in Colonie
+ Stewart's
+ Cookie Factory in Troy
+ Market Bistro in Latham
+ Park Side Eatery in Saratoga Springs
+ Bella Napoli in Troy
Earlier on AOA: Eat this: Paska bread from Schuyler Bakery
Find It
Schuyler Bakery
637 3rd Avenue
Watervliet, NY 12189
Hi there. Comments have been closed for this item. Still have something to say? Contact us.