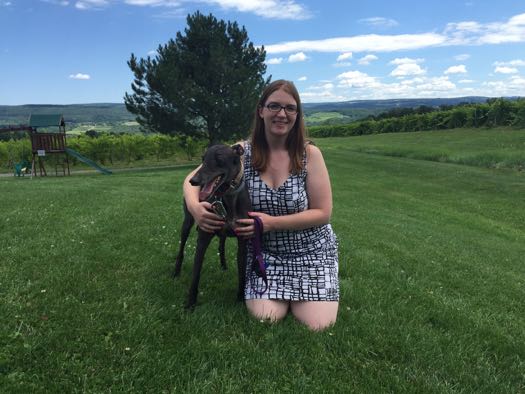 Gifts and giving are on most everyone's mind this month. So, once again, we thought we'd ask a few people to share some thoughts on presents, past and present.
Today we talk with Rebecca Haizmann. By day, Becky coordinates communications for the Downtown Albany BID. When she's not coordinating communications, she's likely to be home taking hundreds of pictures of her dogs. But she's not a crazy dog lady. She swears it.

What gifts would you like to get this year?
The entire second season of Serial... right now. So Ira Glass and Sarah Koenig, can we make that happen? Thanks in advance.
What gifts would you like to give this year?
I'm so lucky to have a family that really embraces the true meaning of the holidays. This year that tradition continued as my husband and I adopted a family in need. I hope the mother and son we purchased gifts for have a happier holiday.
What charity would you like to support?
Forever Home Greyhound Adoptions. It's the group through which we got our two dogs, and they are tirelessly working to rescue greyhounds from tracks. And let me tell you, greyhounds know how to enjoy retirement.
What was your most memorable gift from childhood?
A glow in the dark stuffed animal my father got me. Not so much because of the gift itself, but because he hid it under my bed and his golden retriever, Alex, smelled it out. So Christmas morning I woke up to my bed shaking, because Alex went under the bed to (you know) retrieve the gift, and got his collar stuck on something. My uncle and I got him out, then went about Christmas morning, and hours later my dad asked me if I bothered to look under the bed to see what was there. No dad, I was busy saving your dog.
What is your wish for the New Year?
I hope that people will keep the golden rule in mind and use it every day.
____
Earlier on AOA:
+ Holiday gifts: Jacques Bastien
+ Holiday gifts: Matt Malette
+ Holiday gifts: Jaye McBride
+ Holiday gifts: Julie Madsen
+ Holiday gifts: Patch Gallagher
+ Holiday gifts: Chopsticks Optional
+ Holiday gifts: Craig Gravina
+ Holiday gifts: Karen Tararache
+ Holiday gifts: Truemaster Trimingham