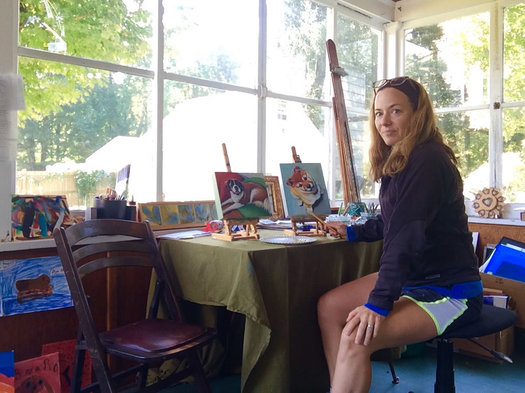 Gifts and giving are on most everyone's mind this month. So we're asking people to share some thoughts on presents, past and present, charities, and wishes for the next year.
Next up: Jennifer Maher of Your Toy Portrait and the band Haley Moley is a painter, musician, and DJ (as Jennifer Haley) living in Ballston Spa.
What gifts would you like to get this year?
Everything in my life is minimalist at the moment, including my budget... I happen to be in a period of unprecedented paring down and purging and it's making me surprisingly happy. At this point I have just what I need to live materially and just don't have any desire to embellish it with extra stuff. I have true love and a healthy family, and I'm so incredibly grateful.
That said, what I really always wish for is to have is the time and the means to make art and music, so among the actual things that I want include a tube of good-quality cadmium yellow medium and other art supplies.
I think some of the most fun things to receive around the holidays are interesting or unfamiliar foods and baked goods... I absolutely love to open a pack of homemade assorted mystery cookies and try them all!
I also hope to get a specially made painting or drawing from my daughter Sonja, who is my favorite artist of all time.
What gifts would you like to give this year?
I like to give original artwork, whether it's mine or by one of the many talented artists in our area. There is just so much great, accessible art being produced locally and it's really exciting. I'm lucky that my sister, mother and I have and passion for thrift stores and garage sales and each year present each other with a package of inexpensive "maybe she'll like this and if not, no biggie" clothing. I think I look forward to compiling these gifts (and opening them) more than any others.
I also intend to inflict packages of my homemade rosemary granola on everyone on my list. Hopefully they will share my enthusiasm for odd food gifts.
What charity would you like to support?
Right now it's extremely important to me to support Planned Parenthood. My daughter is eight and the thought of her growing up into a world without such support systems in place is chilling.
What is your most memorable gift?
I'm not much for the fancy or even for jewelry, but one thing I love is a simple ring. You keep it so close, you see it all the time and are reminded constantly of the one who gave it to you and why. The rings I wear give me an undercurrent of happiness every day and they are definitely my favorite things that I've ever been given.
What is your wish for the New Year?
I want to grow Your Toy Portrait as much as I can, and to continue to expand the range of beloved objects I offer to paint for people... it was super fun to paint lots of house portraits in recent months. I'm so fortunate that I am doing what I love to do but I'm a terrible promoter and business person, so this is a puzzle that I intend to solve in the coming year.
I'm also incredibly excited about the trajectory of my band, Haley Moley, and look forward to pushing the EP we just recorded and playing more shows.
But my real wish is that the world will turn right side up again and we can all keep our energies focused on surviving and even thriving... the cliche wish for "world peace" feels heavy and necessary right now.
____
Compiled by Deanna Fox.
More holiday gifts 2016
+ Jamel Mosely
+ Nicki Brown
+ Paul Curran
+ Kim Neaton
+ Jeff Smith
+ Aray M. Till
+ Jeff Krenn