Items tagged with 'GE Research'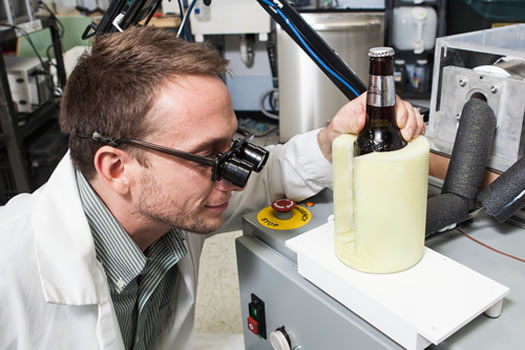 If ever you wondered what the scientists at the GE Global Research Center in Niskayuna do, here's one answer (of many): develop an entirely new type of refrigerator.
Researchers at the GRC in Niskayuna, along with other research sites around the world, have been working to develop refrigeration technology that uses magnets for cooling. GE recently announced that its researchers believe the tech could be in consumer fridges in about a decade. The company says the technology is about 20 percent more efficient than the sort of technology currently in your fridge at home -- tech that's about a century old. (And it doesn't use some of the substances that make recycling refrigerators difficult.)
A post on GE's Edison's Desk research blog by Frank Johnson, one of the scientists in Niskayuna, explains some of the science behind the technology:
In a conventional refrigerator, a compressor is used to compress and heat refrigerant gas and deliver it to a condenser where it cools off by dumping heat to ambient air. When the refrigerant has given up enough heat it becomes a liquid. It then flows through a tight passage called an expander or capillary tube and drops in pressure and turns into cold liquid at a lower pressure. After exiting the expander it is in an evaporator, really cold, and ready to accept heat from the space it is in, the freezer. When it accepts enough heat it is boiled into gas and is then ready to enter the compressor again. This cycle continues as long as the compressor runs. The magnetocaloric effect is similar except that it occurs entirely in the solid state. The magnetism "evaporates" when heated above a certain temperatures and "condenses" back upon cooling. A magnetic field can be used to drive this reaction and "pump" heat from low to high temperatures, providing the cooling effect.
The magnetocaloric effect has been known for more than a century, but finding a way to apply it in a practical way to a refrigerator has taken years of off-and-on research and the development of new materials. Johnson's blog post covers a lot of that history, and the story illustrates how advances are so often the result decades of work by many people and institutions, often on basic research.
If you're curious, GE scientists talked about the tech this week in a Google hangout.
GE says its researchers are currently working on a magnetic refrigerator that can drop the temperature by 100 degrees. And they see the tech as potential replacement all sorts of cooling devices, including air conditioners.
photo: GE Reports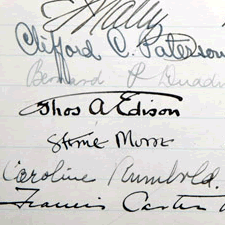 GE has posted images from the guest book for the company's original research center in Schenectady (GE Global Research is now in Niskayuna):
While its beginnings were humble, it didn't take long for scientists and inventors from around the world to flock to the Research Lab to see what GE was working on. And each famous mind that visited would stop at Willis Whitney's desk to sign the VIP guest book. The book sat at Whitney's desk from 1914 to 1935, and the signatures are a veritable Who's Who of inventors, physicists, chemists, physiologists, and businessmen -- including 9 Nobel Laureates.
The collection of people who stopped by the place during its first years is remarkable. Among the names signed in the book: Bohr, Marconi, Pavlov.
photo: GE Reports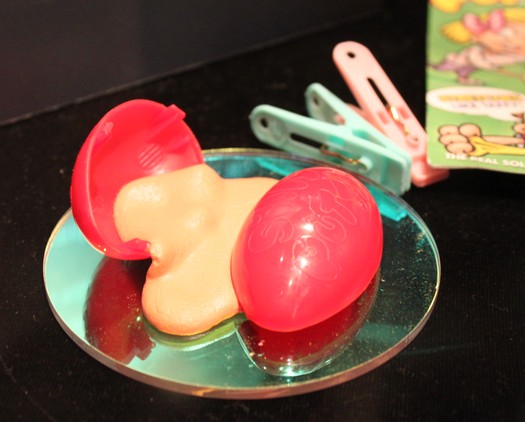 By Liz Clancy Lerner
Remember Silly Putty? The rubbery stuff, in the egg?
It stretches, it bounces, it copies pictures out of comic books.
Yeah, that stuff.
It was invented in Schenectady!
Unless it wasn't.
But it probably was.
Like most stories of invention, the one behind Silly Putty has its competing claims. But a new exhibit at the Schenectady Museum traces the wonderful rubbery substance to a failed experiment at a GE lab in Schenectady.
This is kind of fun afternoon distraction: the GE Global Research Center in Niskayuna has posted a holiday-themed game on its website. The goal of "Santa's Toy Lab" is to match technology (ice-phobic surfaces, LEDs, carbon fiber composite, etc) to holiday items (sleds, robotic dogs, etc.) before they pile high (and game over).
GE says it will donate $5 to the local Toys for Tots program for each score posted on the research center's Facebook page (up to a 1000 scores).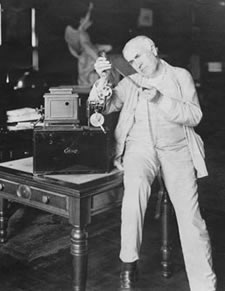 Dead or near-dead media formats: wax cylinders, 8-tracks, cassettes, floppy discs, CDs (almost) and... the pallophotophone.
The pallophotowhat?
From the GE Reports blog:
A pile of dusty film canisters in the basement of the Schenectady Museum & Suits-Bueche Planetarium has yielded some of the world's oldest surviving radio broadcasts. The 20 shows were first heard on Schenectady radio station WGY between 1929 and 1931. One features a talk by GE founder Thomas Edison in a broadcast celebrating the 50th anniversary of the incandescent light bulb. Another is a portion of a high school basketball game that's believed to be the second oldest surviving sports broadcast.
They were recorded on a long forgotten machine that GE developed in 1922 called a pallophotophone -- after the Greek words for "shaking light sound" -- in one of the earliest attempts to record sound on film. But there was only one catch with the great find: There weren't any known pallophotophones in existence to play back the lost pieces of history.
Enter the museum's curator, Chris Hunter, and GE's engineers, who together cracked the pallophotophone code.
How? The engineers built a whole new machine out of modern parts to read the media.
The post includes a photo of the new machine and audio from one of the Edison recordings.
Earlier on AOA: The new old Daily Gazette
photo: Schenectady Museum via GE Reports
Check it out: Adam Rasheed, one of the researchers at GE's Global Research Center in Niskayuna, is looking for suggestions of stuff to shoot with a super high-speed camera -- the video can be slowed down to see all sorts of details. Rasheed says they'll try to post the results online.
An example is embedded above. It's the slow motion video of a water balloon being popped.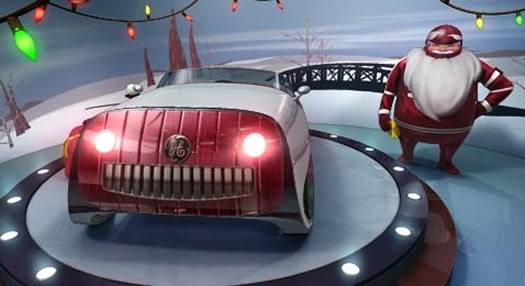 The folks at the GE Global Research Center in Niskayuna decided that Santa's sleigh could use a few upgrades:
Then, we had a flash of brilliance. Why not design a new sleigh for Santa Claus? After all, we do have cool technology that could make Santa's life a lot easier. That's when I invited my colleagues to join in on this challenge. Together we developed, what we believe, is Santa's sleigh of the future, featuring 10 Global Research technologies that could improve Santa's experience.
Among the new features on Santa's tricked-out ride: ice-phobic coatings, ceramic sleigh blades and RFID tags for presents.
Bonus holiday item: check out the fun interactive holiday video produced by local marketing firm Media Logic.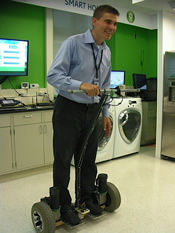 Some of the staff from uber-nerdy* DIY magazine MAKE visited the GE Global Research Center in Niskayuna last week -- and and the resulting post is a fun look behind the scenes of the facility.
The Makers got to hear about the researchers' work (smart grids, computer vision and so on) -- and their side projects (a Segway-like machine that one of the scientists rides through the halls; an electric VW Rabbit). It sounds like the scientists are having a lot of fun.
(Thanks, Peter)
Earlier on AOA: Inside the Global Research Center
photo: Becky Stern / MAKE
*Of course, AOA loves nerds