Items tagged with 'Matt Baumgartner'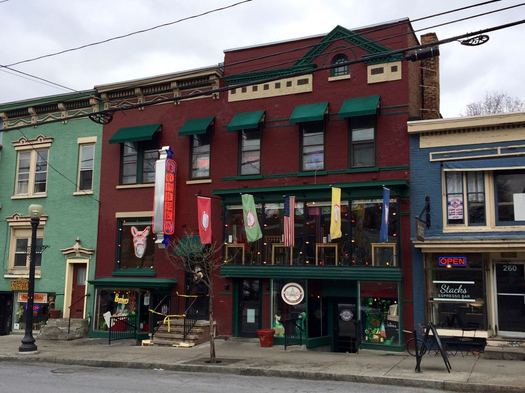 Matt Baumgartner announced Wednesday that he's sold Bombers to Jimmy Vann, who's worked there for a long time and been managing the local chain for years.
Thank you to all of our customers for the greatest experience of my life. I will see you at @BombersBurritos, but now SITTING at the bar! 🍻

— Matt Baumgartner (@BurritoBoy) May 3, 2017
Steve Barnes talked with both of them about the sale -- Baumgartner told him: "In that way it's a little sad, but the 20-year benchmark just felt like the right time. I've not been very involved in it, I feel like I've outgrown it in some ways, and I've got other things to keep me busy." [TU Table Hopping]
There's still Wolff's and The Olde English, and he now has a farm in Rensselaer County. (Mike DeMasi talked with him a bit about the plans for the farm.) [Biz Review]
By the way: Bombers is a reference to a nickname.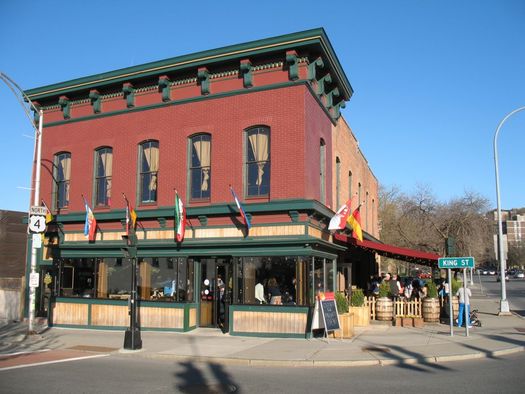 The newest Wolff's Biergarten opens today in Troy in the King Street location formerly occupied by a Bombers Burrito Bar franchise, just off the eastern side of the Green Island Bridge.
The restaurant group headed by Matt Baumgartner and partners took over this location after the franchise owners decided to stop operating last fall. While assessing the situation they decided to switch the concept from Bombers to Wolff's. They also added a new concept upstairs that location -- Troy Cantina -- focused on tacos and tequila.
This is the group's fourth Wolff's, joining locations in Albany, Schenectady, and Syracuse.
We stopped by Wednesday to get a look at the transformation of the space, and talk with Matt Baumgartner for a few minutes about making the switch, plans for more biergartens in other cities, and how he picks out opportunities.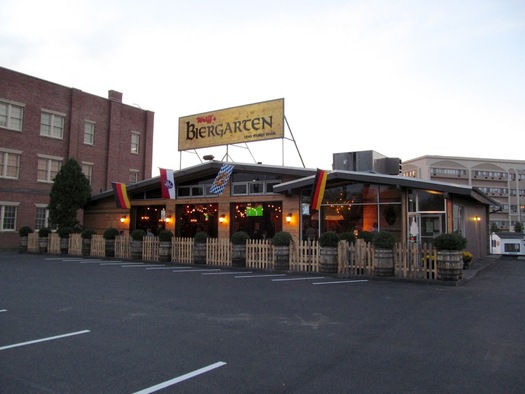 The new new Wolff's Biergarten in downtown Schenectady opens Wednesday around 4 pm.
This Wolff's looks a lot like the Albany location, but it's larger, with three garage doors, more picnic tables, lots of flat screens for viewing soccer matches, and the requisite indoor faux tree. The building has been vacant for about ten years. It started out as a service station and last belonged to KEM cleaners.
If the Erie Blvd location seems strange, Matt Baumgartner says, it is a little.
"I think that's also consistent with Wolff's in Albany, which opened before there was much down in that area. And hopefully it will grow the same way."
Renovations on Erie Boulevard and recent growth in Schenectady were encouraging factors, he says. And the building itself interested him. "It was really affordable, and I love an old, sad building -- and this one was really sad. But I knew you could have garage doors, and having the garage doors is a real asset. People love them."
So with a Bombers and a Wolff's, is there going to be a Schenectady Sciortino's too? Baumgartner just laughs.
"Well, that's a good question. There's an empty building across the street."
After the jump, a look inside Wolff's Schenectady.
The new Bombers in Troy opens this Wednesday. The opening is notable not only because it's an extension of Matt Baumgartner and company's popular local burrito bar brand, but also because it's the chain's first franchise location.
Monday night there was a preview party, so we stopped by to get a look at the new place, and talk with Matt and the owners of the Troy location for a few minutes.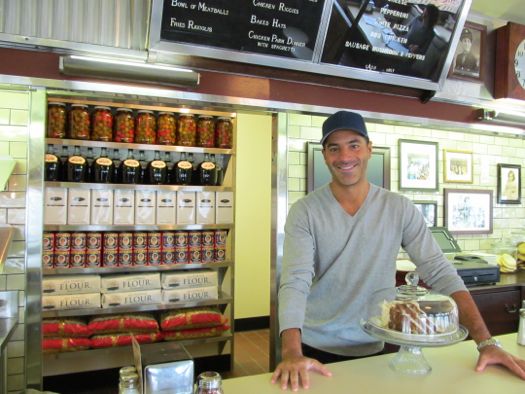 At first glance, the old diner car still looks like the Miss Albany -- well, a scrubbed and polished version of the Miss Albany. The booths are the same - the classic diner floors, counters and tile. But the walls are the first give-away that you're not in the Miss Albany anymore.
The famous signs warning patrons about unruly children have been replaced by classic old photos. They're from the families of Matt Baumgartner and his business partners, Jimmy and Demetra Vann. Sciortino's is named for Baumgartner's mother's family -- specifically for his grandparents, Frank and Rachel Sciortino, whose pictures occupy a prominent space behind the front counter.
The latest in Baumgartner's string of Capital Region business ventures -- and his continuing effort to bring life into to Albany's warehouse district -- opens on Wednesday.
Here's a look inside...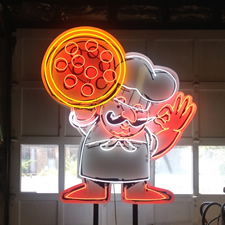 Matt Baugartner posted today the plan for the Miss Albany Diner building -- an Italian restaurant called Sciortino's:
Sciortino's is going to be a casual, Italian restaurant featuring some of my grandparent's recipes, and other delicious stuff like meatballs, pizza and pitchers of beer (!!!).
That's the sign for the new restaurant on the right.
The place is named after his grandparents. Sadly, his grandfather passed away Sunday:
I'm gonna miss him very much. He was the best grandfather I ever could have wished for. I'm happy that his last name will live on in a restaurant that I hope he would have been proud of.
Matt and business partners Jimmy and Demetra Vann bought the Miss Albany building -- but not the name or recipes -- in February. As you well know, the group also owns Wolff's, which is just next door.
photo: Matt Baumgartner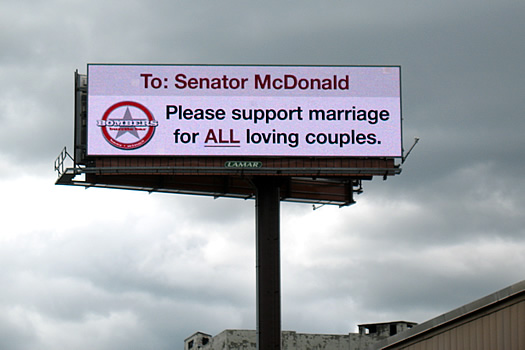 This electronic billboard message is now showing along I-787, just north of the Central Warehouse. Bombers owner Matt Baumgartner bought the billboard to reach one person: state Senator Roy McDonald. The Republican, who represents Rensselaer County and much of Saratoga County, is publicly "undecided" on legalizing same-sex marriage.
We emailed with Matt, who's gay and has been an outspoken proponent of marriage equality, this afternoon about why he chose a billboard to reach McDonald.