Items tagged with 'Occupy Albany'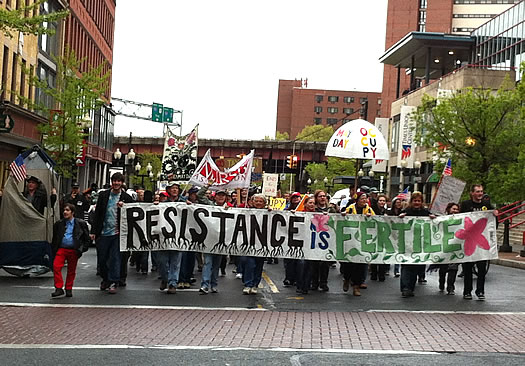 Occupy Albany reminded people today that it's still kicking by gathering in Lafayette and Academy parks and marching around downtown Albany. The group is planning to celebrate "May Day's historic roots in the labor movement." Also: "It is worth noting, however, that celebration is scheduled to continue past the 11pm park curfew." (This feels familiar.)
Two people were arrested by State Police today for setting up a table without a permit in the state-owned Lafayette Park. [TU]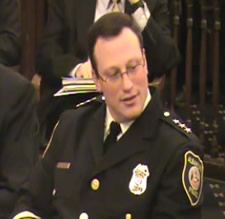 Albany Community Television has posted the video of last night's Common Council caucus in which police chief Steven Krokoff recounted how the department viewed the events involved with the removal of Occupy Albany from Academy Park -- for example, he explained that department didn't want to all the tent to parade around the streets again, stopping traffic.
And then he went off on a few members of the council. Here's a transcription of part of his statement:
Shame on a very small group of people in the Occupy Albany movement who chose not to take their frustrations to the court, and translate those frustrations into legal action.
Shame on a small group of people who defied common decency and demonstrated a lack of respect for their fellow human beings.
Shame on a group of people who chose to convolute their own organizational message by conducting themselves without dignity and without concern for their fellow citizens.
Shame on councilman [Dominick] Calsolaro, a leader in this city, who lacked the internal discipline to keep from getting caught up in the emotion and frenzy of those moments. When your department needed your leadership, you were not there.
Shame on councilman [Anton] Konev and councilman [Lester] Freeman, who at every turn seemed to be so willing to distort the truth of any situation, no matter how tragic, and use it for their own personal gain. Shame on them for being too weak to stand for the truth. Shame on you both for mattering so little to yourself and your community that you have to create hate and further half-truths just to feel some sense of relevancy. This entire city has seen the content of your character and I pity you both.
It's remarkable to see a public official call out other officials like that during a public meeting. Later in the meeting Konev called Krokoff's remarks "distasteful" and accused him of using "selective hearing." Calsolaro said he had been asked by constituents to be at the park, and he felt like he was doing his job. Calsolaro also said he had been asking people in the crowd to stay away from the police horse. (It was the mounted officer who ended up using pepper spray during the struggle over the tent.)
The whole video includes responses from the council members, and discussion with Krokoff about the events that night. Krokoff's opening statement starts at the 6:30 mark.
(And be sure to read JCE's tweets from the meeting.)
Earlier on AOA: The eviction of Occupy Albany
screengrab: Albany Community Television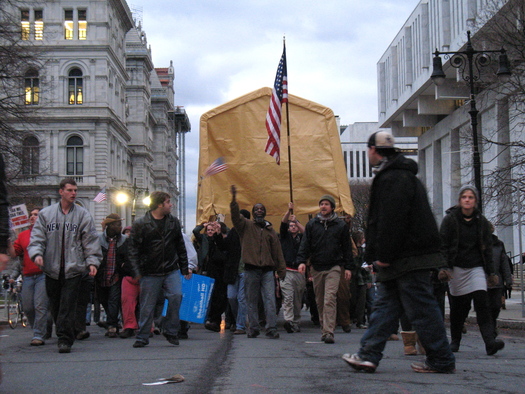 Updated Friday evening
Following the expiration of its permit Thursday morning, Occupy Albany was evicted from Academy Park that afternoon. City of Albany Department of General Services employees dismantled and removed tents as police watched.
Then things went a bit crazy -- Occupiers took their last tent on a tour of the city's streets before returning to the park. That's when police grabbed the last tent, the scene became chaotic, there was pepper spray, and a few arrests.
Here's a photo log of what we saw.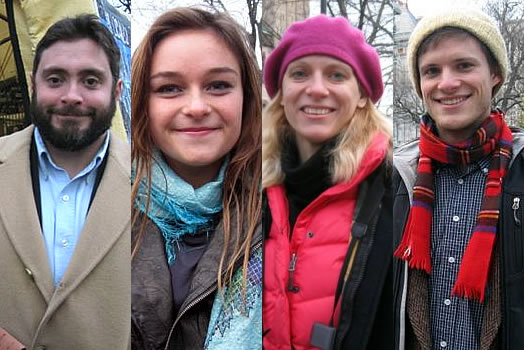 Occupy Albany's permit to continue the protest in Albany's Academy Park ran out at 7 am this morning, and it's possible they could be booted by the city tonight (though it doesn't appear likely, at this point). Update: The city ">moved in this afternoon and took down tents.
The Occupy protestors have been in Academy park since October. This seemed like a good time to ask some of the OA protestors about what effect they think they've had during the last two months -- and what happens next.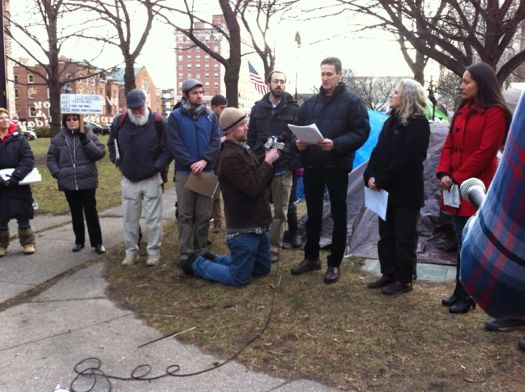 After two months camped out in Albany's Academy Park -- and two days before they face potential eviction by the city -- Occupy Albany protestors made their first public demand today.
At a press conference amid the tents they announced they've decided to focus on separating politics from money. In a prepared statement occupiers argued "the voice of the people is drowned out by the corrupting influence that concentrated economic power exerts on the government."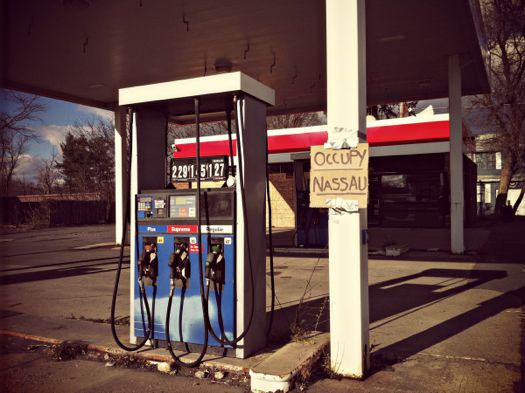 By Siobhan Connally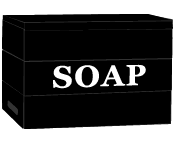 In 1992 the pro-choice movement was nearly 20 years into its official existence and I was a year out of college.
I had, of course, formed an opinion: I was young, unmarried and sexually active.
However, I wasn't politically active.
When I attended my first rally in front of the Lark Street Planned Parenthood I was there as an observer. Sure, I was partial, but I was also curious.
Sign carrying young women, like my then self, paced the sidewalk in an orderly oval. Standing well across the street, women and men my current age and older stood stock still with their crucifixes and doll-baby effigies. Some brought their own children, a presence I assumed was a political statement in and of itself.
As I gawked behind my camera's viewfinder, I came to the surprising conclusion that this was no place for me.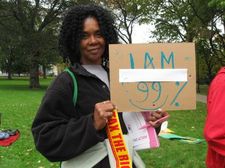 A few bits from the Siena poll out today:
+ 71 percent of respondents said they had been paying at least "some" attention to the Occupy Wall Street movement.
+ 66 percent said Occupy protesters "do not" represent 99 percent of people (56 percent for Democrats, 80 for Republicans).
+ On whether Occupiers should be allowed to stay in parks 24 hours a day -- 57 percent said yes (67 percent of Democrats, 42 percent of Republicans).
+ Favorable/unfavorable: Occupy Wall Street 45/44 | Tea Party 28/60.
+ "Do you think there has been too much media coverage [of Occupy Wall Street movement], about the right amount of coverage, or not enough coverage?" 29 percent said too much, 46 percent right amount, 22 percent not enough. Republicans were split 41/41 on too much versus right amount.

It's been interesting watching reaction to the Occupy movement on Twitter and other places online. The reaction seems to range from automatic, uncritical support to contempt/borderline disgust. That's kind of remarkable for a movement/group whose message lacks sharp focus. Then again, maybe that allows everyone to project their own notions onto the situation.
State Police arrested approximately 25 Occupy Albany protesters in Lafayette Park shortly after 11 pm Saturday. The park is across the street from the Capitol and owned by the state -- the Cuomo administration instituted a curfew there in late October. This group of protesters had gathered in a deliberate attempt to see if there would be a response from the state. [TU]
As they were clearing the park, State Police said they would also arrest members of media in the park. Media members moved to the sidewalk, but then returned to the park and were not arrested.
Saturday afternoon, State Police had arrested an Occupy protester -- Bradley Russell -- in Lafayette Park for building an "illegal structure" there. Occupy Albany had sent out a press release Friday announcing that Russell intended to build the "freedom fort" as a protest against the state curfew. [TU] [OA press release, pasted after jump]
The Occupy Albany protest previously had been contained to the city-owned Academy Park, which is directly adjacent to Lafayette. Officials from the city of Albany and Albany County have said local police would not arrest or charge protesters staying in the city-owned side of the park.
Here's a tweet-by-tweet of how things went down Saturday night, with photos...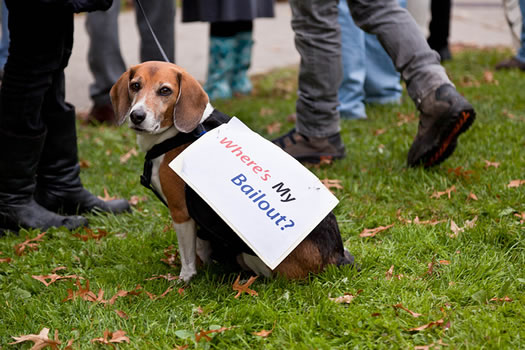 There's now a Flickr pool for photos from Occupy Albany, and a handful of photographers are contributing to it.
Sebastien has continued to update his ongoing photoset from Occupy of Albany (that's his photo above), as has Tim Raab. Their latest photos give a bit of a sense of how the scene is evolving as the protesters settle in for what apparently is intended to be a long term stay. One example: there's now a "People's Potty."
Occupy representatives met with city officials this week about some of the health and safety issues that might arise because of a long term stay at the park. There didn't seem to be much specific that came out of the meeting other than agreement to keep talking and working together. [Fox23] [TU]
photo: Sebastien Barre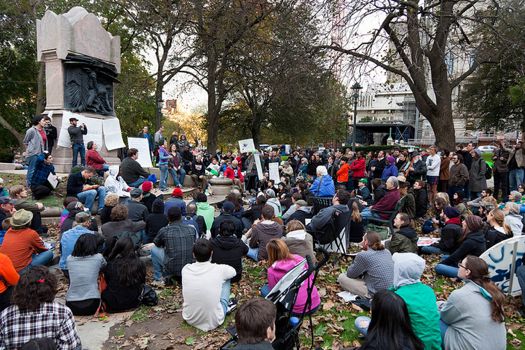 Updated
The Occupy Albany protestors began their encampment across from the Capitol yesterday and overnight last night.
After the jump, a look at day one of the protest from AOA, Bennett Campbell and Sebastien Barre.
The Occupy Albany protest began Friday afternoon. Protestors gathered with signs at Lafayette Park, right across from the state Capitol.
So, who's down there? And what are they hoping they'll achieve?
Here are some of the faces of Occupy Albany and why they were there...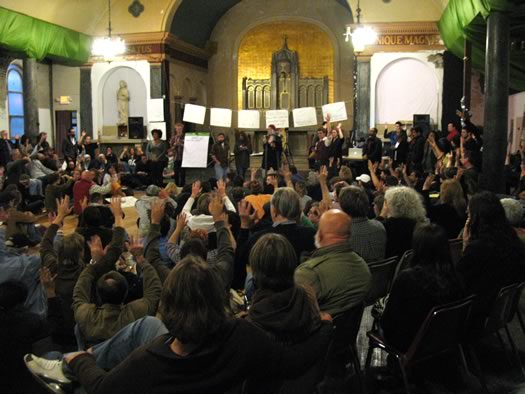 Update: Here are some the people were at the first day of Occupy Albany -- and why they were there.
____
Occupy Albany, the local incarnation of the Occupy movement, has decided to start its occupation this Friday (October 21) at noon in Lafayette/Academy Park (the park across Washington Ave from the Capitol).
The decision came via the group's "general assembly" Sunday night at the Grand Street Community Arts. Curious about the movement, and interested to hear about how it might be manifesting locally, we stopped by the meeting. It was at times remarkable -- and frustrating.
Here are a few observations and thoughts...