Items tagged with 'cats'
We've had a strong suspicion for some time that YNN anchorlady Kate Welshofer -- all composed and serene on screen -- is actually a total goofball in real life. Suspicion confirmed!
A few weeks back Welshofer started a video series on her No Teleprompter, No Mercy blog. The latest episode -- about being hungover (not that sort of hangover... we think) -- is embedded above. See also: Kate on Halloween, and Kate on trying to finish last in a 5k.
The clips are goofy. And they kind of create the impression that YNN is actually the fake TV station in a sitcom about a character named Kate. (This would explain so much about AnchorCat Brian.)
So we're waiting for the episode in which Kate mistakenly wears that pink wig from the Halloween episode during a news segment. Hijinks ensue.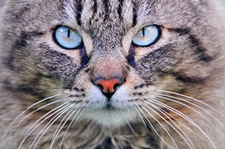 Jennifer emails:
At the risk of sounding like a crazy cat lady, I need help finding a groomer for my cat. Newborn baby + slightly neglected long haired cat = a total mess. We had a not so good experience with the vet recommended groomer. I appreciate the help!
We know there are a bunch of places for dog grooming. But cat grooming seems like it's probably harder to find. And it's our understanding that cats can sometimes be challenging when it comes to stuff like this. (Let's not even talk about trying to herd them.)
So, anyone have a suggestion for Jennifer and her cat? Please share!
Earlier on AOA: Ask AOA: Veterinarian care for cats?
photo: Flickr user Tambako The Jaguar (cc)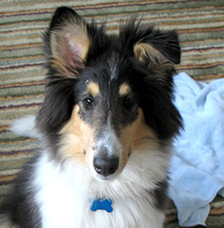 Kristin emails:
I know you've done posts in the past asking for reader suggestions about good haircuts, doctors, etc, and since travel season is coming up, I was wondering if you could do a post about pet sitters?
I definitely don't want to hand the keys to my apartment and the care of my cats over to someone I've randomly picked without recommendation.
We totally understand where Kristin is coming from -- knowing the office dog is well cared for makes one less thing to worry about when traveling.
This might not help Kristin's exact situation because she has cats, but Otto has vacationed at Happy Tails in Altamont. The facilities are nice and the owners were very friendly. They even got one of Otto's favorite toys back to us after we left it behind. As far as we can tell, they don't have a website, but here's a pdf brochure with contact and other info.
From what we understand, the Hounds on Hudson people, who do dog walking, also do cat visits. They seem really nice and cool. (Here's an AOA piece about them.)
Anyone have suggestions for Kristin? Or even some good boarding, pet sitting, or walking experiences that might help other people? Please share!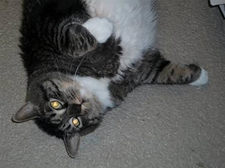 When a 30 pound cat showed up at the Mohawk and Hudson River Humane Society last week, the inevitable question was: who is this guy? And what has he been doing to get that... rotund?
The answer: livin' large. After the jump, a handful of photos from The Secret Photostream of Flabby Tabby.