Items tagged with 'same-sex marriage'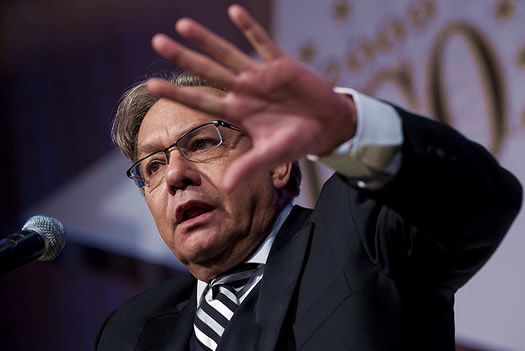 Comedian and playwright Lewis Black is heading for Albany in a few months to do his stand-up act at The Palace. Black is well known for his rants and observations about politics, which is pretty much our local sport.
So we gave him a call to ask what he thinks about some of the things that have been going on lately at the state Capitol.
This weekend was an historic one for New Yorkers and civil rights as the first same-sex couples took their vows across the state, many of them just after the Marriage Equality Act took effect after midnight Sunday. Families, friends -- media members -- crowded into chambers to witness the historic ceremonies.
Here's a quick scan of the coverage...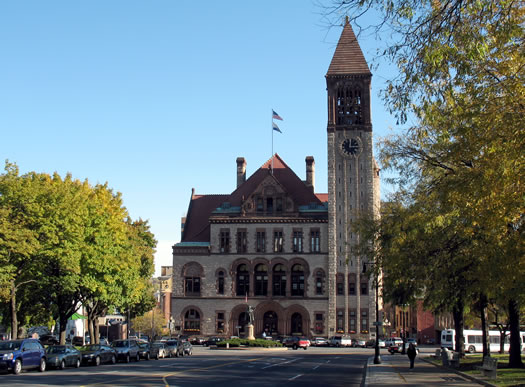 The City of Albany announced today that will marry as many as 10 same-sex couples on the first day same-sex marriage is legal in New York State -- this Sunday, July 24.
From the press release:
To mark the historic occasion of the effective date of New York's new State Marriage Equality Act, Mayor Jennings will perform the City's first same sex marriage at 12:01 AM on Sunday, July 24th. State Supreme Court Justice, Joseph Teresi, will also be present in City Hall to review applications seeking a waiver of the 24 hour waiting period, and, along with Mayor Jennings, to perform an additional number of same sex marriages.
There are two administrative issues complicating the first day of same-sex marriage in New York. The first, as mentioned above above, is the 24 hour waiting period. The second issue is that municipal offices are closed on Sundays.
But Albany has some plans to work around that. They're listed after the jump.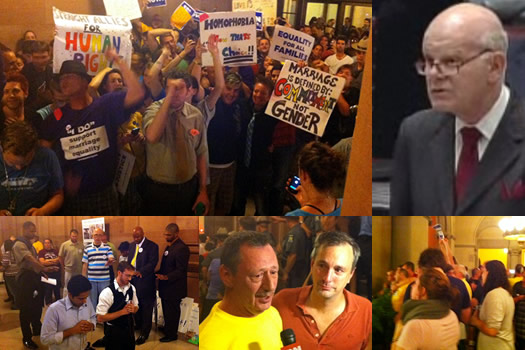 The state Senate passed the Marriage Equality Act 33-29 Friday night.
Earlier in the evening, the Assembly passed amendments to the bill that included increased protections for religious organizations that choose not to participate in same-sex marriages.
Andrew Cuomo signed the bill shortly before midnight on Friday. It takes effect 30 days after his signature.
Recaps, quotes and pics from the vote after the jump...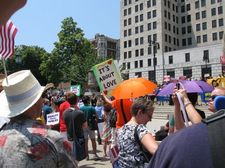 That's the question everyone keeps asking. And the legislature seems to be taking forever. Seriously, if the state Senate can vote on whether corn should be the official state vegetable, you'd think they could move this issue along a little faster.
To make it easy to keep track of what's happening, we've created a single-serve site: IsSame-SexMarriageLegalinNY.com.
It gets right to the point.
You can follow it on Twitter: @SSMNewYork.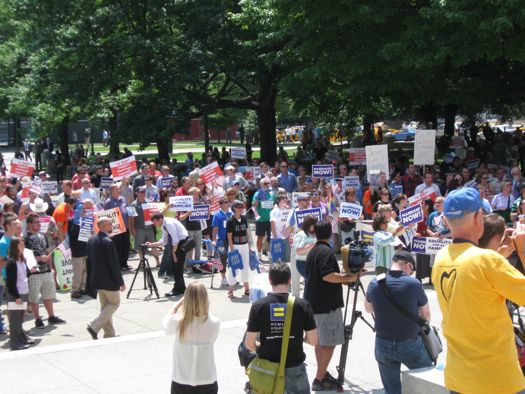 Several hundred people rallied outside the state Capitol Tuesday afternoon for a last minute push for marriage equality. The rally included speeches by families, clergy, gay rights activists, union reps and legislators.
Jim Alesi, the first Republican in the state Senate to publicly declare he'd be voting for the Marriage Equality Act, was one of the first people to stand up and speak at the rally. "I'm a Republican," Alesi joked with the crowd. "I was born that way."
The Republican senator said he lost a lot of friends when he decided to vote in favor of marriage equality. "I think I have some new friends," he told the crowd, which cheered in response.
Alesi said that at one point he was anguishing over the vote, but not anymore. "Passing marriage equality is the most important thing I can do, I think, in my 20-year history as a legislator."
"My name begins with A," he told the crowd, noting he's the first Republican called during votes in the Senate. "I am proud to be a Republican. And I will also be proud to be the first Republican to vote for marriage equality in this state."
After the jump, a look at the rest of the rally...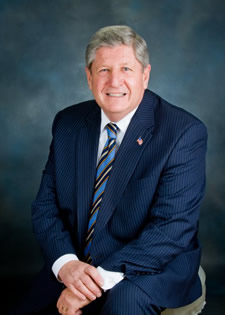 Roy McDonald's now-famous line about his switch on same-sex marriage -- "Well, f--- it, I don't care what you think. I'm trying to do the right thing." -- has made him a small-scale viral star online.
On Buzzfeed, a site that "tracks the web's obsessions in real time," the post about McDonald's line has racked up more than 82,000 likes on Facebook. (It also earned him the "badass" and "win" badges.) Searches on Google for "Roy McDonald" shot up to a level almost 20 times the average rate after his comments started spreading (that's relative, of course, we doubt there was mass googling of him before this). And, in a sentence we never thought we'd type, there was a story about Roy McDonald on TMZ (11k FB likes).
Comments praising McDonald's switch have been showing up on his Facebook page's wall at a healthy clip. His page is promoting his position on the issue, with a profile pic that says he's "standing up for your equal rights." He also a "Stand with Roy" petition. And he's asking for campaign contributions ("a little bit will go a long way towards silencing the critics").
Also: The column by the Post-Star editor Ken Tingley about McDonald's switch is worth reading.
Earlier on AOA:
+ Roy McDonald will vote yes on same-sex marriage
+ To: Roy McDonald, From: Bombers and Matt Baumgartner, Re: marriage equality
New York Now has edited together a handful of clips from speeches in the Assembly yesterday ahead of the vote on the Marriage Equality Act. Some of the speeches are passionate and thoughtful.
How local Assembly members voted yesterday:
Yes: Canestrari, McEneny, Reilly
No: Amedore, Jordan, Tedisco, McLaughlin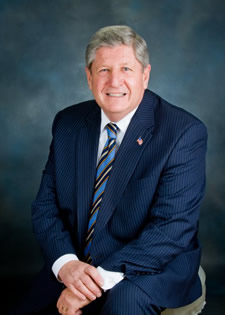 The Capitol media Twitter feeds erupted late this afternoon with news that state Senator Roy McDonald -- who reps Rensselaer County and most of Saratoga County -- will vote yes on the bill that would legalize same-sex marriage. That brings that vote count in favor to 31 (one short of a majority).
Said McDonald to the Times Union's Jimmy Vielkind:
"I'm trying to do the right thing. Rather than wait I worked with the governor ... I'm not out to alienate anybody. This is driven by compassion. ... My lifestyle is my lifestyle -- I don't want anyone telling me or my children what to do."
McDonald, as quoted by the NYDN's Ken Lovett:
"You get to the point where you evolve in your life where everything isn't black and white, good and bad, and you try to do the right thing.
"You might not like that. You might be very cynical about that. Well, f--- it, I don't care what you think. I'm trying to do the right thing.
And McDonald quotes via tweets by NYT's Danny Hakim:
"I think I'm doing the right thing, it's the appropriate thing, and if the public respects that, I'm grateful. If they don't... then I move on. ..."
"I'm tired of blowhard radio people, blowhard television people, blowhard newspapers. They can take the job & shove it."
McDonald had voted "no" the last time around, and he's said for weeks that he was undecided on the issue. He had been the subject of some intense lobbying lately, including a billboard along I-787 urging him to support same-sex marriage. He becomes the second Republican Senator to say he'll vote "yes."
There's a clip of McDonald talking about his decision, after the jump.
Andrew Cuomo submitted a bill today that would legalize same-sex marriage (the bill is embedded after the jump). From the memo for "The Marriage Equality Act":
Section 3 of this bill would add new Section 10-a to the Domestic Relations Law (DRL) providing that: (1) a marriage that is otherwise valid shall be valid regardless of whether parties to the marriage are of the same or different sex; (2) no government treatment or legal status, effect, right, benefit, privilege, protection or responsibility relating to marriage shall differ based on the parties to the marriage being or having been of the same sex rather than a different sex; and, (3) all relevant gender-specific language set forth in or referenced by New York law shall be construed in a gender-neutral manner.
The Cuomo admin says the bill aims to keep civil marriage separate from "the religious institution of marriage." One of the provisions of the bill amends the current law "to make clear that no member of the clergy acting in such capacity may be required to perform any marriage."
The bill would take effect 30 days after it's signed.
A similar bill has passed the Assembly in previous years and is expected to do so again. Dean Skelos has said the Senate could have a vote on the bill this week. [Daily Politics]

By Leigh Cummings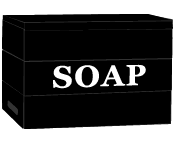 It's that time of year again when Albanians take to the streets to celebrate Capital Pride.
In general, I'm not especially fond of our various fests, when the Lark Street and Washington Park areas are overrun with sometimes disrespectful partiers. They usually leave behind a sad swath of destruction that is at best annoying, and at worst shameful. Many Lark area residents (me included) either retreat to their homes or take the opportunity to spend a weekend out of town. Capital Pride, however, gets me excited. It's flamboyant and friendly, community-oriented and just a little bit risque.
This, friends, is a fest I can get behind.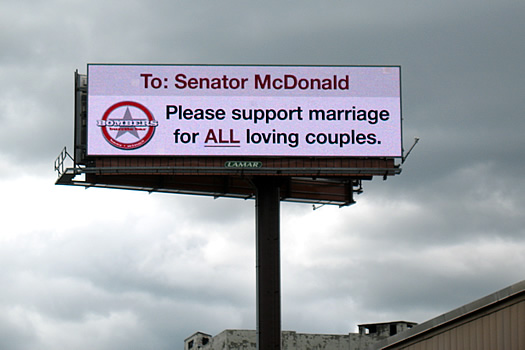 This electronic billboard message is now showing along I-787, just north of the Central Warehouse. Bombers owner Matt Baumgartner bought the billboard to reach one person: state Senator Roy McDonald. The Republican, who represents Rensselaer County and much of Saratoga County, is publicly "undecided" on legalizing same-sex marriage.
We emailed with Matt, who's gay and has been an outspoken proponent of marriage equality, this afternoon about why he chose a billboard to reach McDonald.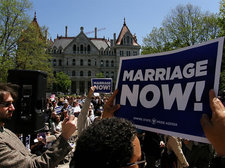 Efforts to get a bill legalizing same-sex marriage through the state legislature have been ramping up (as has the opposition). Here are how a few recent polls have measured the public's opinion on the issue (all numbers for registered voters):
NY1/YNN-Marist poll conducted April 25-29
Do you believe that marriage should only be between a man and a woman?
Yes: 51% | No: 47% | Don't know: 2%
Which of the following comes closest to your view?
Gay or lesbian couples should be allowed to marry: 51%
Gay or lesbian couples should be allowed to legally form civil unions, but not marry: 28%
There should be no legal recognition of the relationship between gay or lesbian couples: 21%
margin of error: +/- 3.5 - poll data
Quinnipiac poll conducted April 5-11
Would you support or oppose a law that would allow same-sex couples to get married?
Support: 56% | Oppose: 38% | Don't know: 5%
margin of error: +/- 2.4 - poll data
Siena poll conducted April 4-6
Do you support or oppose making same sex marriages legal in New York State?
Support: 58% | Oppose: 36% | Don't know: 6%
margin of error: +/- 3.5 - poll data
Nationally: it appears a majority of Americans now support legalizing same-sex marriage. [FiveThirtyEight]
____
Of course, in some ways, the only opinion that matters right now is that of the legislators who represent potential swing votes in the state Senate (the bill will almost certainly pass the Assembly). The last vote on the issue in the chamber -- in December 2009 -- was 38-24 against.
photo: Matt Ryan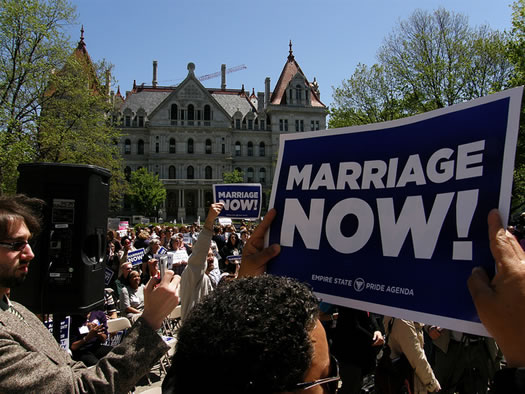 More than a thousand people showed up at a rally for same-sex marriage outside the Capitol today. But a lot of the coverage focused on the one person who was not there: Andrew Cuomo. [NYT City Room]
Lieutenant governor Bob Duffy (you remember him: from Rochester, silver hair, tall) was there -- and made sure to emphasize that Cuomo's absence doesn't indicate a lack of support for legalizing same-sex marriage. he said a "horrendous" schedule kept Cuomo from appearing. The disembodied voice of Cuomo will be soon be making an appearance on the issue on your phone, though. And his admin says the "People First" statewide campaign will be highlighting the issue. [Karen DeWitt] [State of Politics] [State of Politics] [Cuomo admin]
So is same-sex marriage going to move ahead, or what?